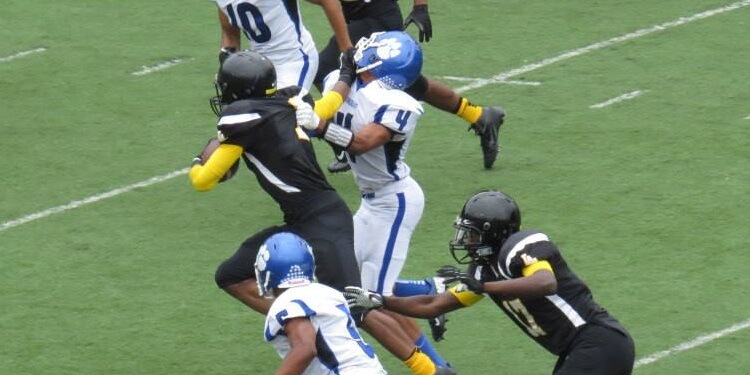 4A Top Ten
1. Camas Papermakers (4-0) W 49-0 vs Lakes Lancers (0-4)
Senior QB Reilly Hennessey continues to rack up the passing yards and TDs. On the season he has thrown for 1,113 yards and 12 TDs. WR Zach Eagles continues to be the favorite target and has 19 catches for 388 yards and 2 TDs thus far. The Papermakers enter league play this week on the road.
Next: @ Skyview Storm (2-2)
2. Chiawana Riverhawks (4-0) W 45-0 @ Pasco Bulldogs (0-4)
The Riverhawks absolutely blast their cross-town rival. Senior QB Joey Zamora continues to impress as he went over 200 yards passing again this week. RB Clifton Lozano coontinues to do a great job on the ground, and got into the endzone three times this week. This week brings a tough non-conference game.
Next: vs Wenatchee Panthers (3-1)
3. Graham-Kapowsin Eagles (4-0) W 49-13 @ Emerald Ridge Jaguars (0-4)
With Puyallup's loss to Curtis, Graham-Kapowsin is the only team left undefeated in the SPSL South. Senior RB Teague James is running like a man possessed. He is now up to 11 TDs on the season, and has a great opportunity to add to it this week.
Next: vs Rogers (Puyallup) Rams (2-2)
4. Ferris Saxons (3-1) W 42-0 vs Rogers (Spokane) Pirates (0-4)
The Saxons took out all frustration from their week three loss on the winless Pirates. Cole Karstetter and Jalen Hicks helped to get the Saxons back on track and they will have most likely have another tune up this week as North Central is not one of the leagues best teams.
Next: @ North Central Indians (1-3)
5. Bellarmine Prep Lions (4-0) W 31-0 @ South Kitsap Wolves (1-3)
The Lions' defense is playing as good as any right now. They have given up just 28 total points on the season, averaging just 7 points per game and have shutout their last two opponents. The offense is beginning to click, and is averaging 36 points per game in their last two. RB Nate Goltermann has emerged as a great offensive threat and rushed for 185 yards on 30 carries and scored 2 TDs this past week.
Next: vs Stadium Tigers (1-3)
6. Bothell Cougars (3-1) W 45-18 @ Eastlake Wolves (2-2)
Last season the Cougars offense was based around running the football, and with Danny Wilson and Darrin Laufasa in the backfield, who can blame them. Things are changing for the "Blue Train" as they have taken to the air. When QB Ross Bowers starts finding WR Dayzell Wilson, their might not be a better junior pairing in the state.
Next: vs Redmond Mustangs (4-0)
7. Skyline Spartans (3-1) W 36-0 vs Roosevelt Roughriders (3-1)
The Spartans are showing they are not the team that got blasted by Bellevue in week one. They are going through the three Seattle schools right now and finish with Newport and rival Issaquah, before possibly playing in the KingCo Championship game. Skyline is in a great spot to make some noise.
Next: @ Garfield Bulldogs (1-3)
8. Union Titans (3-1) W 50-14 @ Bonney Lake Panthers (0-4)
Junior QB Nolan Henry had one of his better games, and senior RB Leon Siofele continued to impress with 169 yards on just 16 carries. The Titans are back rolling again, and dangerous.
Next: vs Heritage Timberwolves (2-2)
9. Newport Knights (3-1) L 48-28 @ Issaquah Eagles (2-2)
On just their second offensive play, senior RB Conner Baumann took the ball straight up the middle for 60+ yards and the score. From there on out it was all Issaquah. The Eagles got it done on the ground with RB Jack Gellatly and through the air with QB Jack Neary. Newport didn't complete a pass until late in the game when Baumann took a pitch and tossed to a wide open Drew Sample for a 48 yard TD.
Next: vs Ballard Beavers (2-2)
10. Gonzaga Prep Bullpups (3-1) L 42-13 @ 3A #9 Shadle Park Highlanders (3-1)
I could've made a strong case for Shadle Park to beat Gonzaga Prep last week. No case could've been made for the way it actually went down. The Bullpups had been rushing for over 360 yards per game, but were held to just 200 yards rushing on the night by a stout Shadle Park defense.
Next: vs Mead Panthers (3-1)
Others receiving votes: Wenatchee Panthers (3-1), Issaquah Eagles (2-2)
Ryland Spencer
1. Camas
2. Chiawana
3. Graham-Kapowsin
4. Bellarmine Prep
5. Ferris
6. Bothell
7. Union
8. Skyline
9. Gonzaga Prep
10. Wenatchee
Jordan Johnson
1. Camas
2. Chiawana
3. Graham-Kapowsin
4. Ferris
5. Bothell
6. Bellarmine Prep
7. Skyline
8. Newport
9. Union
10. Issaquah
3A Top Ten
1. Bellevue Wolverines (4-0) W 41-7 @ Lake Washington Kangaroos (1-3)
Like clockwork, the Bellevue Wolverines hammered another opponent. Kudos go to the Kangaroos for actually scoring. Bellevue will travel again this week when they go back to Kirkland, this time to face Juanita.
Next: @ #9 Juanita Rebels (3-1)
2. O'Dea Fighting Irish (4-0) W 42-0 vs Seattle Prep Panthers (1-3)
The 30+ year winning streak vs Seattle Prep continues as they Irish scored at will. Their running game is simply too tough for opposing teams to handle, and their defensive line is undoubtedly one of the best in the state.
Next: @ Ingraham Rams (0-4)
3. Eastside Catholic Crusaders (3-1) W 49-6 @ Bainbridge Spartans (0-4)
Senior RB Henry Jarvis continues to impress as he rushed for 190 yards on just 17 carries. Through the first four games Jarvis is averaging almost a first down per carry and has 7 TDs. Sophomore QB Harley Kirsch is averaging over 200 yards per game while completing nearly 70% of his passes and he has yet to throw an INT.
Next: @ Seattle Prep Panthers (1-3)
4. Marysville-Pilchuck Tomahawks (4-0) W 48-14 vs Shorewood Thunderbirds (1-3)
The Tomahawks are in the same spot this week after another dominating win, it was 48-0 at one point. The most impressive thing about the win might be that they it without RBs Austin Joyner and JJ Valencia. It was no big deal though as senior QB Jake Luton would throw for 3 TDs and rush for another.
Next: @ Marysville-Getchell Chargers (2-2)
5. Lincoln Abes (4-0) W 53-7 @ #9 North Thurston Rams (3-1)
The Abes might have had the most impressive win of the week as they went on the road and absolutely hammered a very good North Thurston team. RB Rayshawn Miller ran all over the Rams finishing with 190 yards rushing on just 8 carries. He scored two rushing TDs and also had one receiving.
Next: vs Timberline Blazers (1-3)
6. Mount Si Wildcats (4-0) W 34-0 vs Interlake Saints (0-4)
The Wildcats are in the midst of a three game stretch in which they play teams with a combined one win, which is then followed by playing #1 Bellevue. The Wildcats defense has come to play thus far and are only allowing about 11.5 points per game.
Next: vs Sammamish Totems (0-4)
7. Shadle Park Highlanders (3-1) W 42-13 vs 4A #5 Gonzaga Bullpups (3-1)
The Highlanders jump two spots this week after a very impressive win over Gonzaga Prep. Shadle Park will need to keep the magic rolling as this week they face the surprise of the GSL in undefeated Mount Spokane, who is coming off a 10-0 win over rival Mead.
Next: @ Mount Spokane Wildcats (4-0)
8. Kamiakin Braves (4-0) W 42-21 @ Southridge Suns (2-2)
QB Kylle Robertson threw for 388 yards as the Braves beat a good Southridge squad, but they still drop a spot. It is more about Shadle Park than anything. The Braves have good balance on offense and that is something they will need this week as they travel to play a tough Richland team.
Next: @ Richland Bombers (3-1)
9. Juanita Rebels (3-1) W 55-21 @ Liberty Patriots (2-2)
The Rebels bounced back with a good win over Liberty. In their three wins this season, Juanita is averaging 49 points, but got only 14 in their lone loss. They will need to keep the offense rolling this week if they are to have a chance.
Next: vs #1 Bellevue Wolverines (4-0)
10. Glacier Peak Grizzlies (4-0) W 31-0 vs Mountlake Terrace Hawks (1-3)
The Grizzlies rushed for 277 yards on the night and continue to find ways to win. They have beat the two 4A teams picked to win their respective divisions and will have a chance to make a real statement if they can beat Bothell in two weeks.
Next: @ Shorecrest Scots (1-3)
Ryland Spencer
1. Bellevue
2. O'Dea
3. Eastside Catholic
4. Marysville-Pilchuck
5. Mount Si
6. Kamiakin
7. Lincoln
8. Shadle Park
9. Juanita
10. Glacier Peak
Jordan Johnson
1. Bellevue
2. O'Dea
3. Eastside Catholic
4. Lincoln
5. Marysville-Pilchuck
6. Shadle Park
7. Mount Si
8. Juanita
9. Kamiakin
10. Glacier Peak
2A Top Ten: By Ryland Spencer
1. Tumwater Thunderbirds (4-0)
2. Lynden Lions (4-0)
3. W.F. West Bearcats (4-0)
4. Sumner Spartans (4-0)
5. Lakewood Cougars (4-0)
6. R.A. Long Lumberjacks (4-0)
7. Ellensburg Bulldogs (4-0)
8. Fife Trojans (4-0)
9. Prosser Mustangs (3-1)
10. Othello Huskies (3-1)
Others: Lindbergh Eagles (4-0), West Valley (Yakima) Rams (3-1), Cheney Blackhawks (3-1), Mark Morris Monarchs (3-1), Franklin Pierce Cardinals (4-0)
1A Top Ten: By Ryland Spencer
1. Zillah Leopards (4-0)
2. Cascade Christian Cougars (4-0)
3. River View Panthers (4-0)
4. Woodland Beavers (4-0)
5. LaCenter Wildcats (4-0)
6. Royal Knights (3-1)
7. Mount Baker Mountaineers (3-1)
8. Charles Wright Tarriers (4-0)
9. Cashmere Bulldogs (3-1)
10. Okanogan Bulldogs (4-0)
Others: Freeman Scotties (4-0), King's Knights (3-1), Montesano Bulldogs (2-2)