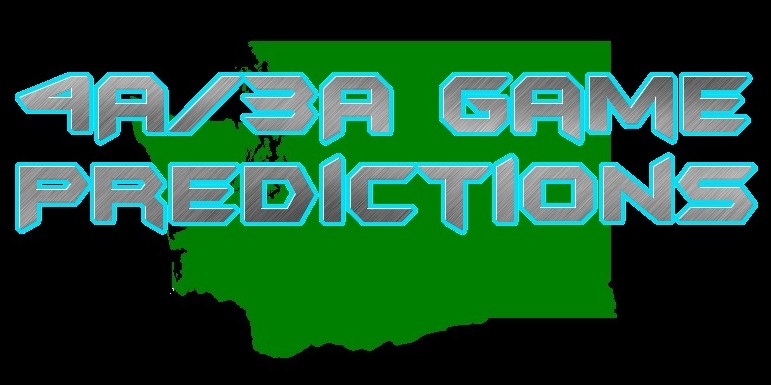 | | | | |
| --- | --- | --- | --- |
| Name | Wins | | Losses |
| Ryland | 63 | – | 13 |
| Jordan | 65 | – | 11 |
4A Top Ten
1. Camas Papermakers (4-0) @ Skyview Storm (2-2)
These two teams meet in the first game of GSHL 4A play. Camas is top ranked and making things look easy, while Skyview started 0-2, but have rebounded nicely with back-to-back wins. Last season Camas won running away and I could very easily see that happening again this year.
Picks: Ryland – Camas, Jordan – Camas
2. Chiawana Riverhawks (4-0) vs Wenatchee Panthers (3-1)
Since losing in week one to Eisenhower, Wenatchee has been one of the state's best teams. Chiawana on the other hand has yet to be tested. The Riverhawks are averaging 44.5 points per game, while surrendering 3.5. This should be a great test for both teams.
Picks: Ryland – Chiawana, Jordan – Chiawana
3. Graham-Kapowsin Eagles (4-0) vs Rogers (Puyallup) Rams (2-2)
If Graham-Kapowsin doesn't win the SPSL South, I will eat my shoe… Okay maybe not, but I will be shocked. They control their own destiny from here on out. Rogers started 0-2, but have come back strong with wins over Emerald Ridge and Spanaway Lake. They are back in the playoff race and can still make a run with a loss here, but with league games vs Curtis and Puyallup still on the schedule it would be tough.
Picks: Ryland – Graham-Kapowsin, Jordan – Graham-Kapowsin
4. Ferris Saxons (3-1) @ North Central Indians (1-3)
I still think Ferris is the best team in the GSL. Their loss to Gonzaga Prep was a big win for the Bullpups, but I don't think it would happen again. The Saxons got back on track last week by blasting Rogers (Spokane), and I expect much of the same this week vs North Central.
Picks: Ryland – Ferris, Jordan – Ferris
5. Bellarmine Prep Lions (4-0) vs Stadium Tigers (1-3)
The Lions are really starting to hit their stride. This game should be a tune-up for next week's non-league game vs Tumwater. Bellarmine Prep has a great opportunity to be undefeated in league play heading into the last two weeks of the season where they will play their best competition in Olympia and Gig Harbor.
Picks: Ryland – Bellarmine Prep, Jordan – Bellarmine Prep
6. Bothell Cougars (3-1) vs Redmond Mustangs (4-0)
Well it is put up or shut up week for the Redmond Mustangs. They are 4-0, but haven't played the greatest competition to start the season. Their opponents are a combined 3-12 on the season. Bothell made a statement last week blasting a good Eastlake team. Last year's game was a 35-7 Cougar win, I expect much of the same this year
Picks: Ryland – Bothell, Jordan – Bothell
7. Skyline Spartans (3-1) @ Garfield Bulldogs (1-3)
The Spartans are playing good football and it is coming at the right time. They have won three straight and should have no problem this week. Garfield simply doesn't have enough playmakers to contend. Could see a running clock.
Picks: Ryland – Skyline, Jordan – Skyline
8. Union Titans (3-1) vs Heritage Timberwolves (2-2)
The Titans head into league play on a high. They blasted Bonney Lake last week and should have no trouble this week. Union is going to have to use the next two weeks to get to their best football before they take on #1 Camas. RB Leon Siofele continues to be the focal point of the offense and has now rushed for 785 yards and 7 TDs.
Picks: Ryland – Union, Jordan – Union
9. Newport Knights (3-1) vs Ballard Beavers (2-2)
Last week the Knights just never got going. Issaquah did a great job, after the first drive, of stuffing the Newport running attack. RB Conner Baumann still rushed for a bunch of yards, but most of it came on two plays. The Knights have got to find a way to throw the ball a little more than they have. Without a little passing, teams are going to stack the box and keep the rushing game in check.
Picks: Ryland – Newport, Jordan – Newport
10. Gonzaga Prep Bullpups (3-1) vs Mead Panthers (3-1)
I made a couple of off the wall picks last week and they came back to hurt me. Knowing Jordan was going to pick Gonzaga Prep, I picked Mead to try and get back in the race. Both teams are coming off week 4 losses to 3A teams. This game will feature a lot of rushing yards as that is the key for both teams.
Picks: Ryland – Mead, Jordan – Gonzaga Prep
3A Top Ten
1. Bellevue Wolverines (4-0) @ #9 Juanita Rebels (3-1)
The Wolverines are a machine. They are blowing teams out left and right, and will most likely do it again this week. Juanita is a very good football team, but they are still young and a ways away from being able to compete with Bellevue.
Picks: Ryland – Bellevue, Jordan – Bellevue
2. O'Dea Fighting Irish (4-0) @ Ingraham Rams (0-4)
The Irish are playing some of the best football in the state. RBs Myles Gaskin and Jack Flor combine for one of the best backfields in the state, and are almost being outshined by the play of the defense. Teams thinking about running the ball against O'Dea may want to think twice. Expect to see a running clock.
Picks: Ryland – O'Dea, Jordan – O'Dea
3. Eastside Catholic Crusaders (3-1) @ Seattle Prep Panthers (1-3)
Senior RB Henry Jarvis is one of Washington's most underrated backs. Even without their best OL Drew Sprinfield (injury), Jarvis has still managed to rack up a ton of yards the last few weeks. Sophomore QB Harley Kirsch is really starting to come into his own and gives the Crusaders a great option in the passing game.
Picks: Ryland – Eastside Catholic, Jordan – Eastside Catholic
4. Marysville-Pilchuck Tomahawks (4-0) @ Marysville-Getchell Chargers (2-2)
This is just the second meeting between these two schools, only Getchell's third season overall. Last year the two teams battled hard, with Pilchuck coming out on top 42-7. Pilchuck RBs Austin Joyner and JJ Valencia did not play last week, but should be ready to go. Getchell is still improving, but shouldn't be able to hang.
Picks: Ryland – Pilchuck, Jordan – Pilchuck
5. Lincoln Abes (4-0) vs Timberline Blazers (1-3)
The Abes made a big statement last week with a huge win over North Thurston. Timberline had high expectations to start the season, but have fallen on tough times, and with Asan Neil-Evergin being injured, they will have a hard time finding their way into the playoffs. This is a big week for both teams.
Picks: Ryland – Lincoln, Jordan – Lincoln
6. Mount Si Wildcats (4-0) vs Sammamish Totems (0-4)
Mount Si is playing very good football. Head Coach Charlie Kinnune and his staff have done a great job and outside of the game in a few weeks vs Bellevue, they shouldn't have any problems in league play. Expect to see a running clock.
Picks: Ryland – Mount Si, Jordan – Mount Si
7. Shadle Park Highlanders (3-1) @ Mount Spokane Wildcats (4-0)
The jury might still be out on both teams. Shadle Park was taken to school by the Ferris Saxons, who then lost to Gonzaga Prep, who then got blasted by Shadle Park. Mount Spokane got a huge win last week, stature not score, and will have to bring their "A" game if they are to win this week.
Picks: Ryland – Shadle Park, Jordan – Shadle Park
8. Kamiakin Braves (4-0) @ Richland Bombers (3-1)
Something tells me to take Richland, but I picked against Kamiakin last week and it burned me. QB Kylle Robertson threw for 388 yards and made a good Southridge team look silly. The Richland offense is going to have to sustain drives to keep the Kamiakin offense off the field. Do that, and they will have a shot.
Picks: Ryland – Kamiakin, Jordan – Kamiakin
10. Glacier Peak Grizzlies (4-0) @ Shorecrest Scots (1-3)
The Grizzlies are winning games with an all around team effort. They have gotten great line play, which has allowed them to run the ball. Shorecrest started league play last week with a 42-7 loss to Meadowdale, while Glacier Peak was shutting out Mountlake Terrace 31-0. GP and Meadowdale are on a collision course to decide the division with a week 8 match up.
Picks: Ryland – Glacier Peak, Jordan – Glacier Peak