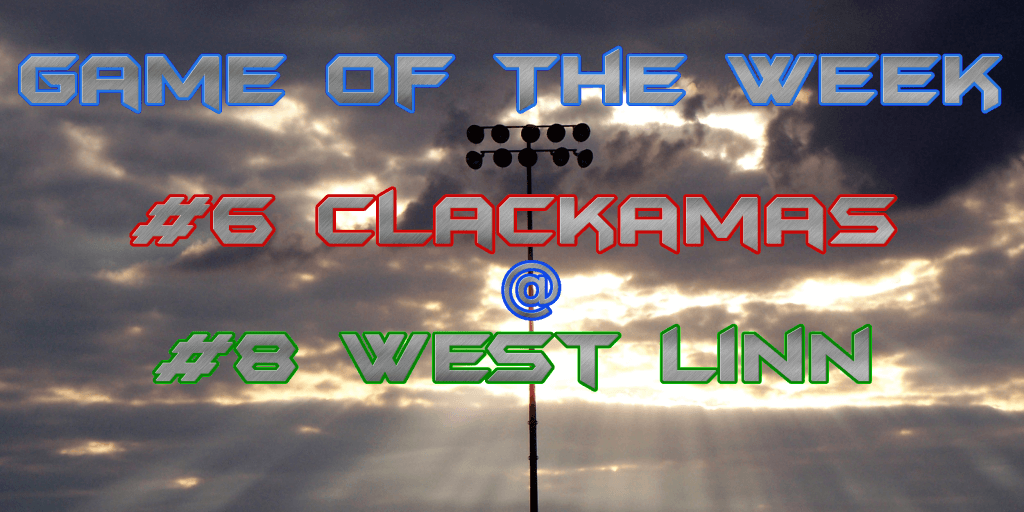 Quarterbacks
West Linn's Hayden Coppedge (6-4 190 Sr.) projects at the D1 level, and more then anything just knows how to win. When given time he is the best passing QB in the state, other then Aidan Wilder as the Lions will need Coppedge to play well. Clackamas has the rare combo of talented dual senior QB's in Cade Wilkins (6-1 175 Sr.) and Doonie Johnson (6-0 210 Sr.). Both kids have played well, completing 65.8% of their passes together for 5 TD's/2 Int's. They aren't a huge passing team, but they have legit targets.
Advantage – West Linn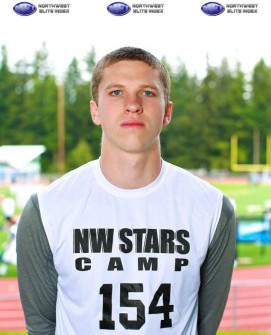 Runningbacks
Don't even ask me to tell you which one of these kids has the advantage. Dan Sherrell (5-9 170 Sr.) returns as the state's leading rusher from last season as he went for over 2000 yards and 27 Td's. He has accounted for 1041 yards and 15 TD's already this season and has played as well as anyone in Oregon. Louie Germain (5-9 175 Sr.) has also gone off accounting for multiple 200+ yard contests and 11 TD's in a two game span, before leading the Lions to last week's 7-3 upset of Lake O. His 50 yard TD run was the only touchdown of the game. Dalon Hudson (5-10 190 Sr. FB) has played well also and can very well hold his own.
Advantage – Clackamas slight
Receivers/Slot/Tight End
Clackamas has a very capable set of receivers with two of the bigger wide outs in the state. Keegan Daley (6-5 200 Sr.) 11 rec-127 yds- 1 TD, Taylor Stinson (6-6 220 Sr.) 12 rec -173 yards -1 TD, and Nick Krska (5-10 145 Jr. Slot) 10 rec-154 yards all have fed off one another and will need to play big down the stretch to off set the running game. The clincher for the Cavs could be standout D1 TE Brody Haehlen (6-4 250 Sr. TE), who is one of the top dual threat athletes in the Northwest (8 rec, 120 yds, 1 TD).
The Lions have one of the more talented sophomores in the region with Hayden's brother Cody Coppedge (6-3 170 So.) having a breakout season. 6-5 Kurt Moon has come on as of late and looks like one of the better junior WR's in Oregon, while Braden Vogt (5-9 155 Sr. Slot), and one of the state's top overall athletes Cam Schmitz (6-2 195 Sr. ATH), round out a very solid group of receivers for Hayden to throw to.
Advantage – West Linn (slight)
Offensive Line
The Clackamas line is led by the state's #1 ranked tackle in David Reese (6-7 270 Sr.) who recently just received his first offer from Montana. Aidan Kragero (6-0 245 Sr.) is a big pick up and transfer from 3A Horizon Christian, while Trevor Dunn (6-3 220 Sr.) and Josh Miller (6-2 215 Sr.) are the other two senior's who have done well thus far. Junior Colby Taylor (5-10 230 Jr.) rounds out the group.
The West Linn line is talented but thin depth wise as most of their kids go both ways. Noah Bagley (6-2 295 Sr.), Ellis Eaton (6-3 240 Sr.), and Isaiah Molden (6-2 290 Sr.) are all returning starters with Bagley being one of the more impressive kids we saw all off season, dropping 30+ pounds. Senior Hudson Kennedy (6-2 270 Sr.) returns and the youngster Tyler Self (So. OL) has been up in the mix.
Advantage – West Linn (slight)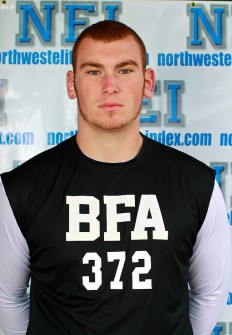 Defensive Line
Brody Haehlen (6-4 250 Sr. DE) has been one of the state's best players and was offered as D end from Montana. He earned 2nd team all league honors last season and brings a much needed physicality and demeanor to the team. Kyle Vanderegg (5-10 215 Jr. DL) put up numbers as a sophomore and Landon Swenson (6-2 250 Sr. DL) has good size and has played well.
Isaiah Molden (Sr. DL) has been clutch showing his overall athleticism playing both ways, while all league DE Ellis Eaton comes off the edge as quick as anybody. Kurt Moon (Jr. DE) has been a pleasant surprise and comes in as one of the better junior's in the state.
Advantage – Even
Linebackers
Zach Farnes (6-1 200 Sr. LB) comes back one of the state's leading tacklers from last season and was part of our NEI all start squad that traveled to Vegas. Dalon Hudson (5-10 190 Sr. LB) is that rock that will come up and smack you on O or D. Taylor Stinson (6-6 220 Sr. OLB) can present serious matchup problems with his size , as Nate Kemp (6-0 185 Jr. OLB) has also contributed. Sophomore Bryce Dickey (5-10 170 So.) is tied with Farnes for the team lead in tackles at 30. He is undersized but a player.
Cam Schmitz (Sr. LB/SS) is one of the state's top defenders, MVP ing multiple events that we hosted over the off season. Kevin Edwards (6-3 210 Sr.) has one of the bigger upsides of any player on the roster as he has legit size, and Ryan Anderson (Jr. LB) returns as a kid with experience.
Advantage – Clackamas (slight)
Defensivebacks
The Cavs secondary is somewhat youthful with two smaller corners. Hayden Kirsch (6-1 170 Jr. S) is one of the better junior secondary athletes in the state, earning 2nd team all league honors as a sophomore. Brett Peterson (6-0 155 Jr S) has stepped in a done a phenomenal job thus far. Jaeden Abraham (5-7 165 Sr. CB) is one of the team leaders in tackles, and tied for the team lead in Int's, while Jaideep Singh (5-7 160 Sr. CB) starts at the other corner.
Much like the line the West Linn secondary kids typically go both ways. Louie Germain (Sr. S) has carried the ball 30 times a game and played a legit safety spot. Cody Coppedge (So. S) is playing beyond his years and Elijah Molden (Fr. CB) could very well be one of the best corners nationally for the 2017 class. Braden Vogt (Sr. CB) brings back experience and will go both ways.
Adavantage – West Linn
Overview
You can count on this being a close contest. Both of these schools are similar and two of the better teams in Oregon. Clackamas is off to one of their best starts in years at (5-0) and got an important conference win in their league opener over Lakeridge.
West Linn did the impossible ending Lake Oswego's decade long TRL 48 game winning streak, while blasting South Salem the week before. They have a lot of momentum on their side and should be very tough to beat especially at home. In my opinion Hayden Coppedge is a difference maker and should help the Lions win some big games this season.
I am a huge advocate of the Clackamas kids and the Joe Bushman led program. That said West Linn will be the best team they have played and it will be tough. This could go either way.