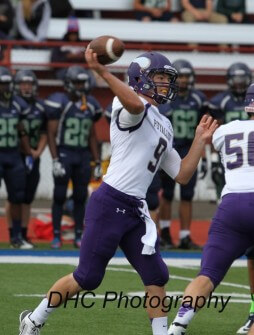 While leading his team to a 3-1 record, Puyallup (Wa.) QB Brendan Illies has shown why he could possibly start getting looks from college football coaches even though many think he will wind up being a standout baseball player at the next level.
"I'm sorta known as a baseball player. That's always been the sport I've done really well at, but I love to play football too, so I do both and I'd love to do both in college, but I haven't gotten anyone looking at me for football right now," Illies told Northwest Elite Index recently.
As a junior leader on his team, Illies has put up solid numbers so far, going 79 of 137 (57.7%) for 1,225 yards with 17 touchdowns and six touchdowns and another 30 yards and two scores on the ground.
"I've worked on my mechanics a lot and that has helped me be more accurate," Illies, who went 195 of 389 (50.1%) for 2,960 yards with 33 touchdowns and 22 picks, said. "Footwork, footwork, footwork was sorta my saying this summer. I went back and watched film and saw I was late on some of my throws last year, so by getting my feet right, that helps me deliver it on time and lets me get a lot of zip on my throws."
"I feel much more confident in where I'm going with the ball and a lot of that is how I have studies film and just my experience back there."
Illies is a legit 6'1″ and weighs roughly 190 pounds, so he's got good size and he has enough athleticism to keep plays alive with his legs although, as he puts it, he prefers to let his playmakers do what they do best.
"I can keep defenses honest with my feet, but I like to get the ball into the hands of my guys down the field and let them make plays because that's what they are there for," Illies noted. "Plus, those guys take some big hits. I'd prefer to dish it off to them and let them do their thing."
As a baseball player for one of the better 4A teams in the state, Illies played mostly catcher, but he also sports an 88 mph fastball and he batted .333 with six RBIs and a homer on a team that went 22-3 last year.
On the football recruiting front, Nebraska has sent him some information and he's been hearing from some smaller schools — Central Washington and Eastern Washington — so he's hopeful that someone takes a chance on him.
"I think I can help someone as a football player and also play baseball too," Illies said. "I'll just play this year and see where I'm at. It will be hard because I can't get out to a lot of camps since my baseball schedule is so crazy, but I will probably hit a couple next spring and summer, we'll just have to see how my schedule works out."
This Friday, Illies and the Vikings will take on Federal Way (3-1) on the road.