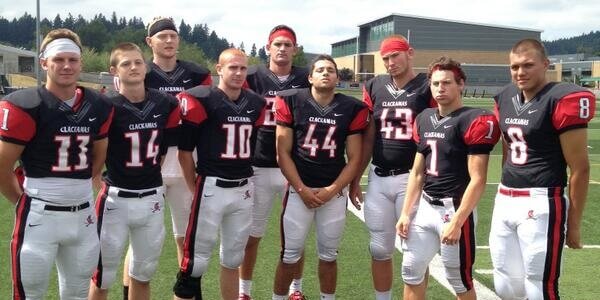 In what looks to be the most balanced conference in some time, the Clackamas Cavaliers took another step in reaching their goal of winning the TRL title.
The Cavs beat up a good West Linn team 40-7 on the road and it really wasn't close. The state's leading rusher, Daniel Sherrell (5-9 170 Sr. RB), continued to do his thing carrying the ball 27 times for 162 yards and 2 TD's. He has now accumulated 1203 rushing yards and 17 Td's on the ground through 6 games this season, and is sitting with an incredible 3,305 yards and 42 TD's in the last year and a half.
As good as Sherrell is, it was the passing game that opened things up last night. Cade Wilkins and Doonie Johnson have done a phenomenal job of sharing the quarterback duties and not losing a step when the other goes in. They passed for 346 yards as a team (Wilkins 14-20, 157 yards, 1 TD) Johnson (12-15, 162 yards, 1 TD), and exploited a Lions defense that had held its opponents to 12 points in the last 2 weeks.
One of the biggest advantages that this Clackamas team has is its size. (6-4 250 TE/DE) Brody Haehlen is having a 1st team all state type season, dominating on both sides of the ball. He has been offered by Montana, much like the state's #1 ranked OL David Reese (6-7 270 Sr. OL). Having two of the best players in the entire region at their position has been huge for the Cavs.
Senior's Taylor Stinson (6-6 220) and Keegan Daley (6-5 200) have stepped up this year, and played lights out on Friday. Stinson caught 6 passes for 110 yards and 2 TD's, while junior slot Nick Krska (5-10 150) has had a breakout type season catching 11 passes for 116 yards. Having 6-6 , 6-5, and 6-4 as your options has proved big time and time again for the QB's.
Referencing this years group Haehlen says, "This years team has a bond like we have never had before, we are all on the same page and have the same goals". He continued, "Our last three games of the regular season are going to be our toughest yet, and we need to practice and focus more then we have all season to attain our goal of a league title."
The state's other leading rusher, Louie Germain, was held to 58 yards on 19 carries after scoring 12 TD's and going for over 700 yards in the last 3 ball games. Give a lot of credit to the Clack D, and specifically Zach Farnes (6-1 205 Sr. LB/SS) who is one of the state's top overall defensive players. He was off the charts good on Friday, reading plays like he's the one that called them.
The Cavalier secondary was the other group that stepped up, as West Linn's Hayden Coppedge is one of the most talented QB's in the region. They are young but played beyond their years, as junior safeties Hayden Kirsch (6-1 170 Jr.) and Brett Peterson (6-0 160 Jr.) equate to one of the top duo's in Oregon. You will see both of them ranked among our top 2015 DB's when the new rankings are released shortly.
Exciting times for all those within the Clackamas football community. Things will not get any easier as they will get their biggest test yet this week against Lake Oswego. The Cavs haven't beaten the Lakers in years and it will take a special performance to do so. Congrats to the Joe Bushman led group as this years squad has a chance to make a run.