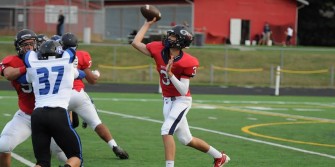 Joey Alfieri Sr. RB/LB Jesuit – The Oregon POY favorite on both sides of the ball had 373 yards rushing, and 3 TD's (65, 64, 2), giving him 940 yards and 12 touchdowns in the last 3 weeks.
Austin Brisbee Jr. QB Westview – One of the fastest rising Junior's in the state Passed for 342 yards and 2 TD's in the Wildcats 50-17 loss to Jesuit.
Taylor Stinson Sr. WR Clackamas – The 6-6 Senior had a big night catching 6 passes for 110 yards and 2 TD's in the Cavs impressive win.
Peyton Dole Sr. ATH Eagle Point – The 6-3 215 Senior athlete caught a 38 yard Td Pass to seal the deal (14-13) against a Marist team that hadn't lost a MWL game ever until this year. This came after he forced and recovered the fumble to set the touchdown up.
Tigard – The Tigers have outscored their opponents 210-14 in the first half this season and will most likely not be challenged until the state quarterfinals.
Speedy Sanchez Sr. RB Barlow – Sanchez is the reason for inventing the ALL NAME TEAM..He rushed 21 times for 157 yards and 3 Td's in the Bruins surprise 29-28 loss to Centennial.
Daniel Sherrell Sr. RB Clackamas – Smiley had a good day for him and a great day for most going for 162 yards on 27 carries and 2 TD's in the Cavs 40-7 win over West Linn.
Conner Mitchell So. RB Oregon City – The Sophomore continued his tear rushing 19 times for 147 and 3 Td's in Oregon City's 20 point win over Grant. They continue to climb in the rankings.
Levi Rotherham Sr. ATH Sheldon – Not a lot of people know about him but the kid is very talented on both sides of the ball. He had 2 Td's against Crater.
Manu Rasmussen Sr. RB Tigard – The Conference POY Favorite rushed 12 times for 187 yards and 4 Td's.. Manu is averaging close to 20 yards a carry, and hasn't really played in the 2nd half.
Devin Martinez Sr. RB Southridge – The senior RB went for 100 plus again, carrying the ball 17 times for 123 yards and a TD in the Skyhawks 27-10 win over Sunset
John Bradley Sr. Putnam – One of the more unknown senior's in the state had 3 TDs three very exciting ways, taking a kick back 91 yards, with two more TDs coming via a 84 yard rush and a 95 yard Pass.
Christian Bowley Sr. RB South Medford – Bowley is back and healthy and looked good in the Panthers upset win over previously unbeaten Roseburg. He carried the ball 26 times for 182 yards and a TD.
Kevin Larkin Sr. QB Sherwood – The state's #1 team doesn't really throw so Larkin's 168 yards passing and 4 Tds were a nice change of Pace in the 77-16 win over Parkrose.
Jake Lacoste Sr. RB West Albany – Lacoste showed no mercy on the cross town rival (South Albany) rushing 34 times for 304 yards and 3 TDs
Tyler Lunceford Sr. RB Wilson – Lunceford has gone off this season and currently has to be the favorite for P.I.L. Player of the Year honors. He rushed 37 times for 339 yards and 3 Tds in their win over Hood River.
Troy Fowler Jr. QB North Medford – Fowler has the Black Tornado (5-1) back in the top 10 as he is a SWC Player of the Year candidate.. He again came up huge accounting for 5 TD's (3 rushing, 2 passing) in their 38-32 win at Thurston.
Keegan Lawrence Sr. RB Sherwood – The Bowmen dropped 77 on what was a 2nd place Parkrose team to show you the stark contrast of talent within the state 5A ranks. Lawrence carried the ball 4 times for 117 yards and 2 Td's, while also catching 2 TD passes.
Roy Jackson Sr. RB Thurston – The Colts leader carried the ball 25 yards for 179 yards and a TD but came up short against North Medford at home
Kory Bennett Sr. WR Crater – Crater is not (0-6) bad and the senior wide out is one of the best in the state. He caught 7 more passes for 104 yards and a TD.