**This list is a way to showcase this weeks top performances. I am sure I missed a few and would like to know the ones I did. You can either comment on here or send me an email at Ringerland@gmail.com.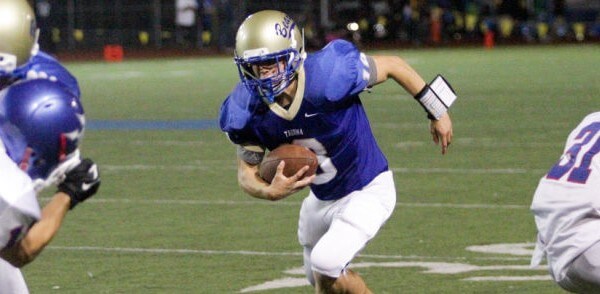 Brett Rypien, Jr. QB Shadle Park – I am sure most of you have heard by now, Rypien completed 44 of 59 passes for 613 yards and eight touchdowns! Yes, you read that correctly. The Highlanders beat previously undefeated Mount Spokane by a score of 63-42. Rypien is the first Washington high school player in 11-man football to throw for 600+ yards.
Tanner Pauly, Sr. WR / Nick Kiourkas, Sr. WR Shadle Park – Pauly had a huge night finishing with ten catches for 243 yards and four TDs (21, 40, 51 and 35 yards). Kiourkas chipped in with three TDs (3, 17 and 13 yards) from 9 catches and 122 yards.
Shane Nelson, Sr. QB Tahoma – Getting back in the win column this week with a 35-0 win over Mount Rainier, Nelson completed 23 of 35 passes for 267 yards and four TDs. The Bears started the season as a league favorite, but back-to-back losses to the Auburn schools has all but ended those thoughts.
Tyler Yarber, Sr. RB Rochester – Yarber makes the list again. This week he had 196 yards on 31 carries and two TDs as Rochester got a 49-14 win over Elma. The Warriors improve to 4-1 on the season, 3-0 in league play, and match up this week with defending state champ Montesano.
Leon Siofele, Sr. RB Union – Siofele carried 23 times for 285 yards and scored four TDs (29, 8, 49 and 25) to help the Union Titans to a 41-0 win over Heritage. This weeks big game leaves Siofele at 1,070 yards and 11 TDs through just five games.
Jacob Yordy, Sr. RB R.A. Long – One of the top backs at the 2A level, Yordy rushed for 288 yards on just 17 carries and scored seven TDs in the Lumberjacks 56-14 win over Washougal. R.A. Long is one of the state's top teams, currently ranked 6th, and could be the best team in the GSHL.
Adam Hinthorne, Sr. QB / Mike Padden, Sr. WR / Cole Stephens, Jr. RB Lakeside (Seattle) – The Lions improved to 4-1 on the season with a 56-26 win over Evergreen (Seattle). Hinthorne completed 21 of 34 passes for 378 yards and five TDs, while also running 81 yards for another score. Seven of those passes went to Padden who finished with 154 yards and two TDs. Stephens had 13 carries for 78 yards and a TD, and also caught two passes for 96 yards, both TDs.
Sam McPherson, Jr. ATH Bothell – Like most games this season, McPherson did a little bit of everything for the Cougars. He returned the opening kickoff 92 yards for the TD, his second such TD of the year. McPherson also rushed for 175 yards as Bothell hammered previously unbeaten Redmond 49-14.
Quincy Carter, Sr. QB Kent Meridian – Carter is a dual-threat QB that excelled in the running game this week to the tune of 389 yards rushing. The Royals beat Spanaway Lake 17-13, and might finally be turning the corner. Carter was injured early in the season, but has come back strong.
Dave Ungerer, Sr. ATH / Mason Petrino, So. QB Pullman – Ungerer rushed for 133 yards and two TDs, and had 145 yards receiving with three more scores. Petrino completed 12 of 17 passes for 324 yards and three TDs as the Greyhounds improved to 4-1 on the season with a 63-27 win over Deer Park.
Donny Ellersick, So. QB Ellensburg – Stepping up in the biggest test of his young career, Ellersick completed 14 of 24 passes for 366 5 TDs (58, 66, 80, 44 and 12) in the Bulldog's 52-43 over the Prosser Mustangs. Ellensburg is one of the best teams in 2A and are starting to look like they may be the favorite in the CWAC.
John Gardner, Sr. WR Inglemoor – Gardner had one of the best statistical games of his career with 11 catches for 271 yards. He also had an INT on defense, but it wasn't enough as Inglemoor lost to Eastlake. The 6-foot 3-inch senior caused matchup problems all night, as the Wolves really had no answer.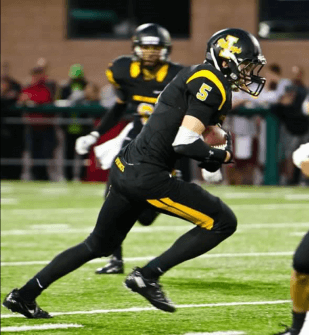 Brendan Illies, Jr. QB / DJ Winter, Sr. WR Puyallup – For the third time this season, Illies threw for over 300 yards, 339 to be exact. He surpassed the 1,500 yard make on the season and has a TD/INT ratio of 20/7. Winter breaks the list for the first time after a 7 catch, 199 yard and two TD performance this week.
Clifton Lozano, Sr. RB / Austin Urlacher, Jr. RB Chiawana – In a 48-7 rout of Wenatchee, Lozano carried 32 times for 298 yards and three TDs. Urlacher rushed for 191 yards on just 16 carries, and three TDs (15, 80 and 20 yards) of his own.
Sheyenne Sams, Sr. RB Oak Harbor – The speedster carried 15 times for 207 yards and a TD to help the Oak Harbor dismantle Stanwood 42-3. Sams is averaging just over 131 yards per game and has 5 TDs for the 4-1 Wildcats.
Colston Vukanovich, Sr. QB / Hayden Humphrey, Sr. WR Battle Ground – The Tigers have now won three straight after a 48-15 win over Evergreen (Vancouver). Vukanovich completed 15 of 20 passes for 245 yards and 4 TDs, and is now at 1,200 yards and 15 TDs on the season. Humphrey finished the night with nine catches for 144 yards, three TDs and had an INT of defense.
Christian Cummings, Sr. RB Tumwater – The Thunderbirds hung on for a 35-28 win over #3 W.F. West. Cummings finished the night with 178 yards on 18 carries and three TDs. Tumwater is the top-ranked team in the 2A classification and have a chance to knock off a top ten 4A team this week when they play host to Bellarmine Prep.
Austin Joyner, Jr. RB Marysville-Pilchuck – After taking last week off nursing an injury, the highly touted junior rushed 13 times for 188 yards and five TDs to help the Tomahawks down rival Marysville-Getchell 43-13. Marysville-Pilchuck is one of the top 3A teams in the state, and Joyner is a big reason why.
Robert Kvinsland, Jr. QB Peninsula – The Seahawks may finally be on track after back-to-back wins, including this week's 56-28 win over Bonney Lake. Kvinsland completed 24 of 35 passes for 272 yards and two TDs. He is now 77 of118 for 1,149 yards 9 TDs through five games.
Will Hopkins, Sr. WR / Avega Siolo, Sr. RB Peninsula – 13 of those passes from Kvinsland went to Hopkins for 160 yards and both TDs. Siolo chipped in with 150 yards rushing on just 9 carries and three TDs.
Cole Karstetter, Sr. RB / Jalen Hicks, Jr. ATH Ferris – The two make it for the second straight week as they combined to help the Saxons route North Central 50-14. Karstetter carried 17 times for 231 yards and four TDs (3, 20, 2 and 60 yards). He also had two catches for 20 yards and another score (12). Hicks needed just 6 carries to rush for 106 yards and a TD (68).
Joey Cassano, Sr. WR / Gresch Jensen, So. QB Auburn Mountainview – Cassano continues a great season with 14 catches for 214 yards and two TDs. He now has 652 yards and 9 TDs through 5 games. Jensen is a promising QB you will hear a lot about over the next few years and finished the night with 292 yards on 24 of 44 passing with three TDs.
Ernie Davis, Sr. RB Renton – Since the beginning of the season I have gotten at least 4-5 emails a week telling me about Davis. This week the explosive back carried 13 times for 252 yards three TDs. The Indians improved to 3-2 on the season, 2-0 in league play, with a 45-8 win over Highline.
Zach Whitby, Sr. QB Richland – It took four overtimes, but the Bombers upset #8 Kamiakin 56-49. Whitby completed 21 of 36 passes for 314 yards and five TDs. Opposing QB Kylle Robertson finished with 330 yards passing and five total TDs.
Austin Hall, Sr. RB Kamiak – Hall rushed 27 times for 239 yards and two TDs as Kamiak topped Jackson 35-20. Hall is one of Washington's more underrated backs, and is an athlete that could make this list on a weekly basis.
Braiden Beckman, Jr. LB Kentridge – In a 38-3 loss to Kentwood, Beckman finished the night with 11 tackles. Beckman continues to be a bright spot for the winless Chargers and is a player we anticipate great things from.
Tanner Gueller, Sr. QB W.F. West – In a 35-28 loss to top-ranked Tumwater, Gueller completed 19 of 37 passes for 224 yards and four TDs. The Bearcats are ranked #3 in the 2A classification, and rightfully so as they went toe-to-toe with the defending state runner-up.
Letrez Jones, Sr. RB Meridian – Jones rushed 19 times for 231 yards and 3 TDs (22, 51 and 3 yards) as the Trojans scored a 32-0 win over Friday Harbor. Meridian is starting to hit their stride after starting the season 0-2.