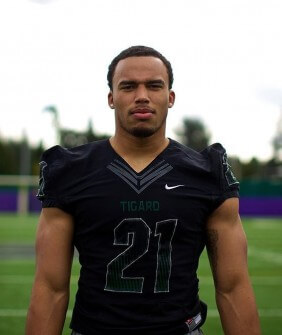 Big news out of Tigard as one of the most vicious hitters to ever come out of the Northwest, AJ Hotchkins (6-0 230 Sr. FB/LB), has verbally committed to play football at the University of Montana.
AJ was a 1st team all-league fullback/D end as a junior, and is a kid that we have gotten to know well over the last few seasons. He was a standout at our elite events and on the Barton Camp and Combine Tour this past year, and is an athlete that brings it each and every play.
Referencing the offer he says, "The Montana coaches have been recruiting me the hardest by far, and I have built a great relationship with Coach Green (RB Coach)." Hotchkins continued, "He played in the NFL at the fullback position, which is a good thing for me because that's where I'm trying to get."
AJ is the true definition of a fullback and has what one prominent Big Sky college coach calls, "Easily one of the most exciting highlight films I have ever seen". Tigard is currently (6-0) and ranked #2 in the state, beating opponents by 40 points plus so far this season.
Adding to his thoughts on his commitment he says, "I took my first official visit to Montana this year and the environment was crazy, you are like a celebrity there."
"They also use a true fullback on 90% of their offensive plays, and their coaching staff and players were all really cool… I felt a good vibe the entire time I was there."
Hotchkins is an NEI favorite and a kid that we can't say enough good things about on and off the field. We wish him the best and will continue to bring you updates as they happen.