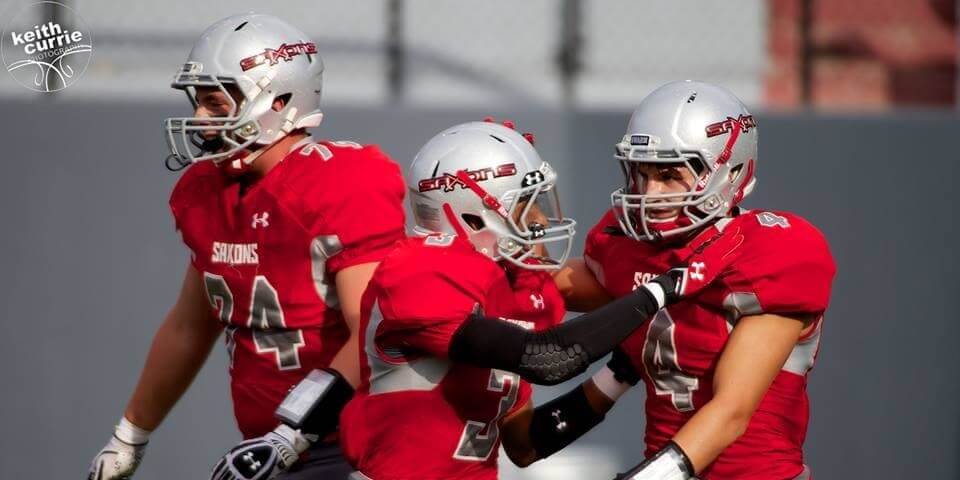 4A Top Ten
1. Camas Papermakers (5-0) W 47-12 @ Skyview Storm (2-3)
Camas put up all 47 points in the first half! The Papermakers are averaging 52 points per game and have never scored less than 47. The defense is giving up 11.4 points per game. This week should be a tune-up for week 7 vs Union.
Next: @ Evergreen (Vancouver) Plainsmen (3-2)
2. Chiawana Riverhawks (5-0) W 48-7 @ Wenatchee Panthers (3-2)
The Riverhawks are showing they are the best 4A team east of the mountains and legit state title contenders. They have so well balanced offensively with QB Joey Zamora, RB Clifton Lozano and WR Deion Singleton, the Riverhawks can beat you any way they feel needed. Wenatchee is no slouch offensively, so to hold them to only 7 points is very impressive. Chiawana's defense has now only given up 21 total points through 5 games.
Next: vs Kamiakin Braves (4-1)
3. Graham-Kapowsin Eagles (5-0) W 59-26 vs Roger (Puyallup) Rams (2-3)
The Eagles continue to make things look easy by putting up big numbers. RB Teague James added to his touchdown total with three (38, 17 and 11 yards) more this week, giving him 14 for the season. QB Trevor Asbjornsen continues to be efficient and did find the endzone once this week when he hit WR Dylan Campbell from 18 yards.
Next: @ Bethel Braves (2-3)
4. Ferris Saxons (4-1) W 50-14 @ North Central Indians (1-4)
The duo or Karstetter and Hicks have been running wild most of the season, and this week was much of the same. Karstetter was over 200, while Hicks added 100+ of his own. With the rest of the league beating up on each other, Ferris is in a great spot to make a run into the playoffs.
Next: vs Mount Spokane Wildcats (4-1)
5. Bellarmine Prep (5-0) W 50-18 vs Stadium Tigers (1-4)
The offense is really clicking for Bellarmine Prep, but this week will be the toughest test so far, and maybe in the regular season. The Tumwater Thunderbirds are no joke. The Lions' defense has been on top of their game thus far, only allowing 46 points through five games.
Next: @ 2A #1 Tumwater Thunderbirds (5-0)
6. Bothell Cougars (4-1) W 49-14 vs Redmond Mustangs (4-1)
Sam McPherson and company are rolling again. This team lost 21 starters off last year's team, but somehow look better. Dayzell Wilson is playing at the top of his game and will be one of the top WRs on our 2015 rankings when they are released.
Next: @ 3A #7 Glacier Peak Grizzlies (5-0)
7. Skyline Spartans (4-1) W 41-7 @ Garfield Bulldogs (1-4)
Since giving up 45 and 23 points to start the season, Skyline have given up 6, 0 and 7 in their last three. The Spartans finish off the Seattle Schools this week when they face Ballard. They finish the season with Newport at home, before traveling to play rival Issaquah in a what should be a highly anticipated game.
Next: @ Ballard Beavers (2-3)
8. Union Titans (4-1) W 41-0 vs Heritage Timberwolves (2-3)
As usual the story is RB Leon Siofele. The senior workhorse is now over 1,000 yards on the season, after 285 this week, and is showing no signs of slowing down. Junior QB Nolan Henry is completing about 65% of his passes, but even he is quick to redirect the attention to Siofele.
Next: @ Battle Ground Tigers (3-2)
9. Newport Knights (4-1) W 38-26 vs Ballard Beavers (2-3)
The Knights got back on track after a surprising week four loss to Issaquah. Senior RB Conner Baumann carried 13 times for 216 yards and a TD. On the season Baumann has now rushed for 716 yards and 5 TDs. Paul Wells rushed for 98 yards and two TDs, and now stands at 10 TDs for the season.
Next: vs Roosevelt Roughriders (3-2)
10. Gonzaga Prep Bullpups (4-1) W 21-9 vs Mead Panthers (3-2)
Gonzaga Prep gets back into the win column this week with a tough win over a good Mead team. It was almost like a playoff game for both teams as neither can really afford a second loss. The Bullpups really didn't play their best game last week and still came out on top. They will have two weeks, North Central and Rogers, to figure their game out before finishing with Mount Spokane and Central Valley.
Next: @ North Central Indians (1-4)
Others Receiving Votes: Edmonds-Woodway Warriors (5-0), Issaquah Eagles (3-2)
Ryland Spencer
1. Camas
2. Chiawana
3. Graham-Kapowsin
4. Bellarmine Prep
5. Ferris
6. Bothell
7. Union
8. Skyline
9. Gonzaga Prep
10. Edmonds-Woodway
Jordan Johnson
1. Camas
2. Chiawana
3. Graham-Kapowsin
4. Ferris
5. Bothell
6. Bellarmine Prep
7. Skyline
8. Newport
9. Union
10. Issaquah
3A Top Ten
1. Bellevue Wolverines (5-0) W 38-14 @ #9 Juanita Rebels (3-2)
The Wolverines didn't play their best football, and still put up 38 points with ease, and were even down 7-0 early in the game. The Juanita offense has been clicking and the Wolverines didn't allow many first downs, other than when they took penalties.
Next: vs Interlake Saints (0-5)
2. O'Dea Fighting Irish (5-0) W 49-6 @ Ingraham Rams (0-5)
The Irish continue to hammer one opponent after another. The defense has only given up 46 total points, while the offense is averaging almost that much per game with 45.2. The running game is the key for O'Dea, always has been and always will be. The play of both the offensive and defensive lines will become more important as we get to nastier weather, and that is where the Irish excel.
Next: @ #8 Bishop Blanchet Braves (5-0)
3. Eastside Catholic Crusaders (4-1) W 40-7 @ Seattle Prep Panthers (1-4)
Senior RB Henry Jarvis continues to rack up the rushing yards with 164 and 2 TDs this week, giving him 864 and 9 TDs for the season. Sophomore QB Harley Kirsch is closing in on 1,000 yards with 12 TDs and has yet to throw an INT. Another sophomore playing well is WR Devon Arbis-Jackson. He leads the Crusaders in receiving with 378 yards and 8 TDs.
Next: @ Rainier Beach Vikings (2-2)
4. Marysville-Pilchuck Tomahawks (5-0) W 43-13 @ Marysville-Getchell Chargers (2-3)
The second annual "Berry Bowl" was not much of a contest. High profile RB Austin Joyner returned this week to help the Tomahawks blast the rival Chargers. The Tomahawks have two games they should have no problem with, before facing upstart Oak Harbor in week 8. Look for them to cruise.
Next: @ Stanwood Spartans (2-3)
5. (T) Mount Si Wildcats (5-0) W 52-13 vs Sammamish Totems (0-5)
The Wildcats did what was expected this week by blasting the Totems. The defense was again very good for Mount Si, who are now giving up about 12 points per game. The offense is starting to pick up steam and will most likely add to it this week as they get ready for a date the following week with Bellevue.
Next: @ Lake Washington Kangaroos (2-3)
5. (T) Shadle Park Highlanders (4-1) W 63-42 @ Mount Spokane Wildcats (4-1)
Brett Rypien went absolutely nuts this week by throwing for over 600 yards and 8 TDs. Senior receivers Tanner Pauly and Nick Kiourkas are starting to hit their stride, with Pauly picking up 200+ yards this week. The Highlanders took their week two 38-14 loss to Ferris personally, especially the offense, who has put up 40, 42 and 63 since.
Next: @ Mead Panthers (3-2)
7. Glacier Peak Grizzlies (5-0) W 45-15 @ Shorecrest Scots (1-4)
The Grizzlies are averaging almost twice as many points scored as given up on the season. They are in a similar spot as last season when they entered week 6 against Bothell undefeated, but were beaten 41-14. The Grizzlies are making their money along the lines right now, and will need more of that in the future to continue their recent success.
Next: vs 4A #6 Bothell Cougars (4-1)
8. Juanita Rebels (3-2) L 38-14 vs #1 Bellevue Wolverines (5-0)
The Rebels suffered their second loss in three weeks, but are still one of the best teams in 3A. They lost DT Thomas Toki, QB Tavin Montgomery, RB Austin Cole and ATH Salvon Ahmed to injury during the game, and they may miss this week. They should get TE/LB Daegan Andrews back from injury this week to help take some of the load off.
Next: @ Mercer Island Islanders (3-1)
9. Bishop Blanchet Braves (5-0) W 75-0 vs Bainbridge Spartans (0-5)
Blanchet makes their first appearance in the top ten after back-to-back 70 point shutouts. Head coach Aaron Maul and his staff have done a great job this season and sophomore RB Oshea Trujillo has been absolutely electric. They have a great chance to make a statement this week.
Next: @ #2 O'Dea Fighting Irish (5-0)
10. Lincoln Abes (4-1) L 26-20 vs Timberline Blazers (2-3)
The Abes hit a roadblock this week, but are still a very good team. They should have no problem the next two week on their way to a showdown with Wilson, who is a surprising 5-0. Lincoln is loaded with talent on both sides of the ball and I expect them get back on track this week.
Next: @ Shelton Highclimbers (0-5)
Others Receiving Votes: Wilson Rams (5-0), Mount Spokane (4-1)
Ryland Spencer
1. Bellevue
2. O'Dea
3. Eastside Catholic
4. Marysville-Pilchuck
5. Mount Si
6. Shadle Park
7. Glacier Peak
8. Blanchet
9. Wilson
10. Lincoln
Jordan Johnson
1. Bellevue
2. O'Dea
3. Eastside Catholic
4. Marysville-Pilchuck
5. Shadle Park
6. Mount Si
7. Juanita
8. Glacier Peak
9. Lincoln
10. Mount Spokane
2A Top Ten: By Ryland Spencer
1. Tumwater Thunderbirds (5-0)
2. Lynden Lions (5-0)
3. Sumner Spartans (5-0)
4. W.F. West Bearcats (4-1)
5. Lakewood Cougars (5-0)
6. Ellensburg Bulldogs (5-0)
7. R.A. Long Lumberjacks (5-0)
8. Othello Huskies (4-1)
9. Lindbergh Eagles (5-0)
10. Pullman Greyhounds (4-1)
Others: West Valley (Yakima) Rams (4-1), Cheney Blackhawks (4-1), Mark Morris Monarchs (4-1), Fife Trojans (4-1), Prosser Mustangs (3-2)
1A Top Ten: By Ryland Spencer
1. Zillah Leopards (5-0)
2. Cascade Christian Cougars (5-0)
3. River View Panthers (5-0)
4. Woodland Beavers (5-0)
5. LaCenter Wildcats (5-0)
6. Mount Baker Mountaineers (4-1)
7. Cashmere Bulldogs (4-1)
8. Okanogan Bulldogs (5-0)
9. Freeman Scotties (5-0)
10. King's Knights (4-1)
Others: Cedar Park Christian Eagles (4-1), Eatonville Cruisers (4-1), Rochester Warriors (4-1), Royal Knights (3-2)