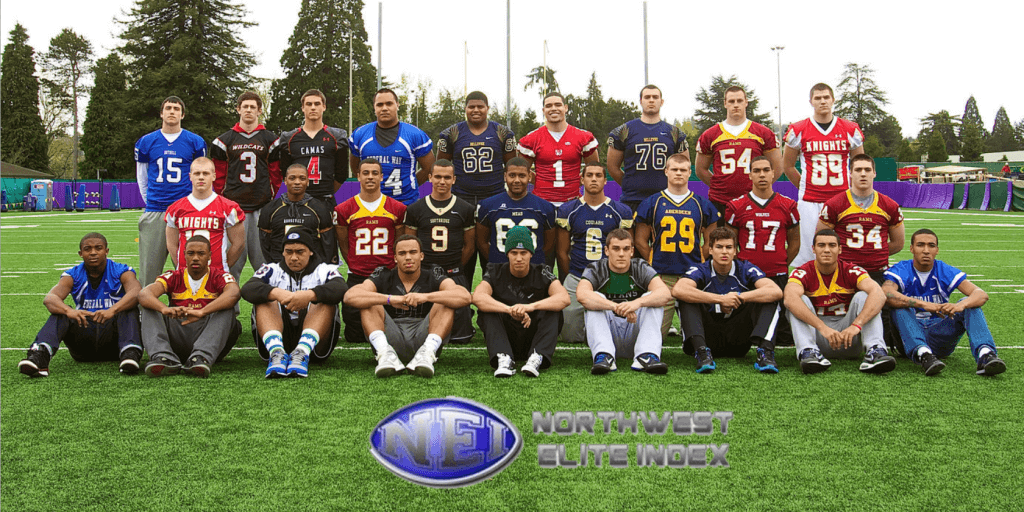 6A Top Ten
1. Central Catholic (6-0) – Player for player the best team in the state, but the Rams have a tendency to play at the level of their competition which has hurt them in the playoffs.
Next: vs David Douglas (0-6)
2. Tigard (6-0) – Tigard is averaging a 36-2 halftime score against opponents (210-14), and will most likely just add to that total. Much like the Rams the Tigers will need to make the most of their conference schedule which wont be competitive.
Next: @ Hillsboro (2-4)
3. Southridge (5-1) – There will be no love lost here as the Skyhawks have beaten Jesuit the last two seasons to win the Metro title. The Crusaders won't be able to beat Southridge with the pass, so you can expect multiple spy's on Alfieri.
Next: @ #5 Jesuit (4-2)
4. Sheldon (4-2) – The SWC is more balanced then its been in years, but the Irish should still handle most. Roseburg saw its an undefeated season come to an end last week against South Medford who Sheldon beat 49-14. The loss to North Medford a few weeks back was a good wake up call.
Next: vs Roseburg (5-1)
5. Jesuit (4-2) – The Crusaders could very well win this game. When Jesuit is on they are as good as anybody in the state. Joey Alfieri has been a man amongst boys the last three weeks going for 940 yards and 12 TD's. Southridge will do there best to make anyone but Joey beat them, so that is the challenge for Jesuit…. to see who will step up.
Next: vs #3 Southridge (5-1)
6. Clackamas (6-0) – The Cavs are very balanced and have there best team in years. They dominated West Linn on both sides of the football but Lake O will be ready and pose challenges. Daniel Sherrell will get his biggest challenge yet as LO is young, but a fundamentally sound defensive group.
Next: vs #8 Lake Oswego (2-4)
7. Oregon City (5-1) – The Pioneers keep rising in the rankings as they gain more experience. They have a healthy balance of run/pass and key senior's to compliment the phenomenal younger athletes. Sophomore Conner Mitchell went for another 147 yards and 3 Tds.
Next: vs West Linn (3-3)
8. Lake Oswego (2-4) – Lake O got a big confidence booster last week, but will play a Clackamas team that is extremely talented. LB Nick Underwood will be a key component to this game as he is the biggest threat to stop Dan Sherrell. The young Lakers will just continue to get better so this is a dangerous game for Clack.
Next: @ #6 Clackamas (6-0)
9. North Medford (5-1) – The Black Tornado should cruise as they have been firing on all cylinders, although the Axemen are improved and shouldn't be overlooked. Junior QB Troy Fowler has gone off so far this year, as Roseburg and South Medford loom the final two weeks.
Next: vs South Eugene (2-4)
10. Canby (3-3) – The Cougars found out what its like to play without Sam Bodine in a tough 35-14 loss to Lake O. Canby will have to dig deep, as the Pacers are still a very talented group led by junior standout Eric Dungey.
Next: @ Lakeridge (4-2)
5A Top Ten
1. Sherwood (6-0) – Sherwood dropped 77 on a second place Parkrose team, and QB Kevin Larkin threw 4 TD passes on what is usually a run only offense. I don't see them winning by less then 35 all season.
Next: vs Wilsonville (4-2)
2. West Albany (5-1) – The Dragons are a dangerous team, but the Bulldogs are playing their best football of the season. Jake Lacoste went for 304 yards and 3 TDs last week against South Albany and will most likely see another 30 carries this week.
Next: vs Dallas (4-2)
3. Silverton (5-1) – The Foxes got back on track blasting Lebanon 49-0, after a tough 13-0 loss to West Albany. Silverton is as dangerous as any other 5A team, and very much capable of a making a run to the state title game. Max Wilson (RB/LB) has been lights out all season on both sides of the ball.
Next: @ Woodburn
4. Ashland (6-0) – The Grizzlies could very well be 10 or 11-0 and playing somewhere deep in the playoffs as there schedule is favorable. They have a talented senior class combined with a some elite underclassmen, making this one of the best Ashland teams in some time.
Next: vs Sutherlin
5. Springfield (4-2) – The Millers are a good football team getting an impressive 49-28 win over #7 Hermiston. Returning Co-Conference POY Taylor Travess has been money all season, while sophomore QB Trever Watson is one of the best young talent's in the region. He threw for 368 yards and 3 TDs, while rushing for 89 and another score.
Next: vs North Eugene (0-6)
6. Crescent Valley (4-2) – The Raiders were challenged by an underrated Dallas team two weeks ago winning 14-6… Tanner Sanders will need to put the team on his back if they want to beat some of the big boys.
Next: vs South Albany (2-4)
7. Hermiston (4-2) – QB Chase Knutz kept the Bulldogs in the game for the first three quarters, throwing for 268 yards and 3 TDs but Springfield proved to much.
Next: @ Southridge WA (3-2)
8. Roosevelt (5-1) – The Roughriders continue to play better and should cruise through PIL play if they are top 10 team. Kimane Domena has been dominant accounting for 17 TDs (8 passing, 9 rushing).
Next: vs Franklin (4-2)
9. Mountain View (4-2) – The Cougars beat a (5-0) Pendleton team that hadn't really played anybody 50-27. Mt View is getting healthy and have 6-5, 6-4 , 6-3 WR's to exploit as the season progresses.
Next: vs Summit (4-2)
10. Dallas (4-2) – The Dragons have a talented senior group led by Caleb Naughton and Kaj Christensen that almost up ended Crescent Valley two weeks ago , losing 14-6. Dallas blasted Woodburn last week 55-10.
Next: @ West Albany (5-1)