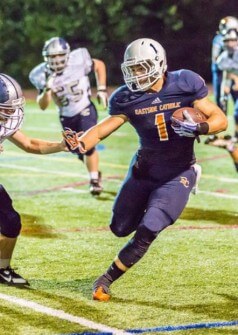 As one of the top rushers in the state heading into the season, Eastside Catholic senior tailback Henry Jarvis has lived up to the hype and he told Northwest Elite Index recently he just goes about his business and hopes to lead his team to another state title game berth.
"We made it to the state title game last year and this year, that's what we are focused on again because we got a taste of it, but we want another chance to win one," Jarvis told NEI recently.
As a junior last fall, Jarvis put himself on the map by racking up 1,015 yards and 14 touchdowns and so far this season, in five games, the 5'10", 210-pounder has carried the rock 84 times for 865 yards and nine touchdowns while hauling in 11 receptions for 83 yards and another score.
"I do most of my damage between the tackles," Jarvis said. "I have good vision and I can get outside, but I'm at my best lowering my head and making plays through the line between the tackles and getting to the next level."
As far as recruiting is concerned, things have been a tad slow for the senior captain, but he's not too worried about his future prospects.
"Right now, the only school I've talked to is Wyoming," Jarvis said. "I've just started sending my film out, so I'm hoping schools like Montana State or Idaho like what they see and we'll go from there.
"Getting a football scholarship was never something I dreamed of growing up. I mean, I would love to play college football, but it hasn't been my focus. If I work hard, get it done and a scholarship comes along, then I will be happy and excited about my future, but it's not something I am thinking about right now. I just want to get us back to the state finals and see what happens."
This coming weekend, the 4-1 Crusaders will take on Rainier Beach and then they will turn their attention toward arch-rival O'Dea who they will host on October 18th in what will likely be the unofficial Metro Conference title game.