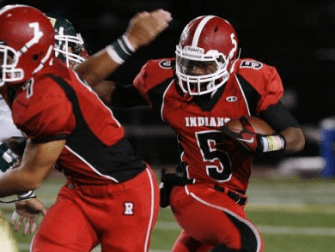 Renton hasn't been much of a challenge for the state playoffs the past few years, but behind the running of senior TB Ernie Davis, the Indians are off to a 3-2 start and he recently updated Northwest Elite Index on how the season has progressed as well as the school he's been talking to.
"Things have been going good for me and as a team we're playing pretty well, but we have to keep it going," Davis told NEI. "We want to make the playoffs and anything after that can happen. We just need to get there.
"I feel like we can be league champs, but we have to finish this thing out strong and we'll see what happens."
While helping to lead his team to a 3-2 record, Davis has rushed for 1,070 yards and 15 scores and he's also a leader on defense.
"One thing with me is that I give full effort on every play," the 5'8″, 170 pound senior noted. "In everything I do, I go all out and I think that coaches have liked that about me. It also helps me on both offense and defense as a captain."
As far as recruiting is concerned, Davis hit the Portland State and Washington Camps this summer and he's been talking to a Mountain West program.
"Wyoming has been the main school talking to me and I think they like me a lot," Davis said. "I don't have any offers yet, but I'm not too worried about it because I have my season to focus on."
Davis and his teammates take on Lindbergh (Renton) High School on Friday as they continue their quest to make it to post-season play.