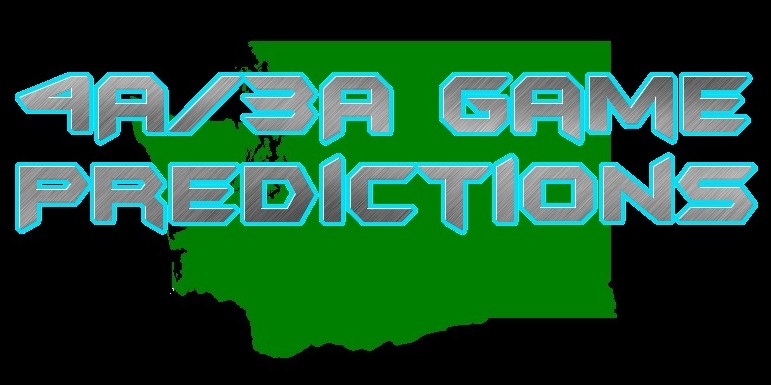 | | | | |
| --- | --- | --- | --- |
| Name | Wins | | Losses |
| Ryland | 79 | – | 16 |
| Jordan | 83 | – | 13 |
4A Top Ten

1. Camas Papermakers (5-0) @ Evergreen (Vancouver) Plainsmen (3-2)
Papermaker QB Reilly Hennessey is the GSHL's leading passer with 1,257 yards on the season. Senior WR Zach Eagle is the top receiver with 22 catchers for 418 yards. Senior WR/DB Jorden Payne was The Columbian's player of the week after a two TD performance, including a 55 yard INT return as Camas downed Skyview 47-12.
Picks: Ryland – Camas, Jordan – Camas
2. Chiawana Riverhawks (5-0) vs Kamiakin Braves (4-1)
Chiawana has shown they are the top 4A team in eastern Washington. They have blasted everyone who has gotten in their way as QB Joey Zamora and RB Clifton Lozano have shown to be a lethal pair. The defense has been absolutely incredible thus far to the tune of 21 total points give up in 5 games. Kamiakin is coming off a tough 4OT loss to a good Richland team, and will be looking to put a mark on Chiawana's unblemished record.
Picks: Ryland – Chiawana, Jordan – Chiawana
3. Graham-Kapowsin Eagles (5-0) @ Bethel Braves (2-3)
This is a rivalry game as the two teams share Art Crate Stadium. Until last season the Eagles had never beaten the Braves since opening in 2005, but they turned the tables with a 35-28 win. RB Teague James rushed for 166 yards in that game, and you can expect much of the same this season.
Picks: Ryland – Graham-Kapowsin, Jordan – Graham-Kapowsin
4. Ferris Saxons (4-1) vs Mount Spokane Wildcats (4-1)
This could turn out to be on the of the better games of the week. Mount Spokane is better than last week's game would show. They got picked apart by a juggernaut Shadle Park passing offense. The Saxons like to run the ball and Mount Spokane has show an ability to stop the run. This is a great opportunity for the Wildcats to make a statement.
Picks: Ryland – Ferris, Jordan – Ferris
5. Bellarmine Prep Lions (5-0) @ 2A #1 Tumwater Thunderbirds (5-0)
This is as big of a non-conference game as you will find in the state this year. Bellarmine Prep brings a top level defense to go against one of the top offenses state wide. The Lions' offense is going to have to be on top of their game to keep the Thunderbird offense off the field. Tumwater is the top ranked team in 2A, but would probably be in the top five of 4A or 3A, they are that good.
Picks: Ryland – Tumwater, Jordan – Tumwater
6. Bothell Cougars (4-1) @ Glacier Peak Grizzlies (5-0)
Glacier Peak is one of the more surprising undefeated teams in the state, while Bothell's one loss is to the almighty Bellevue Wolverines. Since that day the Cougars offense has really been clicking. Weather it is QB Ross Bowers to WR Dayzell Wilson, or 'Mr. Everything' Sam McPherson doing a little bit of everything, the Cougars have been one of the top teams in the state.
Picks: Ryland – Bothell, Jordan – Bothell
7. Skyline Spartans (4-1) @ Ballard Beavers (2-3)
Over the next three weeks the Spartans defense will see a little bit of everything. Ballard spreads the ball around, Newport runs almost every play, and Issaquah can beat you both ways. Junior Chandler Wong leads the Spartan defense with 41 tackles, while senior Josh Wright and junior Cam Saffle are tied for sacks with six
Picks: Ryland – Skyline, Jordan – Skyline
8. Union Titans (4-1) @ Battle Ground Tigers (3-2)
Runningback Leon Siofele is the GSHL 4A's leading rusher with 1,070 yards. The senior has more than twice as many yards as the next closest back and has chipped in 11 TDs. Next in line happens to be Battle Ground's Justin Smalley who has 498 yards and eight TDs. Battle Ground goes to the air more than Union and QB Colston Vukanovich is second in passing with 1,199 yards. This is a big game for the Tigers who are looking to make a statement.
Picks: Ryland – Union, Jordan – Union
9. Newport Knights (4-1) vs Roosevelt Roughriders (3-2)
This game is going to have a lot of rushing yards. Neither team likes to throw that much as they both run out of wing offenses. RB Conner Baumann leads the Knights with 716 yards rushing, but Paul Wells leads them with 10 rushing TDs. The Knights have only thrown for 107 total yards all season, with 48 of them coming from a HB Pass from Baumann.
Picks: Ryland – Newport, Jordan – Newport
10. Gonzaga Prep Bullpups (4-1) @ North Central Indians (1-4)
The Bullpups got back into the win column last week by beating Mead 2-19. The offense never really got going, but should get a boost this week as North Central really hasn't been competitive this season outside of their one win. Prep only completed two passes last week, both for TDs, but the running game is really what sets up any passing game they have. They will need to get back to pounding the ball this week.
Picks: Ryland – Gonzaga Prep, Jordan – Gonzaga Prep

3A Top Ten
1. Bellevue Wolverines (5-0) vs Interlake Saints (0-5)
The Wolverines are a machine. The didn't play their best football last week, but still took it to Juanita. Interlake is having a tough time scoring, and this week will be no different. Expect a running clock.
Picks: Ryland – Bellevue, Jordan – Bellevue
2. O'Dea Fighting Irish (5-0) @ Blanchet Braves (5-0)
This is the best game in the area this week. Blanchet has been absolutely blasting teams all season. Their defense has only given up 13 total points, all to Lakeside in week 3. O'Dea has been taking it to teams for years. This is a big opportunity for Blanchet to not only make a name, but to show they are for real. I just think the play of the O'Dea OL and DL will be too much.
Picks: Ryland – O'Dea, Jordan – O'Dea
3. Eastside Catholic Crusaders (4-1) @ Rainier Beach Vikings (2-2)
Rainier Beach head coach Mark Haley is one of the more underrated coaches in the are. His teams are always ready to play, but they will have a problem with the Crusaders. Eastside Catholic's Henry Jarvis continues his rise among the state's best RBs and should have another huge day this week. Crusaders roll in this one.
Picks: Ryland – Eastside Catholic, Jordan – Eastside Catholic
4. Marysville-Pilchuck Tomahawks (5-0) @ Stanwood Spartans (2-3)
Tomahawks star RB Austin Joyner is rushing for over 14 yards per carry this season, and that number could improve this week. Stanwood is a solid team, but they don't have the horses to hang with Luton and Joyner.
Picks: Ryland – Marysville-Pilchuck, Jordan – Marysville-Pilchuck
5. (T) Mount Si Wildcats (5-0) @ Lake Washington Kangaroos (2-3)
The Wildcats are definitely rolling, and should continue to roll this week. Offensively they put up 49 points last week on way to blasting Sammamish. This game should be a tune up for next week vs Bellevue. Could see a running clock.
Picks: Ryland – Mount Si, Jordan – Mount Si
5. (T) Shadle Park Highlanders (4-1) @ Mead Panthers (3-2)
If the Highlanders can keep up last weeks pace, they will be in the Tacoma Dome this year. Mead is struggling right now, having lost two straight. It is going to be very tough to stop Rypien, Pauly and Kiourkas. This should be another opportunity for that trio to put up huge numbers.
Picks: Ryland – Shadle Park, Jordan – Shadle Park
8. Juanita Rebels (3-2) @ Mercer Island Islanders (3-1)
This is a game I could see Juanita losing. They lost a bunch of players to injury last week and it is unclear who returns this week. This game is basically a playoff game for the Rebels who can't afford another loss if they are to make the playoffs. Juanita's play along the line was helped last week with the addition of Lula Finau, and Makiah Gilmer returned to help at WR/DB. Those two will need to take a big step this week.
Picks: Ryland – Juanita, Jordan – Juanita
10. Lincoln Abes (4-1) @ Shelton Highclimbers (0-5)
The Abes struggled last week against a Timberline team that was really struggling. Fortunately for Lincoln, they are playing a Shelton team that really has yet to find its identity. Losing RB Ralph Kinne (UW) and TE David Ajamu (UW) has really hurt the Highclimbers. Lincoln will have to get back to the basics to get back to the win column this week.
Picks: Ryland – Lincoln, Jordan – Lincoln