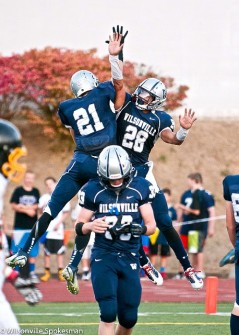 Its always good to catch up with kids that have represented the Northwest as well as anybody, and are now at big time D1 Universities. Johnny Ragin and Tanner Shipley were two of the top athletes on the west coast coming out of last years 2013 class.
They set the tone early on in their career at Wilsonville HS under Head coach Adam Guether, and continued to rack up accolade after accolade before deciding on where to go to school. We feel fortunate to have gotten to know both kids well, as they trained with us at the Barton Football Academy. Each is special in their own way, but neither kid missed a single workout that we hosted all off season, which included our Portland/Seattle Elite Events and the regional 7-on-7 tournament in Vegas.
Shipley ended up being named the NWOC Player of the Year, and the Les Schawb (Oregon Bowl) game MVP. He went for 37 TDs and over 4000 all purpose yards in his career. Ragin was ranked the #1 LB in the state, and was selected to the Prestigious NIKE Opening with the other top athletes from around the country. Johnny turned down Oregon, just to put into perspective how sought after he was.
Catching up with both kids was great as we got a little insight into the life they are living. Referencing CAL Johnny says, "The transition from HS to college has been pretty smooth, both on and off the field… Just like anything you get what you put in, and at the college level the game has many more mental components and is a lot faster."
He continued, "In order to play great you really have to put in the time… I've been starting on all of the special teams and working my way up the depth chart at LB… I had a little set back when I got sick and had to miss the Ohio St game but I'm working my way back in the rotation."
Tanner echoed his thoughts on Boise St, "BSU is a perfect fit for my college football dreams, its where you get whatever you put into it."
He added, "The coaching staff is awesome and all of them really care for each individual on our team… This red shirt year is tough not being able to play with a lot of 5:45 AM lifts, but I know if I grind through the season and knock out my school work the years ahead will be bright… Go Broncos."