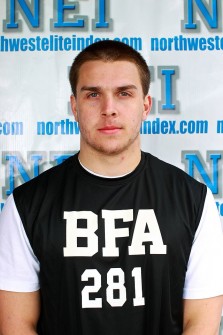 A kid that has played in back to back state title games, Nick Underwood (6-1 220 Sr. LB) of Lake Oswego, will be a three year all league starter and recently just landed his 3rd D1 offer from UNLV.
Underwood was a 1st team all league kid as a junior, and is a leading candidate for TRL Defensive Player of the year honors this season. The Lakers are (2-4) but still ranked in our NEI top 10 as they have lost some tough ball games to top teams. Referencing the offer Underwood says, "I was really surprised because I hadn't been in contact with them so it made it even more exciting.. Adding, " I was just extremely thankful for the offer because its definitely a school that I think I will visit and check out."
Nick would be in a dog fight with Canby LB Sam Bodine as the type of kid you would want your daughter to date, speaking to his character. He currently holds offers from Air Force, Portland State, and now the Runnin' Rebels. Adding to his thoughts he says, "I just want to thank my coaches and family because they have helped put me in the position that I am today… I'm not sure where I want to go to college and will make my decision after the season but UNLV will be one of my top options."
Underwood was a standout at our elite events and on the Barton Camp and Combine Tour this past off season. He is in my opinion one of the most talented kids anywhere in the west, not necessarily looking the part at first glance but absolutely dominating football games with his balance and precision. Nick was (27-1) with a state title coming into this year as a Laker. They are a young team and currently playing much better, with last weeks 35-14 win over Canby. They will play #6 Clackamas (6-0) tonight and we will continue to bring you updates on the all state backer for years to come.