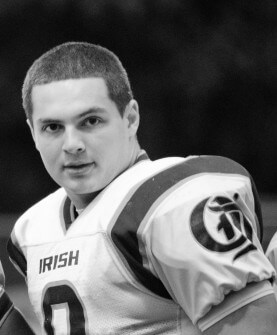 While he may not be committed to playing college football just yet, O'Dea senior QB Pierre Le Dorze (6'2″ 221 lbs) has committed to Cornell for Baseball. The Big Red coaching staff sees Le Dorze as an outfielder.
"I thought it was a great academic fit for myself (3.98 GPA). I loved the campus and area. I believe it is a good overall fit for me," Le Dorze told NEI.
Le Dorze took an official visit to the Ivy League school last weekend. "The campus is amazing and area is very cool. The players on the team are good guys and I really liked the coaches. It has a great atmosphere and great academics."
He has been at helm of the O'Dea offense since the start of his sophomore season, helping lead the Fighting Irish to a runner-up finish at the state finals.
Football is still a possibility for the senior signal caller. "The Cornell baseball coaches are talking to them (Cornell football coaches) for me. Due to missing spring football because of baseball, I would have to play another position besides QB," Le Dorze said. "I may try to play my sophomore year so that I can see if I can manage two sports and the academics."
Le Dorze has been on the varsity baseball team since his freshmen season. He has been an All-Metro baseball player every season, starting with honorable mention as a freshmen. O'Dea has made the state playoffs all three years, and look to be one of the better teams in 3A again this coming season.
When not playing for O'Dea, Le Dorze plays a variety of positions for the prestigious Boys Of Summer program. In 51 games last year, Le Dorze batted .359 with three HRs and 31 RBIs.
You may be asking yourself why we are reporting on baseball. We are reporting on an exceptional young man. Le Dorze is an NEI favorite and someone we believe will be successful in whatever path he takes in life. We wish Pierre the best of luck and look forward to following him for many years.