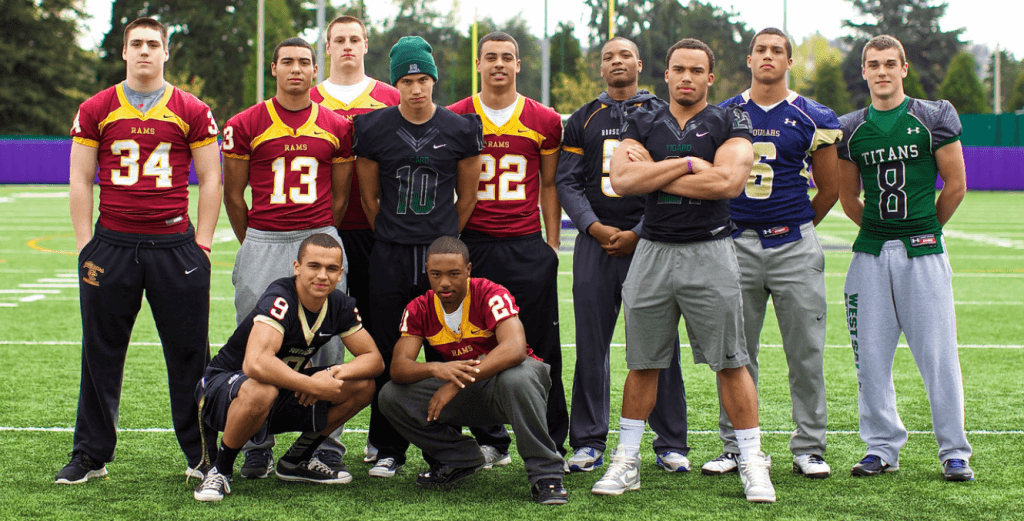 6A Top Ten
1. Central Catholic (7-0) – CC will look to build momentum towards the end of the conference season, beating most by 50. Barlow has been on a down hill slide so this will most likely not be close.
Next: vs Barlow (2-5)
2. Tigard (7-0) – The Tigers (Tigard) are usually done by half, dropping Hillsboro by 51 last week and looking like a legit state title contender. Newberg is playing better, but Tigard is ridiculous as Manu Rasmussen scored 6 more Td's.
Next: vs Newberg (4-3)
3. Jesuit (5-2) – The Crusaders are playing their best ball of the season. Joey Alfieri can't be stopped going for over 1240 yards and 16 Td's in the last 4 weeks, and sophomore QB Eric Restic is developing nicely. They should be able to blow this open early.
Next: @ Aloha (2-5)
4. Sheldon (5-2) – The Irish will always be one of the state's best. The SWC is extremely balanced this season, as Roseburg stayed close losing by a TD last week. The Colts aren't (1-6) bad, but Sheldon should be able to roll.
Next: vs Thurston (1-6)
5. Southridge (5-2) – The Skyhawks got blasted as Alfieri did what he wanted all night in the 55-28 loss to Jesuit. They will have to make some adjustments if they want to hang with the likes of Jesuit, CC, or Tigard, all teams with dominant run games. Westview is dangerous and playing as well as anybody.
Next: vs Wesview (5-2)
6. Lake Oswego (3-4) – Records don't always tell the story and this young Laker squad is now looking like the class of the TRL again. LO got a big 42-18 win over previously unbeaten Clackamas behind Sophomore QB Mitch Verburg's 4 TD passes. This will be a test against a good Pacer team, where no love will be lost between the two.
Next: vs #10 Lakeridge (5-2)
7. Oregon City (6-1) – The Pioneers got a big 31-28 conference win over West Linn last week and their game versus Clack will prove huge moving forward. We will see what some of these talented younger O.C. athletes can do against a strong Cavalier senior group.
Next: @ #8 Clackamas (6-1)
8. Clackamas (6-1) – The Cavs went lock down on Louie Germain of West Linn a few weeks back and have a strong run D, so it will interesting to see what they do against sophomore standout Conner Mitchell. The Cavs will continue to use Dan Sherrell who is having a 1st team all state type year.
Next: vs #7 Oregon City (6-1)
9. North Medford (6-1) – The Black Tornado are one of the feel good stories of the year, backed by a super talented 2015 class. They will be tested this week against a healthy Panther squad in one of the most anticipated black/blue games in some time. Spiegelberg Stadium will be packed as this will be a battle.
Next: @ South Medford (2-5)
10. Lakeridge (5-2) – One of the fastest rising teams in Oregon. The Pacers feature talented junior RB/LB Lopeti Aisea, and fellow junior QB Eric Dungey who has been lights out. They will need a LO type win if they want to take the season to the next level.
Next: @ Lake Oswego
5A Top Ten
1. Sherwood (7-0) – Maybe the most dominant 5A team ever will play a Pioneer squad that is having a good season, but realistically understands this most likely be over by half.
Next: @ Sandy (6-1)
2. West Albany (6-1) – The Bulldogs squeaked out a win against an underrated Dallas team 14-7 last week, behind Jake Lacoste's 50 carries and 397 yards. This one will be over early.
Next: @Lebanon (2-5)
3. Silverton (6-1) – The Foxes pitched another shutout against a sub par Woodburn team 53-0. Max Wilson is a player of the year candidate on both sides of the ball, and this game will be telling as the Raiders have the potential to compete.
Next: vs #6 Crescent Valley (5-2)
4. Ashland (7-0) – The Grizzlies most likely wont be challenged for another month so it will be a test to see if they can keep the momentum going. They hammered 4A Sutherlin last week and should do the same thing to the Wolverines.
Next: vs Willamette (2-5)
5. Springfield (5-2) – The Millers are one of the more exciting teams in the state behind top sophomore QB Trever Watson and co conference POY Taylor Travess. This will be a test as Springfield hasn't beaten Marist in some time. Dave Heuberger is one of the top coaches in Oregon and will have his guys ready.
Next: @ #9 Marist (4-3)
6. Crescent Valley (5-2) – The Raiders need a win over Silverton to solidify themselves as a 5A contender. They have the athletes, led by 6-5 OSU commit Tanner Sanders, but they have yet to beat a top 5 team in the last couple seasons.
Next: @ #3 Silverton (6-1)
7. Roosevelt (6-1) – The Roughriders are playing as well as anybody, dropping 50 on Franklin in the first half. Kimane Domena is now in his zone and should be good to go for the remainder of the year. The challenge will be to transfer from PIL play to legit playoff competition
Next: @ Jefferson (4-3)
8. Mountain View (5-2) – The Cougars are playing better each week and should handle a very young Redmond team. QB Connor Nehl is back healthy and Keenan Springer has been doing a great job out of the backfield.
Next: @ Redmond (1-6)
9. Marist (4-3) – The Spartans have had a couple tough losses, but they are extremely well coached and will play Springfield tough. Coach Geske and Coach Heuberger know each other well, and they will have their teams prepared.
Next: vs #5 Springfield (5-2)
10. Dallas (4-3) – Not a lot of people know, but the Dragons can play. They were close to pulling off the upset of #2 West Albany falling 14-7 last week, and should handle Corvallis by 20+ this week.
Next: vs Corvallis (3-4)