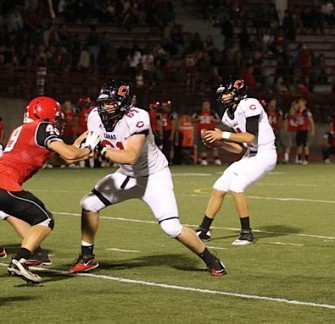 Camas (Wa.) OL Drew Clarkson talked to Northwest Elite Index recently about his decision to commit to Oregon State including what set the Beavers apart from the others.
"I've always liked Oregon State and I really got along well with the coaches," Clarkson told NEI. "It's also a great place to go academically for my major (Agriculture) so that was another reason, but most of all, it's a great program, a good school and I liked the coaches. It was the best fit for me."
Clarkson chose the Beavers over offers from Washington, California, Washington State, Boise State, Eastern Washington and Northern Colorado and said he visited the schools he was most interested in.
"I took visits to all of the schools I was serious about, but the only official visit I took was to Cal just because of the distance," Clarkson said. "I'll visit Oregon State, officially, later in the process, probably around bowl week, whenever that ends up being."
The 6'4″, 270-pound senior holds down the left tackle spot on the best 4A team in the state, but he said Oregon State likes him more as a center prospect.
"Whichever position, guard or tackle, that ends up getting me on the field the quickest, that's what I want to find," Clarkson said.
He and his teammates face off against Union this coming Friday and will finish off with games vs. Heritage and Battleground before beginning their run toward a state title.