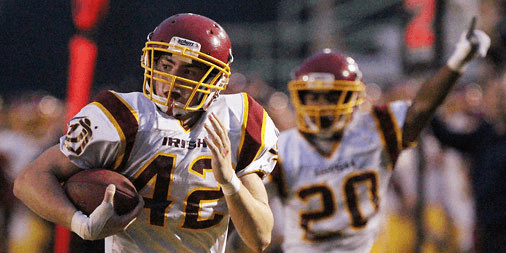 4A Top Ten
1. Camas Papermakers (6-0)
The defense was ridiculous this week with five touchdowns… Yes, they scored five defensive touchdowns, three by LB Michael DiGenova. That is something that happens in a game of John Madden football just before my friends get mad and throws a controller. Regardless, they hammered an improved Evergreen team 62-15.
Next: vs #6 Union Titans (5-1)
2. Chiawana Riverhawks (6-0)
The Riverhawks didn't get started the way they would've like this week, as a matter of fact they were down 14-0 early in the game, but they settled down and rattled off 33 straight points before Kamiakin got going again. The Braves would bring it within 5, but Chiawana was too much. I think this is just the type of game Chiawana needed. They faced adversity, but fought through it and proved they can win tough games.
Next: @ Lake City (ID)
3. Graham-Kapowsin Eagles (6-0)
The Eagles are the only team left undefeated in the SPSL South. They have beaten both second place teams, who both beat the third place team. They haven't actually sewn up the division, but it will take a lot of work for someone else to sneak in and take it away. RB Teague James is the story again this week. He continues to rack up a ton of yards and in my eyes is the favorite for league Player of the Year.
Next: @ Puyallup Vikings (4-2)
4. Ferris Saxons (5-1)
Cole Karstetter continues to be the focus of the Ferris offense. He is one of the state's top athletes and showing he is D1 caliber on a weekly basis. The Saxons haven't completely wrapped up one of two playoff spots, but they are very close and with the next two weeks against sub-par competition, they should be just fine.
Next: @ Lewis & Clark Tigers (2-4)
5. Bothell Cougars (5-1)
The Blue Train rolled into Snohomish and beat up undefeated Glacier Peak, for the second year in a row I might add. Sam McPherson ran back yet another kickoff, and is proving why he will be highly ranked when our new 2015 players rankings are released. Bothell gets back into KingCo play this week with the annual "Spaghetti Bowl" vs winless Inglemoor.
Next: @ Inglemoor Vikings (0-6)
6. Union Titans (5-1)
Seems like every week all I do is talk about RB Leon Siofele, and rightfully so. The senior is now up to 1,331 and 15 TDs on the season after rushing for 261 and 4 TDs against a good Battle Ground squad. This week will be the biggest test of the season thus far.
Next: @ #1 Camas Papermakers (6-0)
7. Skyline Spartans (5-1)
The Spartans have been blasting people as of late. The next two week will decide if they can get back to a second straight KingCo Championship game. They play host to Newport and travel to Issaquah to finish league play. The defense has been the real key so far, no reason to think it will slow now.
Next: vs Newport Knights (5-1)
8. Bellarmine Prep Lions (5-1)
The Tumwater Thunderbirds got the best of Bellarmine Prep last week, but it really wasn't a huge surprise to me. Tumwater is ranked #1 in 2A, and would be ranked in both 3A and 4A if they were in those classifications. The Lions get back to league play this week and should be just fine. They finish against Gig Harbor and Olympia, that will be the true test for them.
Next: @ Yelm Tornadoes (3-3)
9. Newport Knights (5-1)
This week could really help the Knights down the road. They are not out of the running for a KingCo Championship, but they will need a win this week. The Knights haven't been great since losing to Issaquah, but have been winning games. The defense is gonna have to be better from here on out for Newport to see the lights on a dome this year.
Next: @ Skyline Spartans (5-1)
10. Edmonds-Woodway Warriors (6-0)
The Warriors got through the toughest part of their schedule and look to be locked in to the Wesco Championship game. RB Juniour Opoku-Mensah continues to be the focus of the offense, but this week QB Davis Giles stepped up to show the passing game is no slouch. Giles finished with 252 yards and four TDs in a win over Kamiak.
Next: vs Lynnwood Royals (0-6)
3A Top Ten
1. Bellevue Wolverines
The Wolverines again hammered their opponent, and again should climb some national rankings. There aren't many people that would argue with this ranking, and nobody that actually knows football.
Next: vs #5 Mount Si Wildcats (6-0)
2. O'Dea Fighting Irish (6-0)
What was a good looking game on paper, turned into a 35-0 O'Dea win over previously unbeaten Blanchet. The Irish are just too tough in the trenches for most teams. I truly believe this is a team built for cold, miserable weather that is playoff football in Washington. This game can be seen online, Right Here .
Next: @ #3 Eastside Catholic Crusaders (5-1)
3. Eastside Catholic Crusaders (5-1)
Sophomore QB Harley Kirsch is now over 1,000 yards on the season, 14 TDs with no INTs and is completing an astounding 72 percent of his passes! The defense has been on top of their game the last three weeks, having given up only 21 total points. This week will be their toughest test yet.
Next: vs #2 O'Dea Fighting Irish
4. Marysville-Pilchuck Tomahawks (6-0)
The Tomahawks are playing as good as anyone. They proved this week they have more balance offensively than originally thought when senior QB Jake Luton threw for close to 300 yards and three TDs. The starters should be out at halftime this week, giving them somewhat of a bye week.
Next: vs Everett Seagulls (0-6)
5. Mount Si Wildcats (6-0)
The Wildcats continue to get it done. Their defense has been beyond good, only allowing 11 points per game. The offense has been no slouch, scoring close to 37 points per game. They will need to play better than ever before to get a win this week.
Next: @ #1 Bellevue Wolverines (6-0)
6. Shadle Park Highlanders (5-1)
While it wasn't a 600 yard effort, QB Brett Rypien was again over 300 yards and looked sharp on the night. WR Skyler Kelley stepped up this week with a 100+ yards and a TD. The real story though is the huge improvements the Highlanders have made on defense. They may have given up some points in games, but last season it was the defense that was literally costing them games.
Next: vs North Central Indians (1-5)
7. Lincoln Abes (5-1)
The Abes went into Shelton last week and did exactly what they should do by blasting the Highclimbers 41-6. This week should be much of the same as the Abes look to "tune up" for a date with undefeated Wilson in week 8.
Next: @ South Kitsap Wolves (2-4)
8. Glacier Peak Grizzlies (5-1)
If there is such thing as a "Good Loss", one could make an argument for this weeks game vs Bothell as one of those. The Cougars are one of the top teams in KingCo, and 4A football. The Grizzlies will learn a lot from that game and have to recover quickly as they get right back into league play this week.
Next: @ Shorewood Thunderbirds (2-4)
9. Wilson Rams (6-0)
Probably the most surprising undefeated team in the entire state, Wilson absolutely blasted Mount Tahoma this past week. They will get a decent test this week when they play host to rival Foss. The defense is giving up just under 13 points per game, while the offense is running wild with over 45 points per game.
Next: vs Foss Falcons (4-2)
10. Bishop Blanchet Braves (5-1)
Even with a 35-0 loss to O'Dea this past week, the Braves are still one of the best teams in 3A. They finish the season with three straight road games, including the O'Dea game. This week should be easy, but the following week they take a drive to the Sammamish Plateau to face Eastside Catholic.
Next: @ Seattle Prep Panthers (2-4)
2A Top Ten
1. Tumwater Thunderbirds (6-0)
2. Lynden Lions (6-0)
3. Sumner Spartans (6-0)
4. W.F. West Bearcats (5-1)
5. Lakewood Cougars (6-0)
6. Ellensburg Bulldogs (6-0)
7. R.A. Long Lumberjacks (6-0)
8. Pullman Greyhounds (5-1)
9. Lindbergh Eagles (6-0)
10. Othello Huskies (4-2)
Others: West Valley (Yakima) Rams (5-1), Mark Morris Monarchs (5-1), Prosser Mustangs (4-2), Kingston Buccaneers (5-1), White River Hornets (5-1)
1A Top Ten
1. Zillah Leopards (6-0)
2. Cascade Christian Cougars (6-0)
3. River View Panthers (6-0)
4. Woodland Beavers (6-0)
5. LaCenter Wildcats (6-0)
6. Mount Baker Mountaineers (5-1)
7. Cashmere Bulldogs (5-1)
8. Freeman Scotties (6-0)
9. King's Knights (5-1)
10. Okanogan Bulldogs (5-1)
Others: Cedar Park Christian Eagles (5-1), Eatonville Cruisers (5-1), Royal Knights (4-2)