**This list is a way to showcase the weeks top performances. I am sure I missed a few and would like to know the ones I did. You can either comment on here or send me an email at Ringerland@gmail.com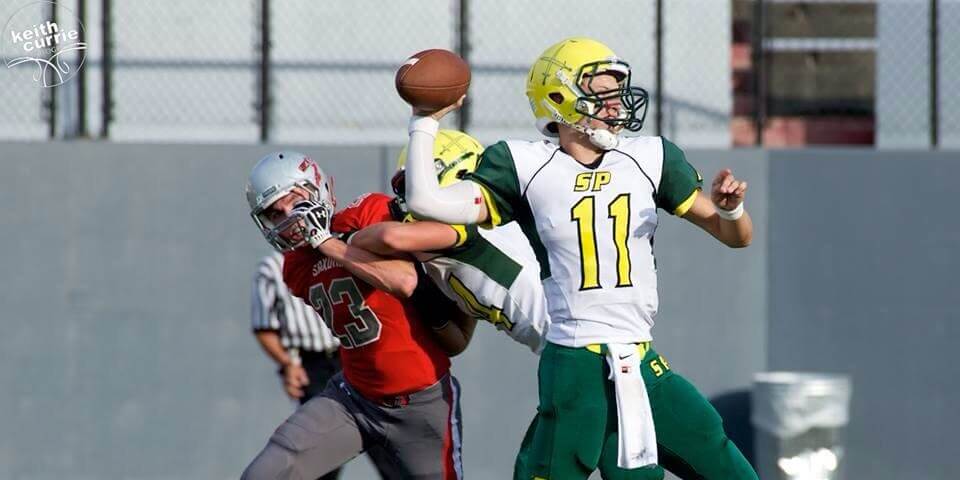 Teague James, Sr. RB Graham-Kapowsin – Another big game from one of the state's top backs. James finished with 228 yards on 23 carries and four TDs as the Eagles remained undefeated with a 48-14 win over rival Bethel.
Brett Rypien, Jr. QB / Skyler Kelley, Sr. WR Shadle Park -Rypien finished the night going 30 of 47 for 361 yards and four TDs(1, 2, 45 and 7 yards) as the Highlanders took it to Mead 33-7. Kelley was Rypien's favorite target on the night with 10 receptions for 124 yards and a TD (2).
Kevin Thomson, Sr. QB / Drew Wallen, Sr. WR Auburn Riverside – The leading candidate for SPSL North Player of the Year, Thomson completed 18 of 28 passes for 401 yards and five TDs, also had two TDs rushing. Drew Wallen had seven catches for 175 yards and two TDs. The Ravens are 6-0 following a win over Kent-Meridian.
Braiden Beckman, Jr. LB Kentridge – While Kentridge is really struggling, one of the big bright spots has been the play of Beckman. This week he finished with 12.5 tackles and an INT.
Clinton Jeney, Jr. ATH Reardan – Jeney can absolutely fly when he has the ball in his hands. This week he totaled 196 yards and five TDs as the Reardan Indians got a much needed 52-20 win over NW Christian.
Brendan Illies, Jr. QB Puyallup – Illies recently committed to the University of North Carolina to play baseball, to celebrate he threw for 329 yards on 19 of 29 passing and two TDs. The Vikings got back into the win column, after back-to-back losses, by beating rival Emerald Ridge 40-39.
Cordel Nelson, Sr. RB Clover Park – In a 49-36 win over Washington, Nelson carried 37 times for 296 yards and three TDs. Nelson is averaging close to 200 yards per game for the 3-3 Warriors.
Camas Defense – The Papermakers haven't given up many points, 12 per game to be exact, but this week they did something you would be hard pressed to find again when they scored five… Yes, five defensive touchdowns! Zach Eagle started it off with a 38 yard INT return, followed by a three yard fumble return by Trevor Wochnick. After that Michael DiGenova decided to start picking up everything in sight. He ended up with three fumble recoveries for TDs (1 yard, endzone and 39 yards).
Jake Luton, Sr. QB Marysville-Pilchuck – The Tomahawks can beat you in so many ways, which is why they are so highly ranked. Luton completed 10 of 13 passes for 278 yards and three TDs as MP got a 58-24 win at Stanwood.
Ronnie Evenden, Sr. RB Prairie – Evenden makes the list again when he rushed 25 times for 254 yards and two TDs (6 and 56). He also caught two passes for 30 yards as the Falcons beat Hudson's Bay 56-21.
Adam Chamberlain, Sr. QB / Spencer Miller, Jr. RB Central Valley – Chamberlain did a little bit of everything for the Rams. He finished with 8 carries for 212 yards and 2 TDs (48 and 73 yards), and also completed 7 passes for 85 and another TD. Miller on the other hand had 18 carries for 188 yards and 2 TDs (6 and 55). The Rams doubled up rival University 42-21.
Connor Scanlan, Sr. QB / Santana Johnson, Jr. WR Gig Harbor – Scanlan completed 15 of 21 passes for 315 yards and three TDs helping Gig Harbor hammer Stadium 54-7. Johnson was on the receiving end of eight of those passes for 144 yards and a TD.
Austin Urlacher, Jr. RB Chiawana – In a 40-28 win over Kamiakin, Urlacher carried 15 times for 122 yards and three TDs (74, 6 and 2 yards). Chiawana is 6-0 on the year and have all but wrapped up the Mid-Columbia title.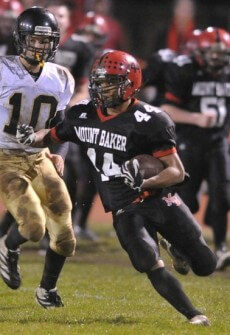 Jacob Eason, So. QB Lake Stevens – The Vikings have had a bit of a tough go this season, being just 3-3. They might be finding their stride at the right time and Eason would be a big reason. He threw for 385 yards on 19 of 29 passing and had three TDs as the Vikings scored a 56-39 win over the Arlington Eagles.
Izaiha Schwinden, Sr. RB Mount Baker – The Mountaineers hammered Lynden Christian 49-14, Schwinden outscored them in the first quarter when he scored three TDs, two rushing and a 31 yard INT return. He finished the night with 10 carries for 186 yards.
Malik Braxton, Jr. RB Meadowdale – The Mavericks moved to 3-0 in Wesco 3A South play with a 37-9 win over Mountlake Terrace. Braxton rushed for 200 yards on just 13 carries and scored four times. Braxton is one of the top backs in the 2015 recruiting class.
Shane Nelson, Sr. QB / Deshon Williams, Sr. WR Tahoma -Nelson completed 16 of 23 passes for 315 yards and five TDs. Williams is Nelson's favorite target and finished with nine catches for 198 yards and three TDs as Tahoma dropped Kentridge 41-7 in SPSL North action.
Trey Robinson, Sr. WR Jackson – The speedster hauled in seven passes for 200 yards and three TDs. He also rushed for a score as the Timberwolves downed Mariner 54-38.
Tavin Montgomery, So. QB / Landyn Milburn, Sr. WR Juanita – Montgomery threw for 327 yards and three TDs (67, 27 and 12 yards). Milburn had 12 catches 230 yards and a TD. The Rebels lost to Mercer Island and are going to need a lot of help to get into the playoffs.
Brian Thomas, Jr. RB Steilacoom – The Sentinel offense has come to life as of late, putting up 45 last week and 56 this week in a win over Fife. This week Thomas carried 20 times for 261 yards and five TDs.
Zach Whitby, Sr. QB Richland – The Bombers moved to 5-1 with a 56-14 win over Kennewick. Whitby finished 15 of 22 for 258 yards and three TDs (47, 43 and 39 yards). Richland is currently in the #2 playoff spot from the Mid-Columbia 4A.
Cole Karstetter, Sr. RB Ferris – Seems like Karstetter is on here every week. In a 24-14 win over Mount Spokane, Karstetter rushed 31 times for 179 yards and three TDs (37, 12 and 1).
Nate Arriola, Sr. RB Skyview – Arriola rushed 33 times for 247 yards and scored two TDs as the Storm came away with a 42-28 win over Heritage. Skyview improves to 3-3 on the year and are getting hot at the right time.
Jake Tumblin, Sr. RB Coupeville – The Wolves are one of the most improved teams in the state and Tumblin is a big reason why. He rushed 16 times for 201 yards and a TD. Coupeville beat Granite Falls 23-7 and improved to 3-2.
Andrew Rickman, Sr. RB / Rowan Parmenter, Fr. QB Cedar Park Christian – Rickman carried 11 times for 186 yards and 3 TDs, while Parmenter carried 8 times for 117 yards and 2 scores. The Eagles got a 49-14 win over Bellevue Christian to improve to 5-1 on the season.
Quincy Carter, Sr. QB Kent-Meridian – Carter continued to rack up the yards. This week he carried 26 times for 223 yards and three TDs, but it wasn't enough as the Royals fell to Auburn Riverside.