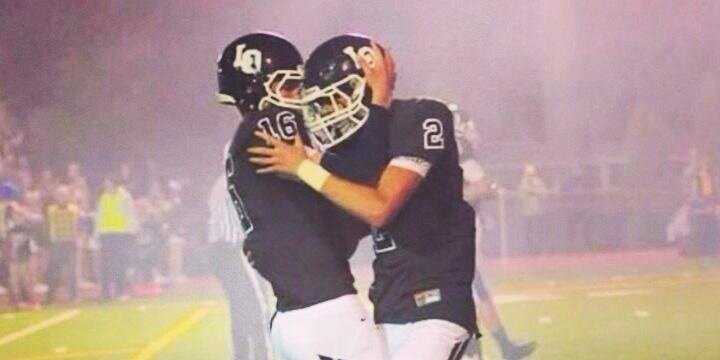 Trever Watson So. QB Springfield – One of the state's top overall players is only a sophomore and will be a Conference POY Candidate this year. He went off again going 15 of 18 for 285 yards, and 4 TDs… Also adding 4 rushes for 103 yards and a TD.
Joey Alfieri Sr. Jesuit RB – The Stanford commit went for another 311 yards and 4 TDs on 43 carries as he was absolutely dominant against the Skyhawk D. He now has accumulated 1251 yards and 16 TD's in the last 4 games, and is the overwhelming favorite to be the Oregon State Player of the Year
Dylan Morgan Jr. WR Crater – The brother of Arizona freshman RJ Morgan and one of the better junior slots in the state, caught 8 passes for 133 yards and 2 TDs.
Austin Brisbee Jr. QB Westview – One of the fastest rising Jrs state wide helped his team go (5-2), blasting Beaverton 46-15 and going 19-32 for 293 yards and 3 TDs; Also rushing 4 times for 25 yards and 2 TDs.
Parkrose/Jonathan Boland Jr. QB – The Broncos just clinched their first winning season in 31 years; Boland continued to do his thing with 4 passing TDs, and one rushing in their 61-3 win over Milwaukie.
Manu Rasmussen Sr. RB/DB Tigard – The Pacific Conference POY favorite on both sides of the ball went for another 6 TD's and an INT in their 66-15 win.
Willy Pflug Jr. QB Sunset – Pflug helped his team win by 20 over Lincoln showing off his versatility once again, going 19/24 for 195 yards 2 TD's via the air (17 total season); He also rushed 13 times for 97 and 2 TDs.
Teagan Lind/Ian Myers Jr TE's Westview – Both players rank as two of the better junior's in Oregon, and two of the top Jr. TE's in the region. Lind has had a phenomenal year and Meyers caught a 22 TD pass.
Taylor Jensen So. QB Forest Grove – The talented young QB went for over 250 yards passing for the 4th time this year hitting on 29-46 passes for 280 Yds.
Grayson Oviatt Jr. QB/ Tyler Delashmutt Sr. WR Newberg – The Tigers Junior QB has played outstanding ball all year and hit on 2 more TD passes (80, 24) to Delashmutt.
Jacob Sturtevant Sr. ATH Westview – The all league DB from last season has done outstanding work offensively and caught 2 TD passes (50, 2) in the Wildcats 46-15 win.
Marcos/Daniel Hernandez Sr. ATHs Century – Marcos rushed for 174 yards and 2 TDs, also throwing a TD pass… Daniel went for 115 yards on the ground in the 33-17 win.
Ty Fox Sr. QB Crater – The state's leading passer hit on 26 of 45 passes for 392 yards and 7 TD's helping the Comets to a their first win. Crater is much better then their record indicates (1-6).
Kory Bennett Sr. WR Crater – Bennett continues to put up 1st team All state type numbers catching 10 passes for 159 yards and 3 TDs.
Keegan Lawrence Sr. RB Sherwood – The overwhelming favorite for Conference POY honors ran for 4 more TD's giving him 24 on the season over 7 games… He has 1425 rushing and receiving yards, averaging 19.93 ypc and 44.83 yards per catch.
Carson Cook Sr. WR Thurston – The Colts WR returned from a sprained MCL after missing several weeks, catching 12 passes for 150 yards in the loss to Crater.
Eric Restic So. QB Jesuit – The Sophomore QB not named "Nestic" played great completing 9 of 10 passes for 164 yards and 2 Td's while ill.
Taylor Travess Sr. Springfield – The returning Co conference Defensive POY has killed it offensively, catching 8 more passes for 147 yards.
Hunter McDonald Jr. RB Bend – One of the fastest rising junior RB's had two clutch TD's late, rushing 17 times for 142 yards helping the Lava Bears to their first win 34-30 over Redmond.
Sandy DB's – The Pioneer Defensive backs had a ridiculous 6 INTs inside the Red Zone, 2 each by Carson Dwyre and Hunter Rowe, in Sandy's 27-21 overtime win against Liberty
Sherwood Defense – The Sherwood D goes on lock down mode when they choose, averaging a 63-9 win each week… They only allowed 86 total yards of offense in the 61-0 shutout, also shutting out #2 West Albany 48-0.
Jake Lacoste Sr. RB West Albany – Oregon's Gatorade POY carries the ball 50 times… Yes I said 50 times for 397 yards and 2 TDs in a close 14-7 win over #10 Dallas.
Seth Arena Sr. RB Eagle Point – The Eagles have caught fire behind Peyton Dole and Seth Arena who carried the ball 21 times for 276 yards and 5 TD's in the win.
Marqueese Royster Sr. DE Lakeridge – The PSU commit had 2 sacks, 3 forced fumbles, 1 fumble recovery, and 4 tackles for loss in a big 28-14 win over Canby.
Kimane Domena Jr. QB Roosevelt – The Junior QB carried the ball 6 times for 142 yd's and 1 TD, while hitting on 5-8 Passes for 136 yd's and 2 TD's. The Roughriders played maybe their best game yet dropping 50 1st half points.
Silverton D – The Foxes have accumulated more shutouts then anyone else statewide over the last two years, beating Woodburn 53-0.
Tyler Lunceford Sr. RB Wilson – Probably the favorite for Offensive POY honors in the PIL with Domena… He carried the ball 16 times for 253 yards and 3 TD's, and now has accumulated 837 yards and 7 TD's on 89 carries over their last 3 games.
Mitchell Verburg So. QB Lake Oswego – Verburg is one of the most talented QB's in the Northwest for the 2016 class and is just getting better. He hit on 13 of 20 passes for 269 yards and 4 TDs, in LO's big win over previously undefeated Clackamas.
Cameron Scarlett Jr. RB Central Catholic – Scarlett is potentially the state's top junior going for 181 yards on 9 carries and 3 TD's in CC's 63-7 win over David Douglas.
Sirgeo Hoffman Jr. ATH Gresham – The Gophers took it to Barlow 44-20 and the younger brother of former Mt Hood player of the year Devauntae Hoffman is legit; He went for 109 yards and a TD.
Conner Mitchell So. RB Oregon City – Mitchell is just sick and should be considered one of the top athletes in the West for 2016.. He went for 40 carries again, rushing for 237 yards and 3 TD's in the big 31-28 win over West Linn.
Hayden Coppedge Jr. QB West Linn – Coppedge had an outstanding ball game going 27 of 31 for 351 yards and 2 TD's in the Lions 3 point loss.
Clay Reece Sr. CB Oregon City – The senior DB came up big picking off one of the NW's top QB's twice in the Pioneers win.
Thomas Harris Sr. RB Sprague – One of the breakout players state wide has continued to put up big numbers rushing for 318 yards and 5 TD's in the 57-46 win over McNary.
Cade Smith Jr. QB West Salem – One of Oregon's top juniors threw 4 more TDs for 205 yards in the 49-28 win over North Salem. We will hear more about the Titans special 2015 class in the weeks to come, including #1 ranked WR Keegen Hlad.
Kevin Larkin Sr. QB Sherwood – Larkin doesn't throw many passes, but the kid is efficient… He was 3 for 3 with 3 TD passes in their 61-0 win.