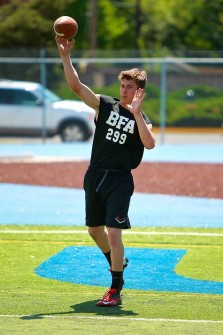 A team we have talked about often within the state of Oregon is the Troy Fowler (5-11 165 Jr.) led North Medford Black Tornado. The Junior quarterback has been one of the top players in the state this season, getting it done via ground and air.
Fowler is a kid we have gotten to know well over the last few seasons, training with us at Barton Football. He is hands down one of the most well liked and talented kids that we have come across. Most know the Black Tornado have spent the last decade trying to get their program back on track after multiple state title appearances.
The kids went (2-8) last season, with double digit sophomores starting. The 2015 group got a lot of experience during a rough 2012 campaign, which has paid off big this year. North currently sits at (6-1) and in the drivers seat for a SWC title, with two tough ball games against South Medford and Roseburg looming.
Through 7 games Fowler has thrown for 1761 yards and 18 TD's, with 5 rushing touchdowns. He went 26-36 for 473 yards and 6 TD's against Crater, and has been the leader of a group that bought in from an early age. They feature the likes of two of the state's top junior receivers in Jared Evans (6-3 195 Jr.) and Tristen Holmes (6-2 180 Jr.), along with top back and fellow SWC POY Candidate Nick Janakes (6-0 190 Jr.) Speaking to his teammates he says, "Tristen has been clutch and is one of our biggest threats, and Jared is dominating on O and D." He added, "Micah Brown is doing great at safety and Nick is just Nick."
Troy is the first kid to a workout and the last one to leave. He is described by close friend and teammate Janakes as, "maybe the toughest kid I know." North is currently undefeated in league play and gave defending state champion Sheldon their first conference loss in 7 years a few weeks back. Referencing the turn around Fowler says, "I cant explain how hard we worked over the off season, and for it to be paying off is awesome… I really have to say the offensive line has been the biggest addition and pleasant surprise to our team, with four of the five starters never playing a varsity game before this year."
You can expect Spiegelberg Stadium to be full next Friday, as the tides have turned with South Medford being the team trying to pull the upset. The SWC is incredibly balanced with very little separating the schools. You can expect a close ball game as South sits at (2-5), but has gotten healthy beating previously undefeated Roseburg two weeks ago.
Fowler is the X factor that will determine how far this team goes. He currently ranks as one of the top Jr QB's state wide and is climbing the charts quickly. I can't say enough about all that he brings to the table as you would be hard pressed to find a more well rounded kid. He's not the biggest or the fastest, but he's a gamer that just knows how to get it done. Friday will be a big test as the teams are very even with records aside. There will be no love lost when they hit the field next week, as this could be the most anticipated and competitive game we have seen in years.