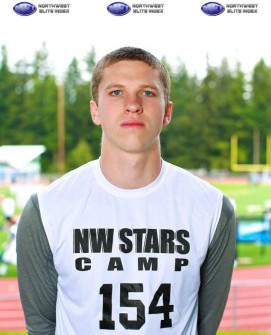 Two of the state's top players in their respective classes just happen to be brother's and together they are having an impressive season. West Linn's Hayden (6-4 175 Sr. QB) and Cody Coppedge (6-2 165 So. WR/S) are ranked among the top players in Oregon at their position as each has legit D1 capabilities. Hayden is ranked our #2 quarterback in Oregon for the 2014 class, with Aidan Wilder of Central Catholic being the other top QB recruit.
He is in my opinion as talented as any senior quarterback in Northwest, when you take into account his upside. Hayden is one of the more talented basketball players in Oregon, helping his team to last years 6A State title. Moving forward he will be pursuing collegiate football. The time he has invested on the basketball floor will now be spent honing his game as a quarterback, after this year's hoops season.
Referencing this year Hayden says, "My goals are to be a 1st team all state QB and lead our team as far in the playoffs as possible.. My ultimate goal is to play college football, so I expect to finish the season strong and hopefully an opportunity will open up."
Brother Cody Coppedge is one of the region's top ranked WR's for the 2016 class and one of Oregon's best overall players. His upside is off the charts as he could very well be an all league kid on both sides of the ball, something very rare as a sophomore. Hayden says, "I think its special that I get to play with Cody, who's a sophomore my last year of HS football". He continued, "I've never gotten to play with him so its pretty cool, as he's a great play maker and I can trust him to catch everything."
Speaking on playing with his brother Cody says, "Its great playing with him… We have an incredible connection on the field, because we have always played catch together growing up and he's just helped me a lot."
Cody has had some outstanding ball games this year much like his brother. He says, "I've worked hard and prepared for this season so I had high expectations coming in… Our team goals are just to improve and win every remaining game, as my goals are to get better and finish the season strong."
The Lions are (3-4) this year playing in the toughest conference in Oregon (TRL). Including this weeks 31-28 loss to Oregon City and covering 5 games overall Hayden has gone 107-152 for 1595 yards and 12 TD's, hitting on 70.3% of his passes. He is one of the most accurate and athletic QB's in the west, and I am a firm believer that given the opportunity he will succeed at the Division 1 level. Cody caught 17 passes for 212 yards and a TD over the first three games of the season, showing off what the future holds.
West Linn has the potential to beat almost anyone in the state, but its been an up and down season. One thing you can count on is both Coppedge kids being two of the best players on the field every Friday night. Both possess god given ability, but more importantly continue to work on their game striving to be the best at whatever they do.
We will continue to keep you updated on the talented brother duo as both are outstanding kids on and off the field.