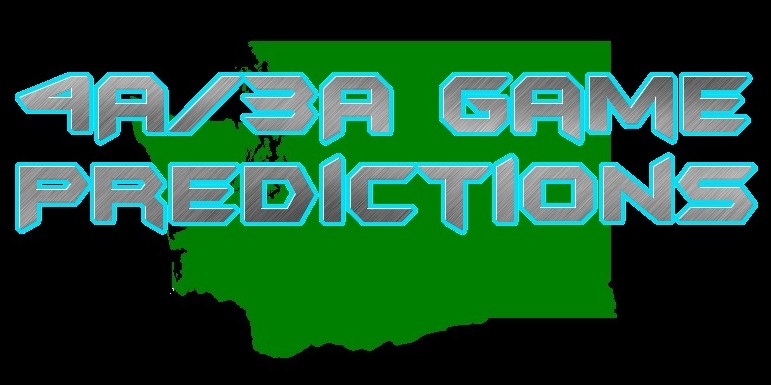 | | | | |
| --- | --- | --- | --- |
| Name | Wins | | Losses |
| Ryland | 96 | – | 17 |
| Jordan | 100 | – | 14 |
4A Top Ten
#1 Camas Papermakers (6-0) vs #6 Union Titans (5-1)
This is essentially the GSHL 4A Championship. Both teams have plenty of good weapons on both sides of the ball, and some of the best coaching in the region. Union is going to have to get a big performance from senior RB Leon Siofele. Camas is going to score a lot of points. Question becomes weather or not Union can match them. I have a hard time seeing that happening.
Picks: Ryland – Camas, Jordan – Camas
#2 Chiawana Riverhawks (6-0) @ Lake City Timberwolves (Coeur d'Alene, ID) (4-3)
The Riverhawks were forced to work last week for the first time all season. In consecutive weeks now they have shown they can win tough games, and that they can win on the road. They traveled two weeks ago and hammered a good Wenatchee team.
Picks: Ryland – Chiawana, Jordan – Chiawana
#3 Graham-Kapowsin Eagles (6-0) @ Puyallup Vikings (4-2)
It has been a few weeks since the Eagles have been tested, and I am not saying Puyallup will win, but they should at least give them a good run. This will be the best passing offense Graham-Kapowsin has seen, and should tell us a little something about their pass defense. Expect the Eagles to run Teague James til he drops to keep the Puyallup offense off the field.
Picks: Ryland – Graham-Kapowsin, Jordan – Graham-Kapowsin
#4 Ferris Saxons (5-1) vs Lewis & Clark Tigers (2-4)
Since losing to Gonzaga Prep, the Saxons have been on a roll. Senior RB Cole Karstetter has been virtually unstoppable, and I can't imagine them changing course now, or anytime soon. This is a game that Ferris should have in the bag early in the second half.
Picks: Ryland – Ferris, Jordan – Ferris
#5 Bothell Cougars (5-1) @ Inglemoor Vikings (0-6)
The Spaghetti Bowl hasn't been much of a rivalry the last decade or so, Bothell has won 11 straight. Cougar ATH Sam McPherson has been doing a little bit of everything all season, and returned another kick return last week in a win over undefeated Glacier Peak. This game should be over early.
Picks: Ryland – Bothell, Jordan – Bothell
#7 Skyline Skyline (5-1) vs #9 Newport Knights (5-1)
This is big game. Both defenses have been stout most of the year, but a lot has been against lesser competition. I the Knights can get RB Conner Baumann going up the middle, it will open up guys like Paul Wells around the outside. Skyline DT Elliot Welnak will probably have a little something to say about it.
Picks: Ryland – Newport, Jordan – Skyline
#8 Bellarmine Prep Lions (5-1) @ Yelm Tornadoes (3-3)
The loss to Tumwater last week came as no real surprise. The Thunderbirds are REALLY good. Lou Millie and company will get back on track this week. Yelm is young and a name you will hear for a long time is that of Fr. RB Brandon Thompson. For now though, Bellarmine Prep is a much better team.
Picks: Ryland Spencer – Bellarmine Prep, Jordan – Bellarmine Prep
#10 Edmonds-Woodway Warriors (6-0) @ Lynnwood Royals (0-6)
The Warriors are one of the more underrated teams in 4A. They've beat some good competition. Juniour Opoku-Mensah is one of the state's fastest players and at times seems impossible to catch. When you add in the emerging passing game, the Warriors are becoming more and more dangerous. Lynnwood has had some struggles this year, starting with the dismissal of their head coach, but do have a few nice pieces, including Isaiah Holmes.
Picks: Ryland – Edmonds-Woodway, Jordan – Edmonds-Woodway
3A Top Ten
#1 Bellevue Wolverines (6-0) vs #5 Mount Si Wildcats (6-0)
This is the same situation as last season. The two teams are highly ranked, undefeated, and both playing some great football. Unfortunately that game was over about 5 minutes into the game as Bellevue hammered Mount Si 49-10. I have a hard time seeing this years game being much different.
Picks: Ryland – Bellevue, Jordan – Bellevue
#2 O'Dea Fighting Irish (6-0) @ #3 Eastside Catholic Crusaders (5-1)
This game will have BIG playoff implications. One team will almost surely be the Metro 3A Champion, while the other will most likely fall to #3. Last year, being #3 required O'Dea to go on the road early, where they lost to U-Hi in Spokane. This game will be won and lost in the trenches. Teams have had a tough time with O'Dea DT Jarius McDade, and I don't see this week being any different.
Picks: Ryland – O'Dea, Jordan – O'Dea
#4 Marysville-Pilchuck Tomahawks (6-0) vs Everett Seagulls (0-6)
Not much to say about this game. Expect Joyner, Luton & Company to not see the field a whole lot. The Tomahawks are one of the best teams in the state, while Everett is on the other end of that list. Second half should start with a running clock.
Picks: Ryland – Marysville-Pilchuck, Jordan – Marysville-Pilchuck
#6 Shadle Park Highlanders (5-1) vs North Central Indians (1-5)
I got to see both teams last week on my trip to Spokane. North Central does some nice things on offense with QB Quinn Zerba and WR James Weigel, but really do not have the weapons to compete. Brett Rypien is playing at an incredibly high rate and WR Skyler Kelley is starting to get going. I don't think the Highlanders have played their best football yet, which is very scary.
Picks: Ryland – Shadle Park, Jordan – Shadle Park
#7 Lincoln (5-1) @ South Kitsap (2-4)
This game is a non-conference contest. The Abes appear to be back on track with a win last week. Lincoln is built around speed on offense, and South Kitsap's field is natural grass. Field conditions could play a huge role in this game, but Jordan and I both went the same way.
Picks: Ryland – Lincoln, Jordan – Lincoln
#8 Glacier Peak (5-1) @ Shorewood (2-4)
Not a surprise that GP lost last week, as Bothell is just that good. Expect them to get back into the win column this week. Grizzlies head coach Rory Rosenbach is one of the most underrated in the entire state, and will get this team rolling again.
Picks: Ryland – Glacier Peak, Jordan – Glacier Peak
#9 Wilson (6-0) vs Foss (4-2)
I am very tempted to pick Foss in this game. Wilson is very good, and deserving of a spot in the top 10. They have beaten some good teams and RB Isaiah Simpson is closing in on 1,000 yards. QB Julius Yates-Brown has rushed for over 500 yards, while also passing for 850+ with 10 TDs and only one INT. Upset Alert? Probably not.
Picks: Ryland – Wilson, Jordan – Wilson
#10 Blanchet (5-1) @ Seattle Prep (2-4)
Well, Blanchet came back down to earth last week with a loss to #2 O'Dea. They were absolutely blowing teams out before that, and will probably get back to doing that this week. Prep should get into the playoffs, but frankly they can't compete with the big three of the Metro Mountain. Running clock alert!
Picks: Ryland – Blanchet, Jordan – Blanchet