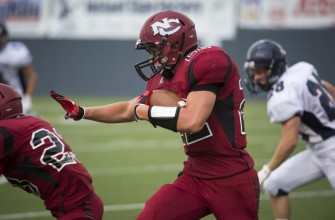 Playing for a struggling team in the GSL, it's easy for talented players to fly under the radar. Football fans in the Spokane area often hear about the mind boggling stats that the Shadle Park offense puts up, led by junior quarterback and Division-I prospect Brett Rypien.
However, at North Central (1-5), receiver Jimmy Weigel is quietly putting together a fantastic 2013 campaign. Through six games, the senior standout has 29 receptions for 607 yards and eight touchdowns. He leads the GSL in receiving yards and is second to Shadle Park's Tanner Pauly in receptions and second to Shadle Park's Nick Kiourkas in touchdowns.
"I feel like I've progressed a lot this season," Weigel said. "Last season, Jake Hoffman (freshman at Eastern Washington) was our go-to-guy on offense, so we tried getting him the ball as much as possible. I finished the year with 500 yards and five touchdowns, but that was with him getting a lot of the looks.
"This season, I kind of took it upon myself to try and help lead this team. The guys look to me and our quarterback Quinn Zerba to be threats offensively, and he (Zerba) does a good job of getting me the ball in space."
Weigel's work ethic in the offseason also played a monstrous role in his development this season. Before the 2012 season started, Weigel checked in at 6-0, 160-pounds. Before the start of this season, Weigel arrived to fall camp at 6-2, 195-pounds.
"The weight room was big for me," Weigel said. "My max bench last year was about 215 and this year it's up to 295. I worked a lot on my speed and footwork as well. I just knew coming into my senior season I had a lot to work on and I wanted to be in the best shape possible to help my team."
North Central assistant Chris Jones praised Weigel for his hard work over the spring and summer.
"He's one of those kids who you didn't have to ask to be there," Jones said. "We'd have our lift sessions and he'd stay an extra two hours afterwards to get more work in. He's a good kid and he's impressed us (coaches) with how hard he works and how determined he is to get better. We all want to see him be rewarded for his hard work."
That hard work is what Weigel hopes can help him continue to play football at the next level. Weigel doesn't hold any scholarship offers right now, but said Eastern Washington, Portland State, WSU, Montana, Montana State, George Fox and a few others have been in contact.
Weigel will take an official visit to Cheney this weekend to see Eastern Washington take on Southern Utah. He also took an official visit to Whitworth University in Spokane last week.
"I'm really hoping Eastern offers a scholarship," Weigel said. "They've been my number one school since I was a freshman. Seeing them win that national championship made me want to be a part of their program. I get there on Saturday and will take a tour of the school and get to meet all the players and coaches. I'm really looking forward to it."
Only time will tell if Weigel's hard work and determination will pay off, but if his character on and off the field is a sign of what he can bring to a college program, it's clear whoever lands him with come away with a steal.