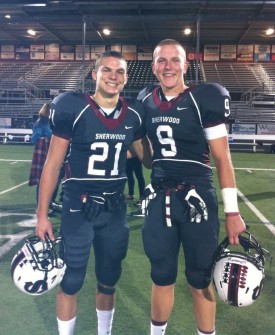 Coming into 2013 the Sherwood Bowmen have been the class of 5A Oregon. They are (46-1) in the last 3.5 seasons and only look to be getting better. Head coach Greg Lawrence is in his 20th season as the leader of the group which just so happens to be his son Keegan's senior year.
The Bowmen have outscored opponents 437-69, averaging a 63-10 win in each ball game this season. Each contest has been over by half with the reserves taking most of the 2nd half snaps. Sherwood has dominated opponents in years past, but what we are seeing right now is incredible even for them.
To put this into perspective Sherwood blasted #2 ranked West Albany 48-0, holding Oregon Gatorade Player of the Year Jake Lacoste to 67 yards on 22 carries, something never done before. Referencing the season and this year's group Coach Lawrence says, "We have big senior numbers this year, but everyone contributes for us." He continued, "We are lucky to have a youth program where you need not pay to play, which has helped us keep a good amount of kids involved."
This year's squad features one of the top players state wide and the overwhelming favorite for Conference player of the year honors in Keegan Lawrence (6-0 190 Sr. RB/S). He has put up ridiculous numbers thus far, scoring 24 TD's and accumulating 1425 rushing and receiving yards over 7 games. Making this even more impressive is the fact that most of his offensive production has come in the first half, as blowouts have taken the starters out of most games after halftime. Lawrence is averaging 20 yards a carry and 44 yards a catch just to reemphasize the dominance that has taken place.
Mickey Shaefer (522 yards 7 TD's) and Jake Reimer (427 yards 7 TDs) are the other talented senior backs who are averaging 15 yards a carry between the two of them. As deep as they are this year, they have two very capable juniors who should be able to carry the load next season. Coach says, "Mason Rivers is going to be a good one and its great to have Andrew Ripley-Miles back after he played at Southridge last season." Rivers has been injured but averaged 14.4 yards a carry and Ripley-Miles was a second team all league DB as a sophomore in maybe the toughest conference in the state (Metro).
Speaking to the teams success at the 5A level coach added, "I think we could compete with anyone in the state this season at the 6A level, and a lot of that is due to the fact that we have a great staff." Its not ideal to win every game by 50 points, although its a good problem to have. It would be the group consensus among all those within the Sherwood Football community if they were able to have played at the 6A level this season.
6-11 senior D end Jordan Kurahara is back and one of the better D lineman in Oregon, while juniors Zak Taylor (6-3 205 LB/TE) and Saul Urzua (6-3 300 OL) compliment the other underclassmen we just mentioned. Both will be ranked among the top athletes at their position for the 2015 class. Taylor is in my opinion one of the top dual threat athletes in the region, and is a legit D1 prospect in multiple sports (baseball).
We could go on about all of the talent on the roster, as senior's Scott Skurdahl (6-1 210 LB), Andrew Rice (5-11 195 C), and Kevin Larkin (6-3 190 QB) are three other kids who have played a big role. Coach Lawrence and his family are a fixture within the Sherwood community, as he lives across the street from the school and has been the head coach since 1994, when the enrollment was just 350 kids. Twenty years later the beloved family man has built a dynasty that the town has rallied around, now with 1500 students and counting.
Lawrence added, "Our assistant head coach (Montgomery) has been with me since the beginning and runs our defense… He is a best friend and someone that has put in countless hours to help us get to this point."
It would be nice to see this team compete at the highest level, but just around the corner is a very talented 2016 class that could replicate what these guys are doing. Sophomore Jason Eisenbeiss (6-2 190) will be one of the state's best, with Kobe Higgins, Tanner Shadbolt, Emmett Floyd, and Adley Rutschman being the other very talented up and comers.
The Bowmen have compiled a (110-13) record since 2004 and feature one of the classiest programs anywhere. What we are witnessing now has been built from the ground up by people who genuinely care about the kids. This is a community that thrives around its football, and we can't say enough good things about all of the athletes, coaches, and families who have made it possible.