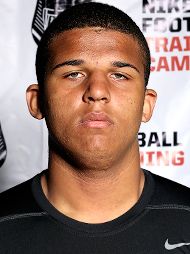 One measure of a leader is being able to stay focused and upbeat even when things aren't going right. With his team's 0-6 record, you would think that Lynnwood (Wa.) DL/OL Isaiah Holmes could get down, but that's not the case at all.
"We're struggling a little, but we're playing hard every play and that is big," Holmes told Northwest Elite Index. "We're frustrated because we could have won almost all of our games. No one has gotten away from us, but we just haven't finished well and that's on us."
As a two-way player for the Royals, the 6'4″, 245-pounder rarely leaves the field, but if you ask him which side he prefers, it's a pretty easy choice.
"I love playing defense. I started out on defense outside at end, but they've moved me inside, so I am playing inside at tackle almost exclusively right now," Holmes said. "I have a sack and probably about five tackles per game, something like that. My job is to hold gaps and to take on double and triple teams and that will allow my teammates to go and make the plays.
"It's all about what helps my team the most. If they needed me to rush the quarterback, I'd do it, but they don't. We have guys that can do that. They need me to hold the middle, so that's what I do and I work hard every play. I think that's one thing that helps me."
On the recruiting front, Holmes has yet to see things pick up but he did get quite a few questionnaires.
"I talked with Washington State during the summer and they invited me to go to some of their games, but the only one I have made is their game against Stanford at Century Link," Holmes noted. "I'm hoping more schools start to look at me, but right now my focus is my season and finishing my senior season off well."
Lynnwood has a tough task this Friday as they try to get their first win against undefeated Edmonds-Woodway on the road.