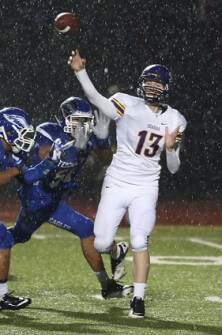 When most people think of Issaquah football, the name Jack Gellatly instantly pops up. While Gellatly has been doing a lot of what you would expect, Senior QB Jack Neary (6'3″ 205) and a plethora of WRs have stepped up and balanced out a once run-heavy team.
Coming into week 7, Neary had completed 92 of 139 passes (66%) for 1,480 yards, 17 TDs and only 3 INTs. In a week 4 win, Neary threw for 322 yards and 4 TDs against a very good Newport team. The following week Neary threw for 260 yards and 5 TDs in only a half of play.
The football field is not the only place Neary succeeds. He currently carries a 3.8 GPA, while taking five AP courses. Neary is on the Honor Roll, and has been a recognized as a Scholar-Athlete the past four seasons.
The senior gunslinger is still awaiting his first offer, but his early success has not gone unnoticed. "There are a bunch of schools that have caught my interest," Neary told NEI. "I'm looking for a strong academic college that will allow me to get a great education, as well as enjoy my time on the team. I'm in contact with a number of schools on both coasts and in the mid-west."
Neary's favorite target is typically Tommy Nelson (6'2″ 190). You would be hard-pressed to find a WR that had a better offseason. He was voted MVP of both the UW 7-on-7 Tournament and a camp hosted by Brigham Young University. "Tommy and I have this special connection. He came to every team workout and really took a strong leadership role over the offseason," Neary said.
He continues, "He's always where I want him on offense. He's done nothing but impress me this season and I'm excited to see him improve as the season continues."
The name most readers might recognize is senior Derek Chapman (6'0″ 170). He has been named to All-KingCo teams in the past, and is widely considered to be the top All-Around athletes in the area.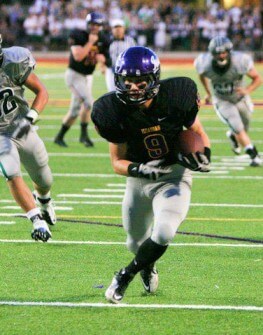 "Derek is the guy you know can beat out any corner in the nation if he needs to. He's just fun to watch on both sides of the ball because he gives 100% every play," Neary said. "He really leads the team by example and everyone really respects and envies his effort."
Last, but certainly not least, is Jeff Shipley (5'11" 170). The senior captain is a big contributor on both sides of the ball, and a player Neary described as one of the most intelligent players on the field.
"He's always aware of where the defenders are and runs such smart routes that he gets himself wide open". Neary continued, "He's the guy you know you can ask if you need to know anything about the wide receiver position."
With all great passing attacks, comes great line play. The Eagles have done a great job of keeping Neary upright this season and the play of guys like Shay Dingfelder (6'1″ 290), Jacob Peterson (6'2″ 210) and Andrew Dieken (6'2″ 210) has not gone unnoticed.
All three players play both sides of the ball, with Peterson and Dieken being two of the top sack artist in the state. This is the first season for Dieken along the OL, while Peterson and Dingfelder were both recognized as 2nd team All-Kingco last season.
Issaquah is now 4-0 in conference play, with a date next week with rival Skyline, also 4-0, to see who will represent the Crest Division in the Kingco Championship game.
"Our goal as a team is to get better every week," Neary says. "Coach Bennett always tells us to never look ahead of the team that stands in front of us, and that we need to improve our effort and our mental toughness each week and that will be what carries us to fulfilling our potential as a team this season."
Head Coach Chris Bennett and his staff have done a great job. Year in and year out the Eagles are one of the most competitive teams in the state. I am excited to follow this hard working group of players through the rest of what could be a very special season.