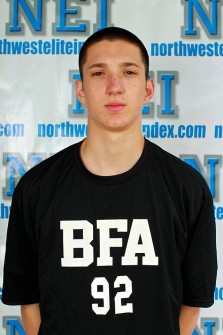 One of the fastest rising underclassmen in the State of Oregon continued his tear this past Friday, beating #5 Southridge 42-41, in what was a statement game for the Westview Wildcats.
Austin Brisbee (6-3 175 Jr. QB) has been lights out for most of 2013 and helped his cause throwing 5 TD's against the Skyhawks, putting them in sole possession of 2nd place in the Metro League. Going into this past week Westview had not really been football relevant in what many believe is the state's toughest conference.
Referencing some of the changes that have taken place Brisbee says, "People are actually excited to come watch our games , its a different vibe and it feels good". He continued, "The difference from years past is that we are willing to sell out and die for one another."
The Wildcats were fresh off a 46-15 pasting of Beaverton, setting up the week 8 clash with Southridge, considered a state title contender coming into the season. Brisbee had hit on 149 of 253 passes for 1851 yards, throwing for 264.4 yards per game through week 7. The Junior standout was a kid that we saw over the off season on the Barton Football Camp and Combine Tour, but did not know the full extent of what he was capable of.
Speaking on some of his guys he says, "Trevor Bovero and Jacob Short compliment each other very nicely, with Trevor being the every down back , and J Short being the play maker every once and awhile." He added, "Mitch Kekel has been the back bone of our team, just being an overall leader and a kid that deserves a lot of credit."
There a lot of kids that deserve recognition, with Junior TE's Teagan Lind (6-5 210) and Ian Myers (6-3 215) being the top duo in the Northwest for the 2015 class. Jacob Sturtevant (5-10 165 Sr. ATH) has come up big time and time again and the list goes on and on.
Brisbee will be a kid we hear a lot about moving forward as his upside is through the roof, being one of our top ranked Junior QB's in Oregon. He has legit size and just keeps improving week to week. Nothing will get any easier as the Wildcats will travel to (6-2) Sunset to close the conference season against fellow top ranked Jr QB Willy Pflug.
We wish Brisbee and the Wildcats continued success, as they have been a pleasant surprise within Oregon this season.