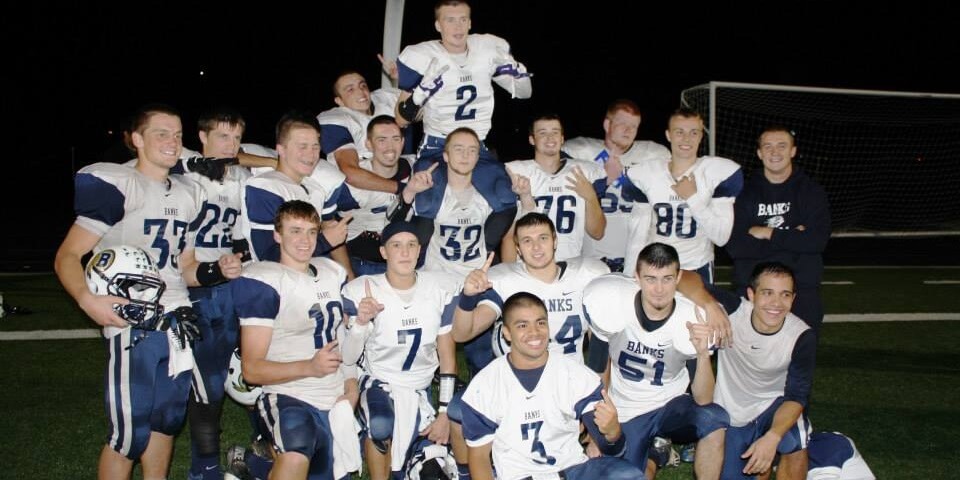 One of the state's best players and teams have things going in the right direction. The Banks Braves currently sit at (8-0) and are ranked the #1 team in the state at the 4A level.
Garrett Markham (6-2 190 Sr, QB/LB) has been one of the more impressive players state wide, throwing for 1414 yards and 10 TD's, with a team leading 563 yards on the ground and 10 more scores.
The Braves have also gone on lock down mode defensively, pitching four shutouts in their six last games while only allowing 62 points total on the season. They have given up less then 8 points a game on average for the season and looked outstanding on both sides of the ball.
Markham has proven clutch both offensively and defensively adding 70 total tackles, with 13 tackles for loss, 2 fumble recoveries, and 1 INT. Banks has been one of the more talented 4A teams in Oregon over the last half decade, going (44-14) over the last 5 years. That said this year is different, and a state title is very realistic as the kids are on pace to achieve this.
There are a host of other contributors on the Braves roster, starting with LB Dylan Brigsby (5-11 220 Sr.) who is one of the better backers in the state at any level. He is the team leader in tackles through 7 games (101), averaging 14.4 per, while accumulating a ridiculous 21 tackles for loss. He has been the anchor of the Banks D the last two seasons and will be a huge factor if the Braves want to win the whole thing.
Joey Bonin (5-11 180 Sr.) was 2nd on the team through 7 weeks, averaging 11.6 tackles per game with 13 tackles for loss as he is a dual threat athlete, being one of the teams best offensive players. This Banks senior group will go down as one of the better squads in school and conference history as there have been countless athletes that have gotten in the mix.
Mykah Rosa (5-6 160 Sr. RB) 319 rushing yards 2 TD's, and Jarod Barger (5-8 165 Sr. RB) 321 rushing yards 7 TD's both have contributed a great deal offensively.
On the receiving end Nolan Hill (5-8 170 Sr. WR) has caught 20 passes for 375 yards and 7 TD's through 7 weeks, complimenting Bonin's 26 catches for 379 yards and 1 TD. Andrew Santa Maria (5-8 145 Sr. WR) would be the other factor catching 17 passes for 208 yards.
In summary head coach Ben Buchanan and his guys are in a position to make 2013 the most special season in some time. They will face an (0-8) Tillamook team to close out the regular season and then attempt to achieve the ultimate goal. Markham is a phenomenal overall athlete and the type of player that can lead you to a title. We will keep you updated on him and the Banks Braves as they are a class program from top to bottom.