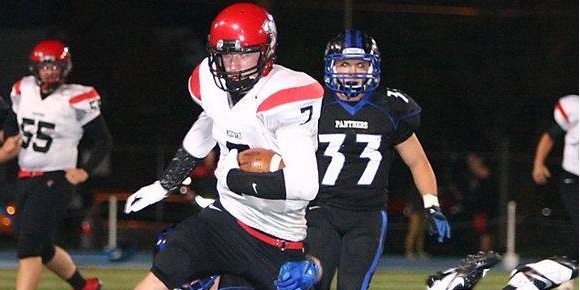 Conner Mitchell So. RB Oregon City – One of the top sophomore backs we have seen in some time, rushed 32 times for 193 yards and 2 Tds, putting Oregon City in the drivers seat for the TRL title.
Jaray Kindell Sr. WR Lincoln – One of Oregon's top 10 Sr WR's caught 12 passes for 246 yards and 3 TDs in the loss to Centennial
Noah Kyllo Sr. RB Canby – The Cougars only threw the ball twice as Kyllo rushed 44 times for 363 yards and 2 TDs in the 35-14 win over West Linn
Devin Martinez Sr. RB Southridge – Martinez is having a 1st team all league type season and then some rushing for 5 more TDs and 300 plus yards in the 42-41 loss to Westview
Austin Brisbee Jr. QB Westview – The Junior standout threw for 5 more TDs giving him 19 on the season, as the Cats got their biggest win in some time 42-21 over #5 Southridge
Aidan Wilder Sr. QB Central Catholic – The state's #1 ranked QB completed 9 of 12 passes for 169 yards, also rushing for 2 more TDs in the first half in the 69-7 win over Barlow
Levi Holden Sr. RB Roseburg – The talented Sr. back went for 4 more TDs in the Indians loss to Grants Pass
Matt Burton Sr. WR Sunset – The senior wide out had 159 yards receiving and 2 TDs in the win over Beaverton.
Jared Evans Jr. WR North Medford – The #2 ranked Jr WR in Oregon went off in the SWC title clinching 42-14 win over South Medford; 8 rec, for 149 yards, and 3 TDs.
Josh Schleining Sr. QB Reynolds – The three year starter hit on 17 of 21 passes for 409 yards and 5 Td's, also rushing for a touchdown as Reynolds beat up Gresham 55-34.
Troy Fowler Jr. QB North Medford – SWC POY candidate Fowler continued his season long tear throwing 4 more TDs, while hitting on 17 of 22 passes for 285 yards.
Manu Rasmussen Sr. RB Tigard – Fresh off his 1st offer by Eastern Washington Manu rushed 17 times for 204 yards and 3 TDs, giving him 13 total touchdowns in the last 3 games.
Brett Hildebrand Sr. RB McNary – The CVC standout scored 4 more TDs, all in the 1st quarter in the Celtics 48-7 route of Mckay
Cam Scarlett Jr. RB Central Catholic – The state's #1 Jr RB caught 4 passes for 114 yards and a 52 Yard TD reception, while rushing 6 times for 71 yards and a TD
Quentin Bates Sr. WR Reynolds – One of the state's top ranked Sr WR's had 7 receptions for 260 yards and 4 TDs in one of the more impressive receiving performances this year.
Joseph Kuehn Sr. QB Sheldon – One of the biggest surprises state wide, Kuehn has been one of the most efficient QB's in Oregon throwing 13 of 15 passes for 317 yards and 4 Td's.
Peyton Dole Sr. ATH Eagle Point – The talented Sr continued his season long tear on both sides of the ball, helping Eagle Point to their 4th straight win, catching 4 passes for 23 yards and 3 TDs.
Derek Sunkle Sr. RB Wilsonville – Sunkle returned to his early off season form rushing for 215 yards and 3 Td's in a 48-7 statement win over a much improved Liberty team.
Sam Katter So. RB Wilson – The Sophomore came in and did a great job replacing PIL POY Candidate Tyler Lunceford who was injured in the 1st Qtr; He rushed 17 times for 166 yards and a TD.
Sherwood RB's – The Bowmen RB's dropped the hammer early and cruised to a 55-20 win as they rushed 31 times for 570 yards and 7 TD's
Jake Lacoste Sr. RB West Albany – The state's top ranked RB rushed 9 times for 164 yards and 4 more TD's in the 49-7 blowout win.
Thomas Harris Sr. RB Sprague – Harris will be challenging for CVC POY honors, rushing for another 181 yards and 4 TDs in the 55-27 win over North Salem.
Clay Reece Sr. ATH Oregon City – Right now Reece is the most exciting DB in the state, showing off unique instincts and picking off 5 passes in the last two games, 3 of which came against Clackamas. He also had a 17 TD rec in the 35-21 win
Mitch Herbert Sr. WR Sheldon – The state's #2 ranked Sr WR caught 3 passes for 100 yards and 2 Td's in the 56-23 win over Thurston
Tyree Heesacker Sr. DL Ashland – The Grizzlies D lineman had 5 sacks, 3 in a row during the 1st Quarter in the comeback win against Willamette.
Yadie Dunmore Sr. ATH Sheldon – Dunmore is one of the most versatile athletes in the region and rushed 6 times for 110 yards, with 3 rec's for 59 yards and 3 Td's.
Cade Smith/Keegen Hlad Jr's QB/WR West Salem – Two of the top Junior's in Oregon combined to beat cross town rival South Salem 53-28 , as Smith threw 3 TD passes, 2 to Hlad.. Rushing for 1
Nick Hjelm Sr. WR Mountain View – The Cougars talented Sr WR caught 3 TD passes (9, 12, 55) in the 70-14 win over Redmond.
Trever Watson So. QB Springfield – One of the better sophomore QB's in the west continued his season long tear, rushing for 4 more Tds' 3 of which were over 65 Td's in the big 41-21 win over Marist.
Willy Pflug Jr. QB Sunset – The Junior hit on 16 of 26 passes for 387 yards and 5 TD's, also rushing for 2 in the 56-42 win over Beaverton.
Jorge Quintero Sr. QB Eagle Point – Quintero had one of the best performances of his career going 17 for 28, for 355 yards and 5 Td's.
Jake Reimer Sr. RB/LB Sherwood – Reimer has had an outstanding season and rushed 5 times for 141 yards and a TD in the win over Sandy.