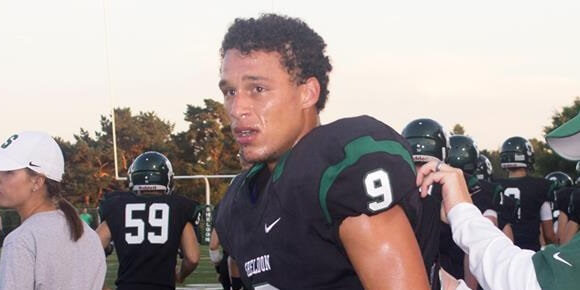 Cade Smith Jr. QB West Salem – One of the state's top junior's accounted for 366 (193 passing, 173 rushing) of the Titans 473 total yards of offense and 3 TD's in the 44-35 win over McNary.
Yadie Dunmore Sr. RB Sheldon – Dunmore continued his impressive senior campaign carrying the rock 16 times for 221 yards and 3 TDs in the 45-25 win at Grants Pass.
Chase Morrison Jr. RB Jesuit – One of the region's top juniors carried the ball 28 times for 276 yards and 3 Td's, starting in place of the injured Stanford commit Joey Alfieri in the 49-28 win over Beaverton
Parker Layton Jr. TE Ashland – Layton is one of the top Jr. TEs in the state and caught 7 passes for 55 yards and 2 TDs (20, 11) in the 33-17 win over #10 Eagle Point
Trevon Bradford So. ATH / Matt Oades Sr. WR Oregon City – Bradford has the potential to be one of the best players to come out of Oregon in some time.. His 91 yard kick return with under 2 minutes left, and game clinching INT was huge in OC's 21-17 win over Lake O to win the TRL title… Oades has been clutch all season and one of the best WR's in the state, catching 7 passes for 109 yards
Jake Lacoste Sr. RB West Albany – Oregon's 2012 Gatorade POY had 5 carries for 5 touchdowns and 151 Yards rushing in the 1st quarter in the 68-13 win over Corvallis
Nick Hjelm Sr. WR Mountain View – A week after catching 3 TDs, Hjelm had 9 receptions for 103 yards and 2 more TDs in the 37-12 win over Bend.
Eric Restic So. QB Jesuit – Restic continues to look good running the offense going 12-17 for 126 yards and 4 Td's in the win over Beaverton
Sam Katter So. RB Wilson – The young back has filled in nicely for PIL POY candidate Tyler Lunceford who was lost for the season to injury.. Katter rushed 26 times for 274 yards and 5 Td's in the 42-26 win over Madison.
Tristen Holmes Jr. ATH North Medford – One of the state's top ranked dual threat juniors had the game winning 76 yd TD reception, also clinching the game late with an INT inside the 10 in the 14-10 win over Roseburg.
Jordan Morgan / AJ Woodin / Jake Pruit Southridge – The Skyhawk trio accounted for 6 TDs , as Morgan caught (3), 2 from Woodin who was 2-3 passing with 2 TDs… Jake Pruit carried the ball 12 times for 113 yards and 3 Rushing Touchdowns.
Maurice McSwain Sr. ATH Aloha – The senior standout caught 7 passes for 219 yards and 2 Td's in the loss to Southridge.
Josh Schleining Sr. QB / Quentin Bates Sr. WR Reynolds – One of the state's top QB/WR duos' has the Raiders playing their best ball of the year… Bates had 2 TD reception's (60, 12) and Schleining threw 3 touchdowns and ran for 1.
Dan Sherrell Sr. RB Clackamas – The TRL POY candidate rushed for 165 yards and 4 TDs in the Cavs clutch overtime win at Canby 42-41.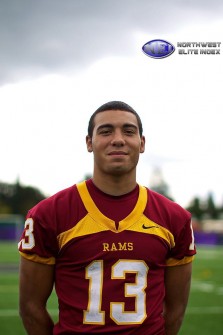 Aidan Wilder Sr. QB Central Catholic – Oregon's top ranked Sr QB went 16 of 20 passing for 310 yards and 5 TDs in 3 quarters of work. The Rams beat Centennial 70-20.
Manu Rasmussen Sr. RB Tigard – Manu all but wrapped up Pacific Conference POY honors accounting for 200+ and 4 more TD's as he has scored 18 touchdowns in his last 4 ball games.
North Medford – The Black Tornado clinched their first SWC title in a decade, winning their last 8 games of the season heading into the playoffs.
Jaray Kindell Sr. WR Lincoln – One of the state's top WR's continues to get better as the season progresses. He caught 11 passes for 129 yards and a TD in the 29-21 win over Grant.
Keegan Lawrence Sr. RB / Mickey Shaefer Sr. RB Sherwood – The Bowmen RB's completed their (9-0) regular season, as Lawrence rushed 7 times for 227 yards and 2 Tds (92, 61) while Shaefer had 5 carries for 142 yards and 2 touchdowns.
Conner Mitchell So. RB Oregon City – One of the best backs in the west for 2016 carried the ball 23 times for 114 yards and 2 TDs, taking over in the 2nd half.
Tigard/Banks – The only teams in Oregon who haven't been down in a game all season, both (9-0).
Tanner Long RB / Gage Bumgardner RB St. Helens – Long carried the ball 4 times for 161 yards and Bumgardner accounted for 4 Td's in the blowout win over Milwaukie.
TJ Hancock Pendleton WR – The Eastern Oregon standout had 8 receptions for 117 yards and a TD in the 49-28 loss to Hermiston.
Max Wilson Sr. RB/LB Silverton – One of the state's most impressive two way threats carried the ball 14 times for 103 yards and 3 more TDs 3 in the blowout over South Albany.
Marqueese Royster Sr. DE Lakeridge – The Pacer standout is one of the region's sack leaders as he got to one of Oregon's top QB's Hayden Coppedge 5 times in the win over West Linn.
Jonathan Boland Jr. QB Parkrose – Boland left the game on a stretcher, but not before he carried the ball 21 times for 140 yards and completed 18 of 40 passes for 220 yards and 4 TDs in the 44-30 loss to Liberty.
Willy Pflug Jr. QB Sunset – The Apollos quarterback continues to impress hitting on 25 of 35 passes for 212 yards and 5 TDs in the defining 42-27 win over Westview.
Javan Appling Jr. QB Grants Pass – One of the state's fastest rising Jr QBs did well in the loss.. He was 22 of 35 passing for 377 yards and 2 TDs.
John Duffy Jr. RB Lincoln – The Cardinal underclassmen had a big day rushing 21 times for 194 yards and a TD in the win over Grant.