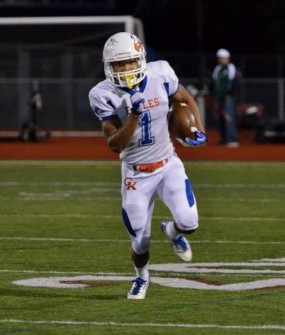 As one of the top returning tailbacks in the state this year, there were a lot of expectations heaped on Graham-Kapowsin RB Teague James. So far, he's lived up to them and more, helping to lead his team to an 8-0 record and they are poised for a big playoff run…
"Things have been going great," James told Northwest Elite Index. "We're doing exactly what we expected to do. We're playing hard for each other, we're playing well and we have our goals in front of us."
The first goal was to win the SPSL and then to head to playoffs and make some noise.
"We saw it going this way, but we didn't just expect it to happen. We have had to work hard for this," James noted.
So far, the senior tailback has posted over 1,300 yards and 20 touchdowns on the ground and, while he's not used much in the passing game, he's seen more targets come his way this year and a lot of that had to do with what he focused on during the offseason.
"I worked a lot on my hands this summer so I could be a better receiver out of the backfield," James said. "I was only targeted once this past game (a 35-10 win over cross-town rival Bethel), but they've definitely thrown it my way more and I've made plays when I had the chance."
As far as recruiting is concerned, James is still waiting on that first offer but he has been talking to a couple of schools.
"Idaho was at our last game to see me play and I've been talking with them and with Eastern Washington too," James said. "I still don't have any offers, but that's sorta out of my control. I just have to go out and do the best I can do and if teams like me they will recruit me."
At 5'11" and 180 pounds, James isn't the biggest or most shifty tailback, but he runs behind his pads and is deceptively quick. He should see things pick up if he continues to put up big numbers, especially as the Eagles prepare for their playoff run.