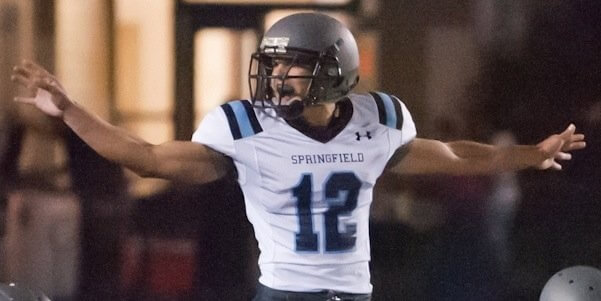 If you could put a franchise tag on a coach I would start with Springfield's Dave Heuberger. The Miller's program is now in a completely different state, as they are not only winning but doing so with some of the top younger athletes in Oregon.
Sophomore QB Trever Watson (5-10 180) looks to be a favorite for MWL Player of the Year honors, after starting as a freshman and having a phenomenal 2013 campaign. Springfield just finished the regular season (7-2) with a losses to #3 Silverton to start the year, and a close 32-28 hard fought game at #4 Ashland.
They are one of the more exciting teams in Oregon and a group that has a legit shot of playing in a state title game, if they can use the momentum they have created to their advantage. Watson for lack of a better term is special and has what many refer to as the "It" factor. He has absolutely gone off this year as Coach Heuberger states, "Trever does things you can't teach, he's a 4.0 student and a kid with a very bright future".
His dual threat abilities speak to his upside as he has the necessary tools both running and passing the ball to play at a high level. Very few athletes ever start as freshman and do well which he did, helping his team go (8-3) in Heuberger's first year as the head coach. Springfield had finished a combined (8-20) the previous three season's before as things have changed a great deal.
Watson accounted for 34 TD's on the season, with over 2700 yards of offense and we haven't even gotten to the playoffs. His 820 rushing yards and 15 touchdowns, complimented his 1921 passing yards and 19/3 TD to INT ratio.
The other POY candidate is the returning Co conference Defensive Player of the Year in Taylor Travess (5-10 165 Sr ATH). He led the state in picks last season (9), and has dominated the competition on both sides of the ball this year. He is one of Oregon's all purpose yard leader's, and a lock down DB that didn't have the stats from last year due to the fact that no one would throw the ball to his side.
Taylor is considered one of the top overall athletes in the state and potentially an even better baseball player. This says a lot considering he could be the POY within the conference on both sides of the ball. Coach says, "Taylor is an incredibly talented kid who is willing to put in the work.. He is someone that will sit down and watch 2-3 hours of film at a time to prepare."
There are many other individuals who have contributed to this season's success. Jordon Haas (6-5 295 Sr. OL/DL) is ranked as one of our top O lineman state wide as his upside is through the roof. Get used to the name Nick Ah Sam (6-0 195 Fr. ATH/DB) who is one of the best basketball players in the west and someone that has started and done very well as a freshman. This is another kid that projects at the D1 level in multiple sports.
Jordan Henderson (5-9 250 So. DL) and Gilbert Degellado (5-11 260 So. DL) have been clutch defensively as they are part of the youth movement that is currently Springfield. Add to this fellow sophomore Braydon Haas (6-2 170 WR) who is one of the better receivers for the 2016 class and you have a group that should be good for years to come.
The Miller's looked OK in their 27-10 season ending win over Churchill, but averaged 42 points a game during the season beating up some good teams in Marist and Hermiston. They still have a lot to prove, but look like a team that could challenge in the playoffs finishing the 5th ranked team in the state. There are plenty of other players that contributed such as returning 1st team all league LB Latrell Tinsley (5-11 190 Sr.), and fellow backer Alan Smeltzer (5-10 180 Sr.).
Everything considered Springfield is in a position to win not just this year, but for many season's to come. Congrats to the entire football community as there is a lot to be excited about moving forward.