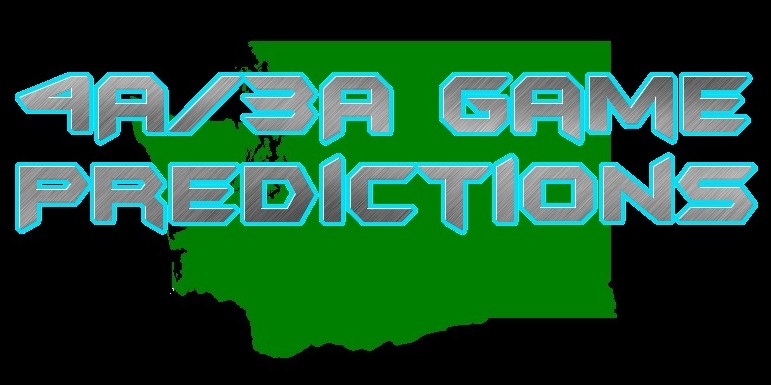 | | | | |
| --- | --- | --- | --- |
| Name | Wins | | Losses |
| Ryland | 109 | – | 20 |
| Jordan | 114 | – | 16 |
4A Top Ten
#1 Camas Papermakers (7-0) vs Heritage Timberwolves (2-5)
Camas all but locked up the GSHL with a win last week vs Union. I guarantee they will not let off the gas. QB Reilly Hennessey will continue to throw, and I am sure he will do plenty of that this week. RB Nate Beasley will continue to rush, and I am sure he will also do plenty of that. Expect a running clock.
Picks: Ryland – Camas, Jordan – Camas
#2 Graham-Kapowsin Eagles (7-0) vs Todd Beamer Titans (2-5)
The Eagles got a bit of a scare last week, but still got the win and I am sure they will be better because of it. All teams need that little jolt to get them through thinking they are invincible. Todd Beamer is going to have to be stout against the run, as I am sure Teague James will continue to be the focus of the GK offense.
Picks: Ryland – Graham-Kapowsin, Jordan – Graham-Kapowsin
#3 Ferris Saxons (6-1) vs University Titans (1-6)
Since losing to Gonzaga Prep, the Ferris Defense has been unbelievable. They are giving up 8.5 PPG in their last 4 games, and have not allowed more than 14. The offense on the other hand, behind the legs of Cole Karstetter, is averaging 38 points over that same span.
Picks: Ryland – Ferris, Jordan – Ferris
#4 Bothell Cougars (6-1) vs Woodinville Falcons (5-2)
The Cougars are one of the hottest teams in the state right now. Since losing in week two to Bellevue, they have an average point differential of 30 while going 5-0. Sam McPherson has been on fire and QB Ross Bowers is living up to the hype in the Cougars new more open offense.
Picks: Ryland – Bothell, Jordan – Bothell
#5 Chiawana Riverhawks (6-1) vs Southridge Suns (4-3)
The loss last week to Lake City is one of the most surprising losses you will see all year. Chiawana is a legit state championship contender that apparently had a bad week. I fully expect them to come back guns a blazin' this week. I feel bad for Southridge.
Picks: Ryland – Chiawana, Jordan – Chiawana
#6 Skyline Spartans (6-1) @ Issaquah Eagles (5-2)
I've picked against both teams in the past, and both teams have burned me. Something tells me to pick Issaquah here, but Skyline most recently, last week, burned me. The Skyline secondary has been great this year, and for Issaquah to win they will need to throw. Not a good matchup.
Picks: Ryland – Skyline, Jordan – Skyline
#7 Bellarmine Prep (6-1) vs Olympia (4-3)
The Lions took out some frustration of losing on the Yelm Tornadoes last week. RB Nathan Goltermann is running wild this season and is averaging over 100 yards rushing per game, and also has 11 TDs. The defense is giving up just over 12 points per game, including two shutouts.
Picks: Ryland – Bellarmine Prep, Jordan – Bellarmine Prep
#8 Edmonds-Woodway Warriors (7-0) @ Mariner Marauders (1-6)
The Warrior offense is putting up over 400 yards per game, including 265 yards rushing. RB Juniour Opoku-Mensah is 11 yards short of 1,000 for the season and has 14 total TDs (13 Rush, 1 Receive). They've wrapped up the Wesco 4A South and this game should be a cakewalk.
Picks: Ryland – Edmonds-Woodway, Jordan – Edmonds-Woodway
#9 Gonzaga Prep Bullpups (6-1) @ Mount Spokane Wildcats (5-2)
At 6-1, Prep is in a three-way tie for first place with Ferris and Shadle Park. If they want to win the league and/or earn a playoff berth, this may be one of those games we look back on. Central Valley is just a game back, and Ferris probably wont lose again. Next week the Bullpups take on CV in a game that could very well decide the #2 4A playoff spot.
Picks: Ryland – Gonzaga Prep, Jordan – Mount Spokane
#10 Gig Harbor Tides (6-1) vs Yelm Tornadoes (3-4)
Since losing in a suspended game to O'Dea, Gig Harbor has been playing great football. RB Sterling Brown is closing in on 1,000 yards and has 12 TDs to pace the spread offense. QB Connor Scanlan is also closing in on 1,000 yards, passing, to go along with 11 TDs and only 3 INTs. They could be a factor come playoff time.
Picks: Ryland – Gig Harbor, Jordan – Gig Harbor
3A Top Ten
#1 Bellevue Wolverines (7-0) vs Liberty Patriots (4-3)
Well, what is there to really say… Liberty is playing good football, but they are about to play a monster. Bellevue will not be challenged again until Tacoma, if at all.
Picks: Ryland – Bellevue, Jordan – Bellevue
#2 O'Dea Fighting Irish (7-0) vs Bainbridge Spartans (0-7)
The Irish made a real statement last week by taking it to a good Eastside Catholic team. RB Myles Gaskin and QB Pierre Le Dorze are almost unstoppable right now. If there is a team that has a chance at beating Bellevue, it is the Irish. Keyword… "If".
Picks: Ryland – O'Dea, Jordan – O'Dea
#3 Marysville-Pilchuck Tomahawks (7-0) vs Oak Harbor Wildcats (6-1)
This game will determine the Wesco 3A North champion, and a spot in the Wesco 3A Championship game next week. This is a game that RB Austin Joyner will have to take over. Oak Harbor will counter with RB Sheyenne Sams. The difference will be in QB play where MP senior Jake Luton has been very good as of late.
Picks: Ryland – Marysville-Pilchuck, Jordan – Marysville-Pilchuck
#4 Shadle Park Highlanders (6-1) @ Central Valley Rams (5-2)
There might not be a hotter team in 3A right now than the Highlanders. The offense is really clicking and it is hard to see anyone stopping Brett Rypien and company. The defense has been very good the last two week giving up 7 and 0, but they will probably give up a few to CV. Shouldn't matter though.
Picks: Ryland – Shadle Park, Jordan – Shadle Park
#5 Mount Si Wildcats (6-1) vs Mercer Island Islanders (4-2)
The last time Mount Si lost a KingCo game to anyone other than Bellevue was two years ago to Mercer Island. Their last home loss to anyone other than Bellevue goes back even further. It is not easy to go into Snoqualmie and get a win, and I have a hard time seeing Mercer Island doing it. The last team to lose to Bellevue and play MI the next week was Juanita, and that didn't go well for the Rebs.
Picks: Ryland – Mount Si, Jordan – Mount Si
#6 Eastside Catholic Crusaders (5-2) vs #8 Bishop Blanchet Braves (6-1)
Blanchet will have a hard time stopping the Crusader passing game, but the X-Factor in the game will be if EC can stop the Blanchet running game. Blanchet should do well against the EC running game as they do a lot of stunting and twisting, but they should have a problem stopping Kirsch through the air.
Picks: Ryland – Eastside Catholic, Jordan – Eastside Catholic
#7 Lincoln Abes (6-1) vs Wilson Rams (6-1)
Meg Wochnick of The Olympian has a great write-up about the Narrows 3A playoff picture you can view Right Here . The Abes got back in the win column last week, while the Rams took their first tumble of the year. This game could mean the playoffs for one of these two teams.
Picks: Ryland – Lincoln, Jordan – Lincoln
#9 Glacier Peak Grizzlies (6-1) vs Meadowdale Mavericks (5-2)
This game will determine the winner of the Wesco 3A South and a matchup with the Marysville-Pilchuck/Oak Harbor winner. This is also a rematch of a game last year with the same implications. GP came away with a 25-7 win and eventually a Wesco 3A Championship. Look for Meadowdale's Malik Braxton to have a big day.
Picks: Ryland – Meadowdale, Jordan – Glacier Peak
#10 Ferndale Golden Eagles (6-1) vs 2A #2 Lynden Lions (7-0)
Ferndale cracks the top ten this week, but it could be a short stay. Lynden is a machine, but without QB Luke Peterson they are a bit of a different team. Sterling Somers will step in for a second straight week, but it will be his first road test, and Ferndale will be as hostile environment as he will see. This game can be seen live on the WIAANetwork Right Here .
Picks: Ryland – Ferndale, Jordan – Lynden