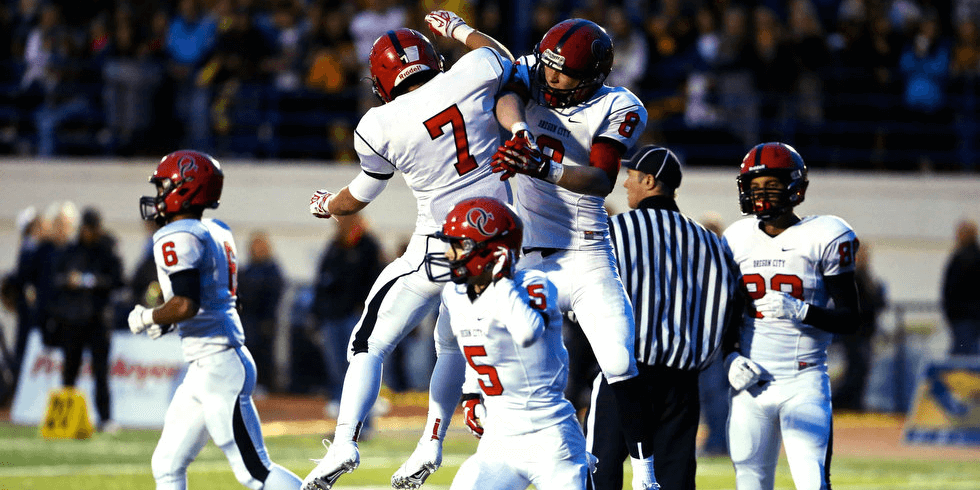 As we close out the regular season, the Oregon City Pioneers could be the hottest team in the state. They currently sit at (7-1) and are ranked #5 in our latest NEI 6A Poll.
OC is led by a strong senior class and some of the top younger athletes in the region. Big season's from QB Jonathan Hall and WR Matt Oades have been huge, with Sr DB Clay Reece stealing the show the past two weeks, snagging 5 INT's.
Add to this a very talented junior class and you have the making of a special group. This said as the X factor could come in the way of two elite sophomore athletes, that rank as one of the top duo's in the western region for the 2016 class. Trevon Bradford (5-10 175 So. ATH) and Conner Mitchell (5-9 180 So. RB) are Player of the Year candidates and a big reason why the Pioneers are considered one of the best in Oregon.
Mitchell is one of the state leaders in rushing , going for 1, 484 yards and 12 TDs on 223 carries. He should be considered the TRL Offensive Player of the favorite along with RB Dan Sherrell of Clackamas. What he has been able to accomplish as a sophomore has been incredible, as both him and Bradford have played since their freshman season, breaking out this year.
Conner says, "Our senior's were able to rise to some early season challenges and took control of our team…Personally I want to be a leader and someone that my teammates and the community can be proud of and count on."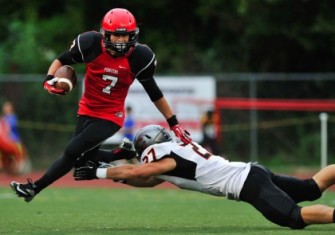 Referencing the success of his team he says, "Its not to much different around school, but everybody does seem to be very supportive of the football team and we appreciate the love. "
Conner has phenomenal body control and is able to bounce and accelerate like very few people his age. His unique god given ability is something we will get to enjoy for the next 2.5 years, as OC will be a legit contender state wide for the next couple of seasons.
Bradford is one of the more exciting athletes in the Northwest, as he started 5 games at DB as a freshman and is also one of the top basketball players in the region. Its rare to see a freshman double up in varsity sports, but Trevon is a special kid. He is a 4.0 student, taking honors classes, and is just getting started on the football field. He is the team leader in multiple receiving categories, catching 18 passes for 458 yards and 6 TDs, through 7 games.
Speaking on some of the senior leaders Bradford says, " A couple of our senior leaders are Jon Hall and Matt Oades; Jon brings excitement and is always ready to go, and Matt's a stud receiver who I look up to as a player and as a friend."
The Junior class is nice to as he adds, "Tristan Birge, Hunter Knighton, Chris Mengis, and Scott Lloyd are some of my best friends and guys that all dedicate themselves to the common goal."
Oregon City has big numbers and travel as well as any fan base in Oregon. Any time you go to a home game you can count on the place being packed. Trevon says, "Football is very important to the OC community, and we pretty much have the best fans around creating a great atmosphere." He added, "I hope to be an all state receiver and the best at what I do… In my opinion if you don't play to be the best, there's no reason to play."
We will hear a lot about these two for the remainder of the year and beyond. Both are outstanding overall athletes and even better kids. OC has put themselves in a position to make a run during the state playoffs, and will get a huge test this Friday at Lake Oswego. We wish both kids continued success and will bring you updates as they happen.