Click For Joey Cassano Highlights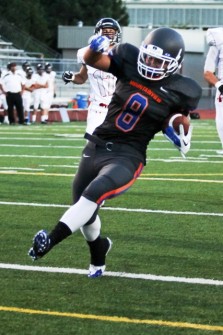 One of the true breakout stories of this season has been the play of Auburn Mountainview WR Joey Cassano (Sr. 5'10" 190).
Through just 7 games, Cassano has accumulated 59 receptions, 920 yards and 10 TDs. This comes after a junior campaign in which Cassano was voted first team All-SPSL 3A after reeling in 58 catches for 565 yards and two scores.
Lions head coach Jared Gervais speak about Cassano as more than a football player, "Even though Joey is currently leading the state in receptions, his biggest contribution this year has been his example to the younger players of what it takes to succeed in football or any sport."
Gervais continues, "We are very young this season, we only have eight seniors in the program and of those eight only two had previous game experience; so we have done a lot of learning this season of what it takes to be successful at the varsity level of athletics and Joey has been there the entire way demonstrating to his fellow seniors and underclassmen of what it is going to take to become as successful as we could be."
One underclassmen that is taking full advantage of Cassano's talents is Sophomore QB Gresch Jensen. "Joey is very reliable and understands the game of football. He and I have great chemistry and connection on the field," Jensen told NEI. "Being a sophomore quarterback can be challenging at times, but having Joey as an experienced wide-receiver has been an awesome experience and a tremendous asset to our Lion program."
Cassano excels on more than just the gridiron. He has started for the Lions' Baseball team since his freshman season, and helped them to a 3A State Championship last season as the starting third baseman. Cassano is also very good student, carrying a 3.92 GPA while taking Honors and AP courses all four years.
Baseball had always been considered to be the sport of choice for Cassano, but times have changed. "In the past I was dead set on playing baseball but with the year I am having, I've definitely considered playing both at the next level," Cassano said
The Lions are down to their final few games of the year, but they are definitely not mailing it in. "We are working hard everyday in practice, studying our film, and making sure we are ready for everything the other teams we will face". He continues, "We have a great group of young guys who push us everyday on both scout offense and scout defense. We are a very young team, but we are getting better every week and I believe these next weeks we are going to show everyone how we can really play."
While their record may not reflect it, the Lions are a program headed up. They have a good young nucleus of talented players, and coach Gervais and his staff are some of the best around. Cassano's mark on the program may not be with wins while he is there, but with future wins by players following his lead.