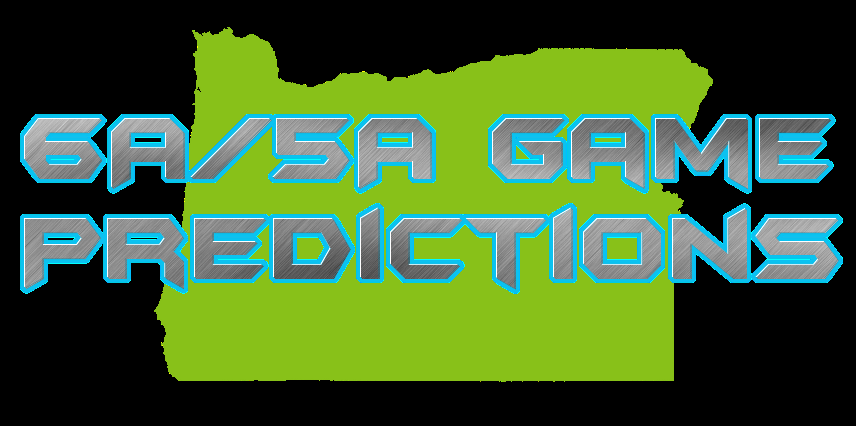 6A Top Ten
Centennial (5-3) 14 @ #1 Central Catholic (8-0) 65
The Eagles have played better but this shouldn't be close. CC is as dominant as I have ever seen them, and even if you want to 10+ D1 kids is tough to stop.
#2 Tigard (8-0) 69 @ Forest Grove (4-4) 7
Expect Tigard to play their starters a little longer this week, in preparation of the playoffs. This could get ugly as Tigard is the real deal. Manu Rasmussen has scored 14 TD's in the last 3 weeks.
Beaverton (3-5) 15 @ #3 Jesuit (6-2) 48
Joey Alfieri is one of the top athletes in the country and will be missed. That said the Crusaders will be fine during this contest, as Junior Chase Morrison is one of the top players in the state. The question will be long term and how far they can go in the playoffs without him.
#4 Sheldon (6-2) 31 @ #10 Grants Pass (6-2) 24
One of the top games state wide as the defending state champion will be well prepared, traveling to one of the toughest venues in the Northwest to play. The Irish will have the advantage, but GP could make this close.
#5 Oregon City (7-1) 29 @ #9 Lake Oswego (3-5) 28
One of the toughest games to call of the year. Lake O's record doesn't tell the story as they hadn't lost a conference game for the better part of a decade before this season. The question will be whether or not a young LO team can regroup from last weeks hail mary loss to Lakeridge. O.C. is as hot as any team in the state, and will use that momentum to try and leverage a win from a talented Laker squad
Roseburg (5-3) 29 @ #6 North Medford (7-1) 33
The Black Tornado have wrapped up the conference title, but you can imagine they want to finish the conference season strong. The SWC is as balanced as its been in years and the Indians will give the Troy Fowler led North squad all they can handle.
#7 Lakeridge (6-2) 32 @ West Linn (3-5) 27
The Pacers changed the whole outlook of their season with last weeks win. Junior Eric Dungey is a legit D1 kid at quarterback and should use the excitement created from last week to keep the team rolling. The Lions are not a bad football team, but injuries have been a problem with Louie Germain missing last week as well.
#8 Westview (6-2) 35 @ Sunset (6-2) 31
One of the better games of the night could go either way. This will be the battle of Metro league top Junior QB's Austin Brisbee of Westview and Willy Pflug of Sunset. The Wildcats are on fire as of late beating Beaverton by 30, and #5 Southridge last week.
Other 6A Gamer (winners in bold)
| | | |
| --- | --- | --- |
| Visitor | – | Home |
| Reynolds | @ | Barlow |
| Clackamas | @ | Canby |
| South Medford | @ | Crater |
| Gresham | @ | David Douglas |
| Lincoln | @ | Grant |
| Newberg | @ | Hillsboro |
| Sprague | @ | McKay |
| Century | @ | McMinnville |
| South Salem | @ | North Salem |
| Aloha | @ | Southridge |
| South Eugene | @ | Thurston |
| Glencoe | @ | Tualatin |
| McNary | @ | West Salem |
5A Top Ten
Putnam (2-6) 13 @ #1 Sherwood (8-0) 65
I'm a big fan of both programs as I think Brad Lewman is the best thing ever to happen to Putnam and the Bowmen look to have a 5A dynasty. This will still be over by half.
Corvallis (3-5) 10 @ #2 West Albany (7-1) 54
Look for the Bulldogs to hammer Corvallis as they look to set the tone moving into the playoffs. Oregon Gatorade Player of the Year Jake Lacoste would like to get another shot at Sherwood, who held him to 67 yards on 22 carries.
#3 Silverton (7-1) 38 @ South Albany (3-5) 0
The Foxes are into pitching shutouts so expect South Albany to have a tough time getting in the end zone. Silverton is a talented 5A group and hammered a top 10 CV team last week 38-12.
#4 Ashland (8-0) 25 @ #10 Eagle Point (5-3) 23
The game of the night at the 5A level as the Grizzlies were almost beaten by a sub par Willamette team last week, while EP has won 4 in a row. Ashland will look to come out polished and Eagle Point is going to try and build off the last month.
#5 Springfield (6-2) 51 @ Churchill (3-4) 13
Probably the hottest team in the state at the 5A level the Milers all everything Sophomore QB Trever Watson is off the charts good. Springfield beat Marist 41-21 last week on the road and Watson went for 4 TDs, 3 of which were for over 65 yards. They should handle the Lancers with ease.
#6 Roosevelt (7-1) 46 @ Redmond (1-7) 7
The Roughriders will finish (8-1), with the PIL title and most likely win this week by 40 or 50. That said they have yet to face a top 10 5A team so it will be interesting to see how they face the challenges ahead.
#7 Mountain View (6-2) 45 @ Bend (1-7) 17
The Cougars are getting in a groove and for the most part are still pretty young. Expect to see Mountain View continue to get better as they should hammer the Lava Bears, although Bend's Hunter McDonald has been impressive.
#8 Crescent Valley (5-3) 59 @ Woodburn (0-8) 0
The Raiders will put this away early, but last week's loss was tough as CV was thought to be much more comparable to Silverton then 38-12.
Lebanon (1-7) 13 @ # 9 Dallas (5-3) 40
Don't sleep on the Dragons as the kids can play. They should beat the Warriors handily losing three ball games this season to teams ranked #2, #3, and #8.
Other 5A Games (winner in bold)
| | | |
| --- | --- | --- |
| Visitor | – | Home |
| Benson | @ | Jefferson |
| Franklin | @ | Madison |
| North Eugene | @ | Marist |
| Liberty | @ | Parkrose |
| Hermiston | @ | Pendleton |
| Ridgeview | @ | Summit |
| Sandy | @ | Wilsonville |
| St. Helens | @ | Milwaukie |
| The Dalles | @ | Hood River |
| Wilson | @ | Cleveland |