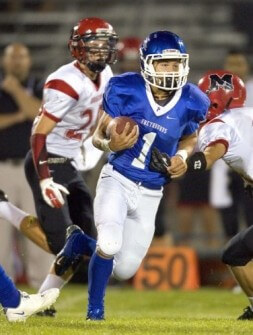 Being the son of a veteran, 27-year football coach, Pullman's David Ungerer III has done his fair share of traveling throughout his young life. Most recently, he arrived to Pullman, Wash. in 2010, when his father, Dave Ungerer, was named the special teams and running backs coach by Washington State.
After two seasons, the elder Ungerer and his fellow WSU assistants were not retained by new coach Mike Leach after Paul Wulff was fired by Cougar Athletic Director Bill Moos.
David knew his father would seek employment at a new school, he just didn't know where. After taking a year off the sidelines, Dave accepted a job with Utah State, officially joining the program in March as its new special teams and running backs coach.
Several different thoughts raced through the mind of the Greyhound senior.
"It crossed my mind," David said when asked if he thought about joining his father in Utah. "This is something my family has experienced before, though. After he coached at Oregon State (2007-2008), he had to find work and ended up at Elon University in North Carolina (2009). We stayed back, though.
"It's obviously tough, and I know he wishes he could be up here with my mom, brother and I, or have us be down there with him."
Dave has a long history of shaping up special teams programs around the country. Most recently, he's coached that unit at WSU, Oregon State, Elon and Alabama. The Ungerer's moved from Tuscaloosa, Ala. to Corvallis in 2007 after Dave spent four seasons (2003-2006) with the Crimson Tide.
"The biggest thing my parents have told to my brother, Dante, and I is that they wanted to make sure we started and finished at the same high school," David said. "We knew it'd be a sacrifice being away from each other, but these things happen."
It's a sacrifice that has paid off big time for David on the football field. The 5-7, 155-pounder running back and inside receiver is having a senior campaign that most players dare not even dream of, recording 821 yards and nine touchdowns rushing, while adding 670 yards and nine touchdowns receiving through six games. He's also added two scores on defense.
Pullman is 5-1 on the year and in first place of the Great Northern League standings.
"We've had a great season so far and we're focused," David said. "When school ended on June 7, I remember us getting together as a team and we all agreed we wanted to go get a state championship. We've been hard at work and our goal hasn't changed."
David is one of the offensive leaders for the Greyhounds, along with first-year starting quarterback Mason Petrino, the son of Idaho head football coach Paul Petrino. Mason is also having himself a solid campaign, throwing for 1,072 yards and nine touchdowns.
"We run a hurry up spread offense and it's a lot of fun for me," David said. "We run some two-back sets too, but everything comes out of shotgun. Mason does a really good job for us and he's always finding me in space. We've really developed strong chemistry together this season."
His tremendous play on the field certainly hasn't gone unnoticed. Matter of fact, his talents were discovered by the University of Idaho before he even took a snap this fall.
After performing well at a pair of Vandal camps over the summer, Paul Petrino and Idaho offered David his first FBS scholarship. He ended up giving his verbal commitment to the Vandals shortly after in late August.
"I'm solid with them right now," David said of Idaho. "I just believe in Coach Petrino and what he is preaching about the future of the program. They're starting a lot of young guys right now and I feel like they're going to be competitive for years to come.
"When I spoke with Coach Petrino, he said they are looking for a specific kind of guy to come in and play slot receiver for them. They liked my skillset and believe I can fit into their system. I'm excited to be a part of their offense."
Having his future head coach only eight miles away, in Moscow, and also the father of his starting quarterback, has been a huge positive, David said. Combine that with the tips and advice his father provides him and he's got incredible football knowledge available to him at any moment.
"Obviously my dad's been there all my life," he said. "He's been a great influence for me. With Coach Petrino, he's been there for both Mason and I. He puts a lot of pressure on Mason and he expects me to go out there and make plays. He's been a great help for both of us and been there whenever he can be. It's definitely great to have him and my dad in my life right now."
The future Vandal added that he couldn't be happier to remain in the Palouse to continue his football playing days.
"I've enjoyed everything about living in Pullman," David said. "It's a great community and everyone has been so nice to us since we got here. Moscow is only eight miles away and it's also a nice area and town.
"It's great because I'll be able to play football at the next level, but also be so close to my mom and brother. I'm looking forward to the move."
This time, it will be one he doesn't mind in the slightest.