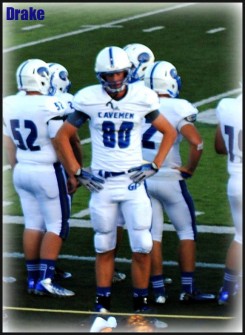 Anyone familiar with Oregon high school football will tell you that Grants Pass has some of the richest football tradition anywhere in the state. It's one of the best football venues in the west and a place opponents don't necessarily fare well. Its been a tough last half decade as GP has gone (12-30), but things are looking up quickly.
Just this week we bumped the Cavemen (6-2) up to #10 in our 6A Poll, as they have won 5 straight league games, heading into this weeks regular season finale. They have had a host of kids contribute including 6-8 DE Drake Brennan, who is one of the regional sack leaders, accounting for 12 in his first 7 games. We have referenced him before as the "Do it all kid" as he is a force on the basketball court, and the returning state champion in the discus. He currently is the top D lineman on our board without an offer , projecting at the Division 1 level.
Grants Pass has some outstanding younger athletes which makes this season even more exciting, as the future looks bright. Junior QB Javan Appling was clutch in last weeks 52-42 win over Roseburg, going 15-22 for 328 yards and 3 Td's, doing a good job of managing the offense this season. Zach Hannan and Keegan Weiss are two junior backs that have been clutch, as Hannan broke into our state top 10 with his outstanding speed while Weiss went for 3 TDs in last weeks big win.
Fellow underclassmen Jason Mckinley and Kirkland Meadows are two of the better Jr. athletes in the state, starting on both sides of the ball as Drake says, "They are both great in the open field and really smart football players."
Oregon top sophomores Easton Bents and Anthony Deltorro (6-4 245) are doing big things early in their career as Brennan added, "Easton is starting at safety and is a big fast kid that flies to the ball, with Deltorro being tough inside at offensive and defensive tackle."
This years top senior's include Jonah Musser (6-2 205), Ben Glaeser, Ethan Straw (6-3 220 DE), Ben Dean, and Walker Pope (6-0 260) …. five of the better players in the SWC, and the heart of the group as Drake says, "Walker is our left guard and a brick wall, and Ethan has a strong motor as our other defensive end." He continued, " Ben Glaeser is also a very talented safety and having a great season… All the guys have contributed, and this is the best team we have had in years."
Coach John Musser has his guys confident and playing good football. There only loss was to #6 North Medford (7-1) 28-21 at home to start the league season. They have caught fire at the right time and will play their biggest game in years, as defending state champion and #4 Sheldon (6-2) come to town. When the Irish show up they plan to win so there will be no love lost in this battle. Sheldon will carry a demeanor into the game that GP will have to overcome if they want to win, as Friday will have a playoff type atmosphere that should dictate how good both of these teams really are