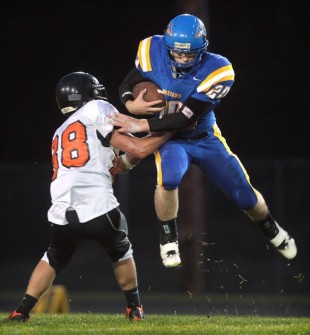 The Rochester Warriors (5-2) of the Evergreen 1A Conference are one of the state's most improved teams. A big reason has been the play of Sr. RB Tyler Yarber (5'6″ 160).
In just 7 games this season, Yarber has rushed for 1,308 yards and 14 TDs. Five times this season Yarber has rushed for 200+ yards in a game, all five have been Warrior wins. When the ground game struggles, so does Rochester. In their two losses, Yaber has gained only 52 and 78 yards, and more importantly hasn't scored.
This is the second straight season that Yarber has gone over 1,000 yards, and he has already passed his 2012 total of 1,100. Last season he was voted 1st team All-League and All-Area, but the Warriors finished just 2-7.
Yarber excels on more than just the football field as he plays basketball for Rochester and was voted Honorable Mention last season. He is also part of Link Crew, which helps incoming students transition to the school.
Two weeks ago the Warriors lost a close game to defending state champ Montesano, but that hasn't stopped them from trying to achieve their goal. "We want to continue to win games and be one of the teams at the top of our league, if not league champs," Yarber told NEI. "We want to make the playoffs and advance."
He continues, "We need to keep executing everything our coaches teach us correctly. By not giving up and playing with intensity and playing fast and fun."
Not giving up is a big key as the Warriors are in a three way tie for first play in the Evergreen Conference. Rochester, Elma and Tenino all come into the week with one loss. Rochester has already beaten Elma, and on November 1st will travel to play Tenino in what could be considered a league championship game.
Like any good leader, Yarber deflects the attention from himself to his teammates. In describing his lineman he uses words like 'undersized' and phrases such as "at first you wouldn't think he's a lineman", but the common theme along the line is to outwork the opponent. Jacob Lambert, Brayden Bennett, Matt Shields, Riley Doerge and Tyler Barnes, may not catch the eye walking by you, but they will beat you up on way to getting Yarber in the endzone.
Paving the way out of the backfield for Yarber is Jr. FB Lucas Eastman. "In my eyes he is the best fullback in the league," says Yarber. "Like I've said once before, it's like running behind a freight train."
Yarber also gives a lot of credit to Sr. QB Tyler Gedney. "He is a playmaker, a game changer. He takes attention off of me because of his abilities to make things happen."
Head Coach Eric Snelson and his staff have done a great job in a short period of time with Rochester. I look forward to following them as their season progresses.