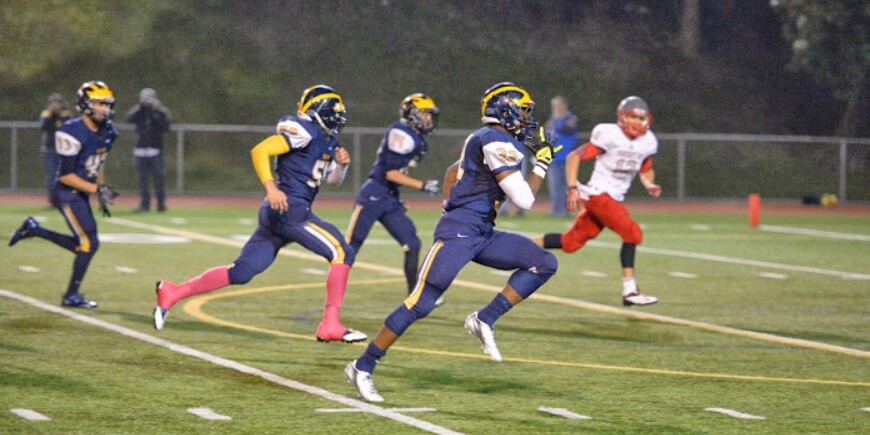 4A Top Ten
1. Camas Papermakers (7-0)
Another week, another beating at the hands of the Camas Papermakers. This time they laid out rival Union by a 44-6 final. Union was ranked in the top ten, and frankly Camas made them look silly. The defense held Titan's RB Leon Siofele to just 85 yards on the night.
Next: vs Heritage Timberwolves (2-5)
2. Graham-Kapowsin Eagles (7-0)
The Eagles escaped Sparks Stadium with a win over Puyallup. Much close than they would've liked, but this will be a learning experience. They should use this week as a tune up for the playoffs, where they will face either Central Kitsap or Olympia.
Next: vs Todd Beamer Titans (2-5)
3. Ferris Saxons (6-1)
Another big week for Cole Karstetter who scored all five TDs as the Saxons topped Lewis & Clark 34-6. Ferris finishes with University and Mead, they should have no problem with either, on way to the playoffs.
Next: vs University Titans (1-6)
4. Bothell Cougars (6-1)
The Cougars cruised over Northshore-Rival Inglemoor 47-6. If Bothell wins this week, they will head back to the KingCo Championship game for the second straight season. Bothell is getting stronger by the week and are looking more and more like a team that can make a deep run in the playoffs.
Next: vs Woodinville Falcons (5-2)
5. Chiawana Riverhawks (6-1)
The Riverhawks had no answer to senior QB Tucker Louis-McGee's dual threat offensive game, and it resulted in one of the more shocking upsets this season. Chiawana is a very good team, and if anything this may wake them up.
Next: vs Southridge Suns (4-3)
6. Skyline Spartans (6-1)
The Spartans continue to play great defense, keeping a potent Newport running attack in check most of the night. This week's game will decide the division winner, which comes with a date in the KingCo Championship.
Next: @ Issaquah Eagles (5-2)
7. Bellarmine Prep Lions (6-1)
The Lions rebounded after losing to Tumwater. RB Nate Goltermann is rushing for right around 100 yards per game, and QB Lou Millie is getting better by the week with his transition. As the offense starts to come around, the Lions are looking more and more dangerous by the day.
Next: vs Olympia Bears (4-3)
8. Edmonds-Woodway Warriors (7-0)
RB Juniour Opoku-Mensah continues to be the story for the Warriors, and is closing in on 1,000 yards for the season. He has 13 TDs and is averaging nearly 150 yards per game. The Warriors have passed the toughest tests they will see and are in cruise mode waiting for the Wesco 4A Championship Game.
Next: @ Mariner Marauders (1-6)
9. Gonzaga Prep Bullpups (6-1)
The Bullpups are back in the top ten after dropping out last week. They hammered winless Rogers 48-17. RB Jack Bamis got going this week, finishing with 245 yards and three TDs. QB Kevin Thomas carried 9 times for 99 yards and a TD.
Next: @ Mount Spokane Wildcats (5-2)
10. Gig Harbor Tides (6-1)
The Tides flow into the rankings for the first time all season with a 27-21 win over Olympia. The Gig Harbor offense that struggled in week one vs O'Dea is starting to click and RB Sterling Brown is really starting to roll. They still have a big matchup vs Bellarmine Prep to come.
Next: vs Yelm Tornadoes (3-4)
3A Top Ten
1. Bellevue Wolverines (7-0)
The Wolverines did what the Wolverines do this week by blasting highly ranked Mount Si 52-13. RB Budda Baker finished with TD runs of 88 and 35 yards, while QB Timmy Haehl reeled of runs of 45 and 48 for touchdowns of his own. The Wolverines held highly touted QB Nick Mitchell to 9 of 21 passing for 148. Mitchell also threw a INT that was returned for a TD.
Next: vs Liberty Patriots (4-3)
2. O'Dea Fighting Irish (7-0)
The most impressive win of the week came from O'Dea who ripped Eastside Catholic 63-45 in a game that really wasn't that close. It started off 14-14 just over four minutes into the game, but then the Fighting Irish took over. The Crusaders had no answer for the potent Irish rushing attack and RB Myles Gaskin did pretty much whatever he wanted, to the tune of 305 yards and 5 TDs.
Next: vs Bainbridge Spartans (0-7)
3. Marysville-Pilchuck Tomahawks (7-0)
The Tomahawks blasted Everett last week in a game that was over about 5 seconds in when Deion Stell returned the opening kickoff 90 yards for the score. Marysville-Pilchuck was up 63-0, before Everett got a few scores on the Tommies backups. This week's game is for the Wesco 3A North Division Championship.
Next: vs Oak Harbor Wildcats (6-1)
4. Shadle Park Highlanders (6-1)
The Highlanders continued to roll with a 49-0 win over North Central. Brett Rypien completed 33 of 43 passes for 430 yards and six TDs, to six different receivers. Shadle Park will get a tough test this week against a Central Valley team that is playing some of their best football as of late.
Next: @ Central Valley Rams (5-2)
5. Mount Si Wildcats (6-1)
This week was definitely not what the Wildcats were looking for. They went into Bellevue and got handled, just like everyone else does. No rest in Kingco football as Mercer Island comes to town this week.
Next: vs Mercer Island Islanders (4-2)
6. Eastside Catholic Crusaders (5-2)
The Crusaders came out hot against O'Dea, but couldn't sustain it. QB Harley Kirsch did have a big night, but the Crusader defense was nowhere to be found. They will have to put that behind them and get back to business this week with the intention of finishing second in the Metro Mountain Division.
Next: vs #8 Bishop Blanchet Braves (6-1)
7. Lincoln Abes (6-1)
The Abes got back into the win column this week with a 42-35 come-from-behind win over South Kitsap. While it was a non-conference game, it was big for Lincoln to get some confidence heading into this week's big game vs Wilson.
Next: vs Wilson Rams (6-1)
8. Bishop Blanchet Braves (6-1)
The Braves got back on track this week with a 43-9 win over Seattle Prep. They are in the same boat as Lincoln in that they needed to get their swagger back before a tough test this week.
Next: @ Eastside Catholic Crusaders (5-2)
9. Glacier Peak Grizzlies (6-1)
The Grizzlies didn't play their best football, but still came away with a 20-8 win over Shorecrest. This week's game will determine the winner of the Wesco 3A South. Winner most likely gets a date with Marysville-Pilchuck the following week.
Next: vs Meadowdale Mavericks (5-2)
10. Ferndale Golden Eagles (6-1)
Making their first trip into the top ten, Ferndale rebounded from a loss to a good Sedro-Woolley team by hammering Bellingham 61-28. This week will be their toughest test as they get two-time defending champ Lynden at home in a game that will be shown on the WIAA Network.
Next: vs 2A #2 Lynden Lions
2A Top Ten
1. Tumwater Thunderbirds (7-0)
2. Lynden Lions (7-0)
3. Sumner Spartans (7-0)
4. Ellensburg Bulldogs (7-0)
5. W.F. West Bearcats(6-1)
6. Lakewood Cougars (7-0)
7. R.A. Long Lumberjacks (7-0)
8. Pullman Greyhounds (5-1)
9. Lindbergh Eagles (7-0)
10. Othello Huskies (5-2)
Others: West Valley (Yakima) Rams (6-1), Mark Morris Monarchs (6-1), Kingston Buccaneers (6-1), White River Hornets (6-1)
1A Top Ten
1. Zillah Leopards (7-0)
2. Cascade Christian Cougars (7-0)
3. River View Panthers (7-0)
4. Woodland Beavers (7-0)
5. LaCenter Wildcats (7-0)
6. Mount Baker Mountaineers (6-1)
7. Cashmere Bulldogs (6-1)
8. Freeman Scotties (7-0)
9. King's Knights (6-1)
10. Okanogan Bulldogs (6-1)
Others: Eatonville Cruisers (6-1), Charles Wright Tarriers (5-1)