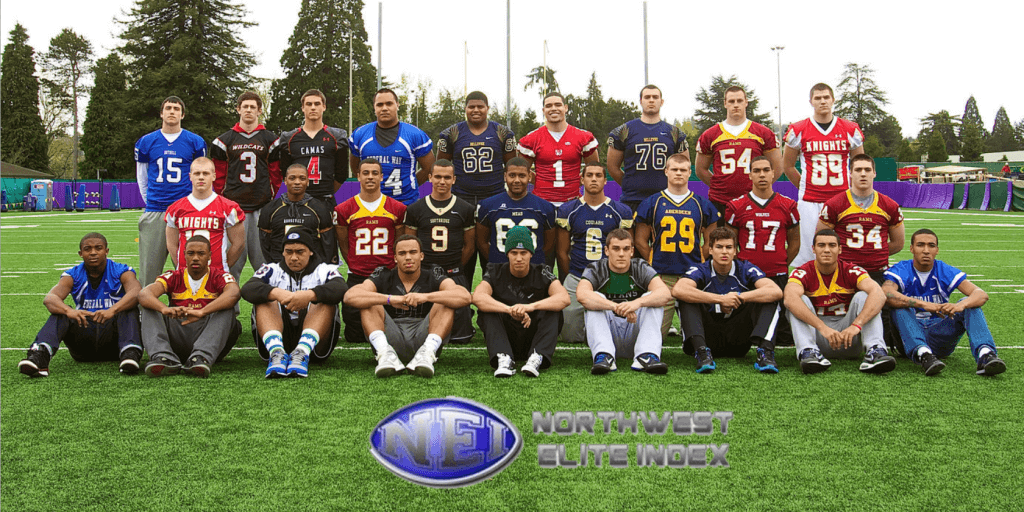 6A Top Ten
1. Central Catholic (8-0) – Centennial has been playing better, but the Rams have stepped up big over the last two weeks and look very good going into the playoffs. All classes included this years CC team has double digit D1 kids, which is unheard of at the high school level in Oregon.
Next: vs Centennial (5-3)
2. Tigard (8-0) – This will be over by half as the Pacific Conference is down and the Tigers are really good. Manu Rasmussen has gone for 13 TDs in the last 3 games and talented Soph FG QB Taylor Jensen will see a different animal this week.
Next: @ Forest Grove (4-4)
3. Jesuit (6-2) – The loss of Alfieri is big on multiple levels, and the Crusaders have to dig deep. Chase Morrison is one of the top junior's in the state and he will get his chance to shine. They should still handle the Beavers.
Next: vs Beaverton (3-5)
4. Sheldon (6-2) – GP has one of the best venues in the state and it will be packed when the #4 Irish come to town. The Irish will be challenged as its definitely not your most hospitable environment if you are the visitor.
Next: @ #10 Grants Pass (6-2)
5. Oregon City (7-1) – Trevon Bradford and Conner Mitchell should be considered one of the top duo's on the west coast for the 2016 class. This will be one of the more interesting and competitive games of the week as O.C. has a bunch of momentum, and LO could potentially be deflated after last week's heartbreaking loss to Lakeridge.
Next: @ #9 Lake Oswego (3-5)
6. North Medford (7-1) – The Black Tornado got a huge win wrapping up the SWC title, and now they will have to prepare for what could be a tough battle with the Indians. NM has been the turnaround team of the year, going (2-8) last season, with most of their starters being Juniors.
Next: vs Roseburg (5-3)
7. Lakeridge (6-2) – The Pacers have to be feeling good after junior standout Eric Dungey went up top to his 6-7 WR Joe Sindlinger, to win it 20-14 over LO, with no time on the clock. The Lions have been playing without Louie Germain which has hurt.
Next: @ West Linn (3-5)
8. Westview (6-2) – One of the more interesting games of the night as these two can be considered Metro League Rivals. Westview is playing as well as anybody in Oregon, and Sunset is very capable of putting up points.
Next: @ Sunset (6-2)
9. Lake Oswego (3-5) – The Lakers are the best (3-5) team on the block and a team I wouldn't want to play in the playoffs. It will be tough for OC to go in and win.
Next: vs #5 Oregon City (7-1)
10. Grants Pass (6-2) – The Cavemen held off a Roseburg comeback and have one of the of their best teams in years, led by two strong up coming classes and 6-8 DE Drake Brennan.
Next: vs #4 Sheldon (6-2)
5A Top Ten
1. Sherwood (8-0) – I think we have referenced the Bowmen and their dominance as of late. The Sherwood RB's went for over 570 yards and 7 TDs last week, basically in the first half.
Next: vs Putnam (2-6)
2. West Albany (7-1) – The Bulldogs will play a couple less then competitive games to close the regular season, as Jake Lacoste went for 4 more TDs in the first half against Lebanon last week.
Next: vs Corvallis (3-5)
3. Silverton (7-1) – The Foxes looked legit and took it to a top 10 CV team 38-12 last week. They will be dangerous come playoff time as Sr Max Wilson and Junior QB Cole Chandler have proved to be the real deal.
Next: @ South Albany (3-5)
4. Ashland (8-0) – The Grizzlies got there one get out of jail free card, coming back and beating a Willamette team not thought to have a chance 34-20. Tyree Heesacker had 5 sacks, 3 of which came on consecutive plays in the 1st quarter.
Next: @ #10 Eagle Point (5-3)
5. Springfield (6-2) – One of the more exciting teams in the state, went to Marist and proved they were real winning 41-21. Sophomore QB Trever Watson is special as his 4 rushing TDs were impressive, 3 of which went for 65+ yards.
Next: @ Churchill (3-4)
6. Roosevelt (7-1) – The Roughriders took care of Jefferson 36-7 and took home the PIL title. It will be very interesting to see what 5 D1 athletes, with a talented overall cast can do in the playoffs.
Next: @ Redmond (1-7)
7. Mountain View (6-2) – The Cougars are playing much better dropping the hammer on Redmond 70-14 last week. Sr WR Nick Hjelm had 3 receiving TD's and RB Keenan Springer has played well.
Next: @ Bend (1-7)
8. Crescent Valley (5-3) – The Raiders have had a lot of trouble winning the big game as Silverton didn't mess around beating the Raiders 38-12 last week. This one will still be over early.
Next: @ Woodburn (0-8)
9. Dallas (5-3) – The Dragons are my 5A sleeper and could challenge during the playoffs. They have battled some of the top teams in the state, beating Corvallis handily 62-24 last week .
Next: vs Lebanon (1-7)
10. Eagle Point (5-3) – The Eagles have won 4 in a row and beaten the likes of Marist on the road, solidifying that they can play behind the likes of Peyton Dole and RB Seth Arena.
Next: vs Ashland (8-0)