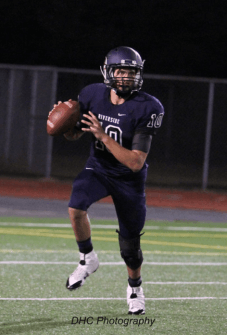 Auburn Riverside's Kevin Thomson has flown under-the-radar most of the season, but after a solid regular season for the Ravens he is sitting on two offers, but his focus right now is leading his team on a playoff run.
"I really worked hard this past summer on my mechanics and also on learning the game of football more," Thomson told Northwest Elite Index over the weekend after wrapping up the regular season with a an impressive 20-7 win over rival Auburn. "Aside from those two things, I just think my overall leadership skills have improved the most and I just go out there and do what I need to do to get us the win."
This season, the senior signal-caller has completed over 51% of his passes for 1,611 yards with 15 touchdowns and six interception while he's rushed for 522 yards and eight more scores.
In the win over Auburn, Thomson completed just 6 of his 13 attempts for 78 yards with a touchdown and an interception and he also rushed for 33 yards. While the numbers aren't real impressive, it goes along with his mantra of doing whatever he needs to do to get his team a victory.
"We saw some things we wanted to take advantage of (vs. Auburn) so, instead of throwing a lot or using the read-option like we usually do," Thomson noted. "I don't have to put up big numbers. I really don't care. I just do what the coaches ask me to do to get the win."
On the recruiting front, Thomson already has offers from two schools and a third could be getting close to stepping forward with a full ride.
"Right now, I have offers from UNLV and Idaho," Thomson said. "Wyoming is after me, but they are waiting on a kid from North Carolina to make his decision before they offer me.
"I want to wait until my season is over, so I can focus on football and getting us as far as we can go, and then I can turn all of my attention toward recruiting once our season is over.
"I want to take visits to UNLV and Idaho before I decide anything and I want to see what happens with Wyoming too."
Thomson is a good athlete and at 6'3″ and 180 pounds, he's got the frame to add at least 20 more pounds. He can be a dual-threat quarterback, but he's at his best dropping back and making plays with his legs when things break down.
This coming Friday, Thomson and his teammates will take on Cascade (Everett) in a district crossover playoff game.