** Below you will see a brief overview of the top kids in Oregon for the 2016 class. We are currently releasing the 2015 positional rankings and the 2016 will follow. No list is perfect and kids will be missed so feel free to chime in if you know of an athlete that may be deserving, based on what they have done thus far in their varsity career. All feedback is appreciated as we do our best to cover the state at all levels.
Jordan Johnson- NEI / Barton Football Recruiting Coordinator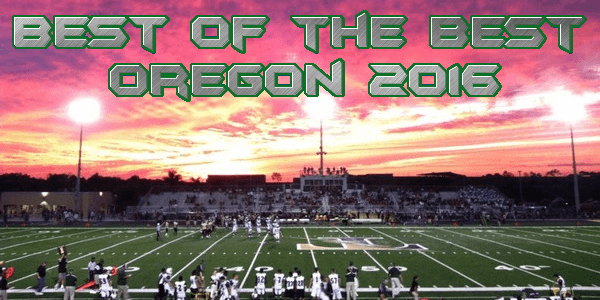 *No Particular Order*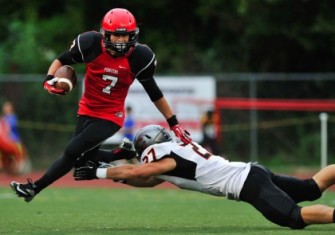 Conner Mitchell 5-9 180 RB/S Oregon City
Mitchell is a 4 year varsity kid, a TRL Player of the Year candidate, and one of the best players in Oregon as a sophomore. He has gone for over 1600 yards and 14 TD's this season, helping the Pioneers to a conference title. Conner has unique body control and when all is said and done could be one of the best backs to ever come out of the state.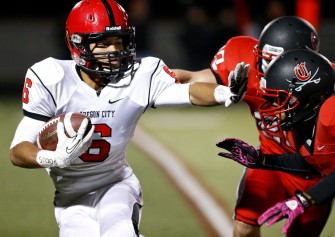 Trevon Bradford 5-10 175 Slot/CB Oregon City
Trevon projects at the D1 level on both sides of the ball and could be the most exciting sophomore in the region. He has gone for over 500 yards receiving, and 7 touchdowns this season starting 5 games at DB as a freshman. Bradford may be the most dangerous return man in the west for the 2016 class, showing flashes of DeAnthony Thomas. He is a 4.0 kid and someone that we will be watching on TV for years to come.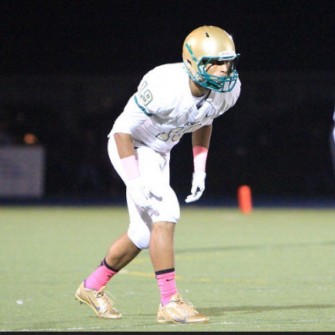 Zach Houlemard 6-1 185 ATH Jesuit
Outstanding overall athlete with size, and is a legit dual threat kid. Zach can play on either side of the ball, but currently starts on defense being one of the Metro' best. He will be key to a very talented 2016 class at Jesuit and a kid that should be considered a D1 athlete on multiple fronts.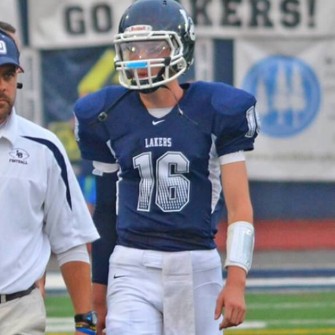 Mitch Verburg 6-2 180 QB Lake Oswego
Verburg is one of the top athletes in the state for the 2016 class. He has played maybe the toughest schedule a sophomore could face and done well throwing 12 TD's/6 INT's for 1500+ Yards. He is a legit baseball player and a kid that is a leader in every sense of the word. His toughness was very apparent during the year taking shots and never backing down.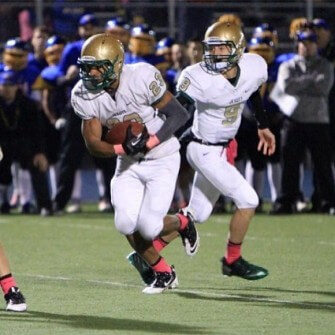 Jason Talley 5-11 195 RB/S Jesuit
Talley is next in line behind Chase Morrison when looking at a long list of talented Crusader backs over the years. His brother Jordan shattered single season records at Jesuit and is now doing well at one of the top D1aa's in the country in Eastern Washington. Jason has started this season at fullback and can play multiple spots on the field.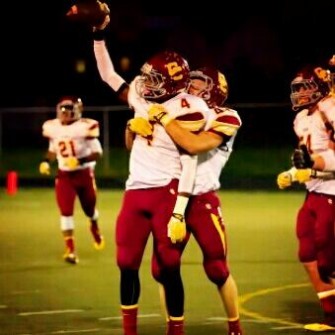 LaMar Winston Jr. 6-3 205 WR/LB Central Catholic
Just a freak athlete… Winston is one of the top basketball players in the region doing 360's as a freshman. He recently earned 2nd team all conference honors as a backer, and will get his time to shine over the next two seasons at receiver as you won't out jump him. He is an unquestioned D1 kid in multiple sports and could be one of the top overall athletes in the country.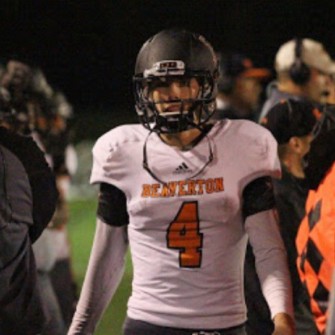 Sam Noyer 6-3 190 QB Beaverton
Noyer is everything you want in a QB. He is from an athletic family and has accounted for 20+ passing/rushing TDs this season, hitting on 56% of his passes. He is the future of the Beaver program and brings legit size and unique intangibles to the mix that can't be taught. With the right supporting cast Sam could get his guys back to the top of the Metro.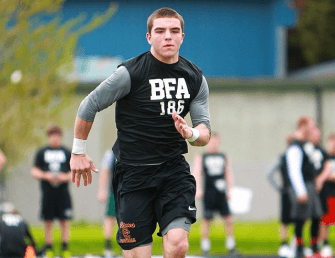 Ronnie Rust 6-0 190 RB/S Central Catholic
Rust is a phenomenal talent and will have his choice of schools when that time comes. He is one of the best baseball players in Oregon for his class on top of everything else. Ronnie plays with no fear and seems to always be in the right place. His instincts are something you can't teach as he will be a kid that holds multiple D1 offers on the football field, and a MLB Draft choice out of high school. He earned 1st team all league honors at backer this past season and is just getting better.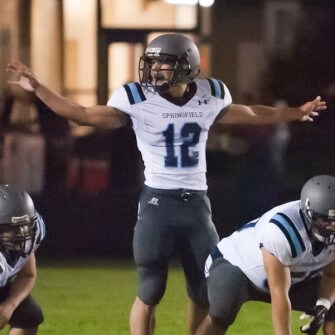 Trever Watson 5-11 185 QB Springfield
Watson started as a freshman and is a Conference Player of the Year candidate. He accounted for over 2700 passing/rushing yards and 34 TD's, as his ability to run the ball is equally impressive. Trever is a 4.0 kid and someone that should be considered the exception to the rule when referencing necessary size as a QB. His natural leadership abilities are unmatched.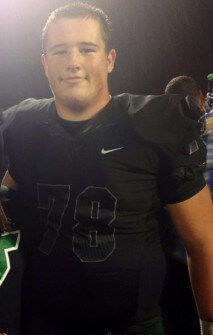 Conner Crist 6-4 275 OL Tigard
Crist projects at the D1 level and is a key member of a Tigard team (9-0) that has blasted everyone, never trailing this season. He is a part of a talented Tiger youth movement that you will see as a state title contender for the foreseeable future. His natural size and abilities are very visible.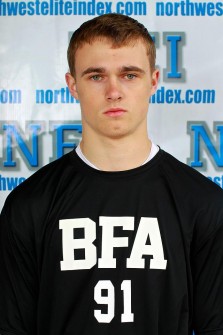 Caden Carter 6-0 185 RB/S Sunset
Carter has started on both sides of the ball as a sophomore for a talented (7-2) Apollo group. He will be one of the state's best backs in the coming years, but projects on the defensive side of the ball at the collegiate level potentially as a safety. He has scored multiple TDs this season and will be the featured back and one of the Metro's best over the next two seasons.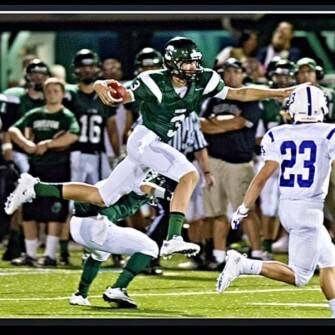 Justin Herbert 6-3 180 QB/S Sheldon
Herbert is the future of the Irish program. His brother Mitch (6-4 200) is ranked one of the state top athletes right now, and currently holds 3 D1 offers and counting. Justin can play on either side of the ball and should be one of the best players in the state over the next two seasons.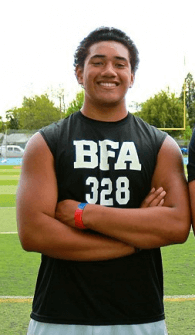 Makai Manuwai 6-2 225 LB South Medford
Makai played varsity ball as a freshman and has the necessary size and genes to be considered one of the top backers in the state for the 2016 class. He impressed on the Barton Camp and Combine tour over the off season and plays with a no non sense approach.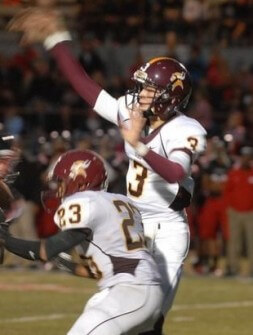 Taylor Jensen 6-4 175 QB Forest Grove
Jensen is from a football family (Dwight Jensen-Head Coach) and is a very talented overall athlete with size. He currently leads the conference in passing yards as a sophomore (2,115) hitting on 54.5% of his passes, and throwing 15 TDs/9 INT's. Taylor is a talented hooper and leads a quality 2016 class.
Tate Edmundson 6-2 280 OL Sheldon
One of the state's top overall lineman as he will be the future of the Irish up front cast. Tate plays with a necessary mean streak and will be a three year starter.
Cody Coppedge 6-3 170 WR/S West Linn
One of the state's best receivers for 2016. Brother of Oregon top senior QB Hayden Coppedge. Cody caught 17 passes, for 212 yards and a TD in the first three games of the season showing off what the future holds. He possesses outstanding overall athleticism and size projecting at the D1 level, much like his brother.
Jacob Kizer 6-5 220 DE/TE West Salem
Will be one of the state's best in the coming years. Is a legit D end coming off the edge and will also be able to contribute offensively.
Tony Kraus 6-3 225 DE/TE/G Canby
Will be one of the best players in the state and a TRL Defensive POY candidate over the next two seasons. Comes from a football family and projects at the D1 level.
Parker Bull 5-11 180 RB/S Aloha
Bull is a phenomenal overall athlete, will be a 4 year varsity kid and is someone that will have to carry Aloha for the next couple years.
Derrick McMurray 6-6 330 OL Tigard
With continued progression he is an unquestioned D1 lineman. He will need to cut some weight but his ability is very apparent and you can't teach size.
Jason Eisenbeiss 6-2 190 ATH/LB Sherwood
Probably the best sophomore in the NWOC with regards to projection on a very talented 2016 group. Possesses legit skills on both sides of the ball and is a name you will hear often.
Mike Petroff 6-1 215 LB Jesuit
Is gaining valuable experience as a sophomore and impressing all over the field. Has done a great job of reading and coming up to make plays at a young age.
Lance Peterson 5-11 190 QB Corvallis
The Spartans have had a tough year but Peterson is a legit dual threat kid; He has thrown for over 1400 yards during the regular season with 15 TDs/9 INT's, rushing for over 600 and 7 touchdowns.
Massen Newton 6-0 245 NG Lakeridge
Mason is just a really good football player. He doesn't possess massive size, but is very quick with legit genes (Royster's). He has accumulated 45 total tackles , 4 Sacks, 3 forced fumbles & 2 fumble recoveries this year.
Devin Rediger 6-0 185 WR Sprague
Comes from a very athletic family and has put up impressive #s as a sophomore catching 32 passes for 504 yards and 7 touchdowns as the OLY's won the CVC title.
Ethan Snow 6-1 175 WR Hermiston
Done a very good job for a young, up and coming Bulldog team that is very well coached by Mark Hodges. Snow caught 25 passes for 411 yards and 4 TDs
Robert Connor 6-6 170 WR Thurston
O'Connor has shown that he is a playmaker and not just big. Consider him one of Oregon's top WR's for the 2016 class catching 21 passes for 331 yards and 7 touchdowns so far this year.
Gabe Matthews 6-2 195 QB/WR South Salem
Matthews is the future of the Saxon program and can play multiple positions. He has 16 receptions for 251 yards and 2 Td's on the year.
Bryce Dickey 5-10 175 RB/S Clackamas
Has done a great job on both sides of the ball as a sophomore, making 57 total tackles on defense and scoring multiple Td's
Sam Katter 6-1 175 RB/S Wilson
Katter went off the last few weeks of the year filling in for PIL POY candidate Ty Lunceford (Injury). Sam went for over 440 yards and 6 Td's in the last two regular season games ; Also added 48 total tackles.
Marquise McKinney 6-4 190 WR/TE Glencoe
Not a lot of people know about him, but the kid is legit and has the size to do some big things moving forward.
Grant Nielsen 6-0 205 LB Tualatin
Nielsen is one of the more talented young backers in the state and was an MVP underclassmen on the Barton Camp and Combine tour this last off season.
Brody Cooper 6-0 170 QB Marist
Has done a good job during a rough season. Thrown for 1, 354 yards and 14 Tds/4 Int's , while hitting on 56% of his passes. The Spartans should be good these next two years.
Bryan Oh 5-8 210 LB Crescent Valley
Oh is currently leading the state in tackles among all sophomores (113) and will be a fixture for what looks to be a talented up and coming Raider squad.
Noah Norris 6-2 225 DE Wilsonville
Norris is starting and playing beyond his years. He has legit size and is well coached.
Jacob Schultz 6-3 230 DL Marist
Has legit size on an impressive frame as Schultz could have a very dominant junior and senior season; 30 total tackles during the regular season.
Crafton Chamberlain 6-0 235 LB Sandy
Strong enough to play on the line and dominate but projects as a backer. Just a very good overall football player that will be a 4 year varsity kid.
Bryce Bumgardner 6-1 170 St. Helens
Currently leads the state among sophomores in INT's (4) and has also come up big offensively with 500+ yards and 5 TDs
Noah Dahl 5-11 165 Silverton
The only sophomore on a very talented 5A Silverton team. Noah is a talented overall athlete and has caught 3 passes for 92 yards and rushed 18 times for 150 yards.
Ray Roundtree 5-11 185 QB South Eugene
Will have the benefit of playing for Chris Miller and is getting time early in his career to show off his athleticism. Hit on 57% of his passes throwing for 1800 yards this year.
Eric Restic 5-11 155 QB Jesuit
The kid improved almost each game as the year has progressed, throwing 4 TDs in the last week of the regular season against Beaverton. He is equally dangerous running the ball.
Will Spence 5-10 170 ATH North Medford
One of the top sophomores in the SWC. Carried the ball 31 times and caught 12 passes for 250+ yards and a TD. Equally talented defensively.
Shashi Penn 6-0 165 ATH Ashland
The Grizzlies game breaker for 2016 has scored multiple TDs on the year, and is one of the reasons Ashland is undefeated going into the playoffs.
Richie Mock 6-0 195 RB Putnam
Super talented back that stepped in and did a good job as a sophomore. Transferred from Oregon City after going off as a freshman
Ben Godfrey 6-5 220 DE/OL Forest Grove
Godfrey is the future of the Viking line and has legit D1 size. He should be considered one of the better lineman in the state for 2016, being a varsity starter this season.
Anthony Del Toro 6-4 245 DL Grants Pass
Del Toro is big and very physical. Expect him to be one of the better lineman in the SWC and in the state for the next two seasons.
Dean Swanson 6-1 180 ATH/S West Linn
Has been impressive on both sides of the ball and as a return man, showing off outstanding physicality and speed for a sophomore
Tobe Okafor 6-4 240 OL Central Catholic
If the past few years are any indication Okafor could end up being the next top lineman out of CC. Central seems to be a factory for up front kids.
Easton Bents 6-1 185 ATH Grants Pass
Super quick and physical kid that displays outstanding overall athleticism. One of the top sophomore athletes in the state.