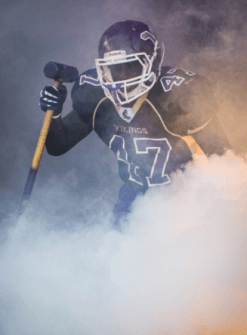 The Lake Stevens Vikings started the season with back-to-back losses to Glacier Peak and Marysville-Pilchuck, both teams won their respective 3A division, but have rebounded to go 6-1 since, including the Wesco 4A Championship game over undefeated Edmonds-Woodway. Leading the Viking defense is senior LB C.J. Lat (6'0″ 215).
Lat was born in a small village in what has become South Sudan. At the age of three he moved to Egypt and eventually arrived in Snohomish County when he was eight. In 8th grade he would find himself in Lake Stevens, where he began playing football.
Things haven't come easy for Lat, who arrived speaking very little English. "School has not been easy. In fact, school has been my biggest and longest challenge yet," Lat told NEI. "I have spent my free time volunteering in my mom's classroom and working on finding the resources necessary to make up any learning gaps I have. With college being a necessity for me and a dream of mine since I came to America, I know that school is the most important no matter how hard it might be."
While things may not have been easy in the classroom, Lat has turned the Linebacker into something of an art form. During his 11 game Junior season, Lat posted 111 tackles, 3.5 sacks. He was voted 1st team All-Wesco, while also receiving a 2nd team All-Area by the Everett Herald.
Just when you think they numbers can't get any better, Lat comes out this season and tops both numbers through just eight games. He one of the state's leaders, maybe the leader, with 136 tackles and has also chipped in with four sacks. In a 14-13 week three win over Oak Harbor, Lat tied a school record for tackles in a game with 26.
"Although I have always looked at myself as a team player and prided myself on the leadership and camaraderie that has been present on the field, I do have specific goals that I have set for myself this year". Lat continues, "My number one goal is to see to it that I leave everything on the field at each practice and on every game night in an attempt to assist my team in winning Wesco this year. I also have set my eyes on the school record for tackles in a season and plan to break the record of 160 tackles."
Leadership is a big part of Lat's game. Weather it is watching game film with his teammates, or giving everything on the practice field, Lat leads by example. "I am privileged to be a captain on our team and feel that that comes with much expected leadership, mentorship and teamwork. Without those, athletes would be left to fight for themselves; dissolving the team aspect," Lat says. "My number one goal this year as a teammate and captain is to lead my team to the Tacoma Dome."
He continues, "On the field I want to make sure that I bring my 'A' game to every practice and empower those that tend to hold back so that they are just as prepared to succeed as the rest of us. We must not only build each other up but synergize together to make sure that we are securing the plays, learning to read one another and working as a team to achieve our number one goal; get a win on Friday night."
Lat is the ultimate story of perseverance. Having a mindset that he can do anything and the determination to never give up, just about anything is possible. The Vikings are rolling right now, and if Lat has anything to do with it, they will be rolling for a while. This coming week they host the Newport Knights from the always tough KingCo 4A Conference. Lat will have a great opportunity to add to his number against the run heavy Newport offense.