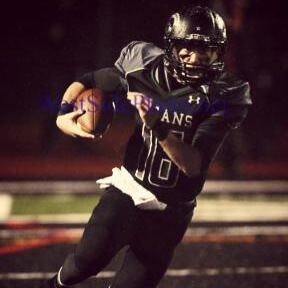 Anyone familiar with NEI knows that we are big advocates of head coach Shawn Stanley and the West Salem Titans. The kids out of the Valley are once again one of the top teams in the state, sitting at (8-1) going into the playoffs, and ranked #10 in our latest NEI 6A top 10.
Cade Smith and Keegen Hlad lead what many consider the top junior QB/WR combo in the state. They are part of what is looking like a very talented 2015 class, that should keep the Titans in the conversation when referencing the state's top teams next season. That said Coach Stanley and his guys are not worried about next year as they want to make a run this post season.
The playoffs start Friday as (5-4) Glencoe comes to town in what should be a game that West Salem controls. The junior class is loaded, but Hlad and Cade are elite on a regional level. Keegen comes back our #1 ranked junior receiver state wide after MVP ing multiple regional Barton Camp and Combines this off season, against the Pacific Northwest's top talent. He has hauled in 41 receptions for 741 yards and 10 TDs thus far.
As most know Smith is the brother of former Oregon Gatorade Player of the Year Brett Smith, now the QB at Wyoming. Cade holds an offer from the Cowboys and absolutely went off this season, accounting for 35 total Td's (22 passing, 13 rushing), with only 3 INT's. He is the true definition of a dual threat QB as he has 1, 714 passing yards and 914 yards rushing on 140 attempts.
Referencing the year thus far Keegen says, "The loss to Sprague was tough but it also made our team stronger and we came together and worked as a group." He continued, "I'm excited to see us grow cause we will return a lot of guys, and personally I'm looking to improve on both sides of the ball."
Coach Stanley has one of the top staffs in the Northwest and is a true players coach, as he is one of the more likeable individuals you will ever meet. RB Gary Garvin (5-10 185 Jr.) has had a breakout season, ranking as one of our top 10 backs for the 2015 class. Lisala Manu (6-1 245 Jr. DL/OL) is the other dominant junior who is the X factor on the line.
WR Luke Ferguson and Jacob Shorb (5-9 140 Jr. WR) are two other legit skill kids who have had very successful seasons, with LB Matt Sigmund (5-10 190 Jr. ATH) and D lineman Andrew O'Brien (5-8 210 Jr.) being two more talented underclassmen.
The Titans always have senior leaders but there is no debating that this is a young team that should fare well next season. Jacob Kizer (6-5 220 So. DE) is one of the top sophomores in the state and will be a kid we hear a lot about over the next two years. Fellow sophomore Andy Armstrong has also played well from his corner spot.
West Salem's is (8-1), but doesn't have strength of schedule on their side as the CVC has been down. That said the Titans seem to improve every season as the year progresses so they will have a chance over the next month. If things play out accordingly West should meet #8 Clackamas in the 2nd round, which would put them in a position to play #1 Central Catholic in the quarterfinals.
Regardless of how it plays out 2012 NEI Coach of the Year Shawn Stanley does things the right way on and off the field. We will remain big supporters of the Titan team as its one of the classier and more respected programs in the Northwest.