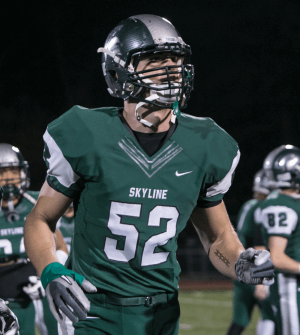 He's one of the top playmakers on one of the best teams in the state, but while they might be ranked high so think that Skyline is a bit of an underdog this year and that is just how junior LB Cameron Saffle and his teammates like it.
"There are some really good 4A teams this year and I know Camas is a really great team so I think we've sorta got that 'underdog' mentality right now and that's just fine with us," Saffle told Northwest Elite Index recently.
The Spartans have been rolling since their season-opening loss to state and national power Bellevue, winning eight straight, and this weekend they will take on a tough Jefferson (Auburn) team.
"We've been focused on the playoffs and we're just taking it one game at a time," Saffle noted. "We've been playing well and I think we've come a long way since the start of the season and that's only going to mean good things for us in the future."
Saffle, a 6'4″, 230-pounder, has recovered fully from the torn ACL he suffered in the summer last year (he only played in the state championship game) and has put up solid numbers for the Spartans, racking up nearly 60 tackles with 13 sacks.
On the recruiting front, the talented 2015 prospect is still waiting on his first offer, but he's seen things pick up with a few schools including California, Washington State, Colorado, Missouri, Oregon State and Boise State among others.
"I've gotten hand-written stuff from most of them and I've gotten tickets from Cal and Wazzu and U-Dub," Saffle noted.
Since he's only a junior, things have barely gotten underway for him as far as interest is concerned, but that should change when schools get a look at his junior film, see that he's recovered from his knee injury and get a look at his athletic 6'4″, 230-pound frame.
We will have more from Saffle after the season and as he starts making plans to go to camps and take unofficial visits to different schools.