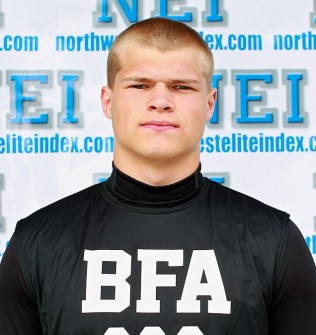 A kid you will hear a lot about over the next few seasons is Sophomore LB Joel Dublanko (6-3 215 So.) of Aberdeen, Washington. He is an individual many people already know as his resume takes you a portion of your day to read. To summarize, Joel currently holds three D1 offers and will end up being one of the most courted athletes in the country for his class.
He has been ranked as high as the #2 LB nationwide, and was a standout on Team USA's 16 & under squad this past off season. Over the next month Dublanko will embark on another round of college visits to schools who could very well be the next to offer.
Joel has officially received scholarship offers from Mississippi State, Akron, and Montana, and he is still only 15 years old. He is a multi sport kid excelling as a power forward in basketball, and being one of the best baseball players in the region. Over the next month he will visit the University of Washington on November 9th, UCLA on the 15th, USC on the 16th, WSU on the 23rd, with a trip to Oregon concluding the month on the 29th.
It's a unique Pac 12 experience that speaks to how Dublanko is going about the recruiting process, and a refreshing thing to see. Joel and his father are enjoying the visits and really taking in what each college environment has to offer. Both Father and son are humbled by the experience, and very genuine when they say that they are just appreciative that some of the opportunities in front of Joel exist.
Dublanko was a standout on the Barton Camp and Combine Tour over the off season, MVP ing multiple events against some of the top athletes from around the NW. He was named a Max Preps All American and ranked as one of the top 50 players in the country, playing over 400 varsity snaps as a freshman.
Aberdeen is far from a traditional football power, but they have rallied around a strong senior class and a special sophomore linebacker heading into the state playoffs. The post season may be a quick journey as they will face #1 ranked Tumwater Saturday night, a team that could very well win another state title. Regardless the linebacker has some of his best days ahead, representing the Northwest on a national stage.