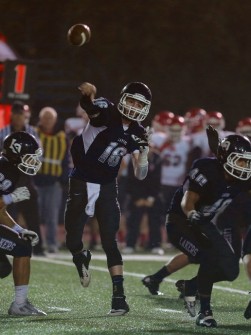 Some people consider Lake Oswego (5-6) to be down this year and from a record stand point that may be true. What people don't necessarily realize is the ridiculously tough schedule that they have played and the close losses that they have had.
If I was an opposing Oregon team I wouldn't want to play the Lakers. Sophomore QB Mitch Verburg (6-2 185) has done well and gained valuable experience, helping his young team get a tough 35-28 1st round playoff win at Sunset (7-3) last night.
This year LO lost to Jesuit by 7, West Linn by 4, Oregon City by 4, and to Lakeridge on the infamous last second hail marry by Eric Dungey. Three of those four teams rank in the state's top 7, with West Linn being better then average.
Two more losses were to #1 ranked Central Catholic and another top 10 team in Southridge. All of this said as Verburg has seen the best the state has to offer at a young age, and shown a toughness you can't teach. If you are going to be a young QB at a traditional power like LO you have to display leadership and a confidence about you. This is what Mitch brings to the table. He says, "Starting at QB at any school is a huge responsibility, especially at a place like LO which has fans and a community that is used to being dominant… Being a sophomore just brings more focus, because I have to prove to myself and to my team that I can get the job done."
Verburg has the luxury of playing for one of the greatest coaches the state has ever known in Steve Coury. He is mature beyond his years and is one of the top overall athletes in Oregon for his class, also being a very talented baseball kid. Coming into the playoffs he had thrown 12 TD's with 6 INT's, for over 1500 yards.
Referencing the team he says, "Every year at LO we strive for a state title… I have no personal goals as an individual, other than making this team better and being the best leader that I can." He continued, "Its not about how I do its about how the team does, these guys are my family and I go out and play hard for 48 minutes to help them in any way that I can."
Lake Oswego will not surprisingly be one of the better teams in the state over the next couple of seasons. Its a class program from top to bottom with outstanding community and leadership within. They have played in the last two state title games, winning the 2011 state championship, and going (37-4) over the last three years. This in some ways puts into perspective what Verburg was walking into.
The Lakers will get a 2nd round rematch with a team they are very familiar with in Jesuit (8-2). There will be no love lost when the two state foes get together next week. LO is as dangerous as any team in the state moving forward and you can bet the Crusaders show up prepared. Adding some thoughts on his guys Mitchell says, "It may sound cliché but every player on this team is relevant and important.. Whether its the scouts that are giving us a look during practice or the freshman that we brought up to see what its like, everyone has their own role and we trust each other to fill it."
Mitch is just an overall good kid, as we will look forward to the remainder of this year and the future in general. He has legit size and unique intangibles that can't be taught, with an early projection putting him somewhere at a higher level of collegiate football. In conclusion, Verburg will be the X factor and have to have one of his best games yet if LO wants to win next Friday saying, "So many guys have stepped up this year and not one person has given up faith or doubted us.. We will be ready."